DS Smith takes 50th EFI Nozomi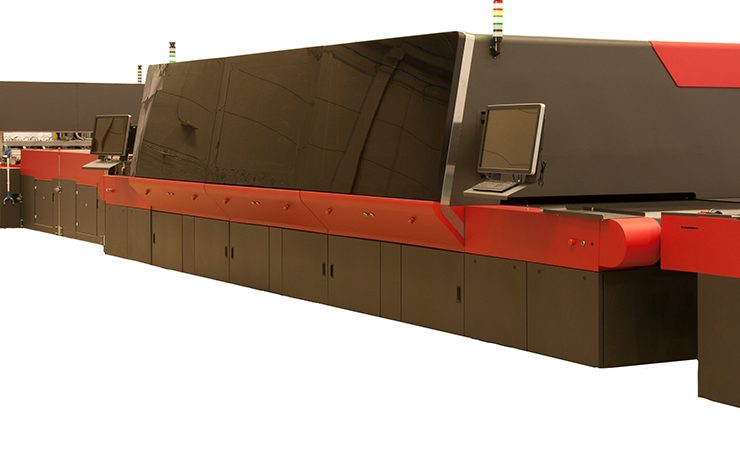 The EFI Nozomi C18000 Plus
Sustainable packaging producer DS Smith has been confirmed as the customer for the 50th EFI Nozomi single-pass inkjet printer.
This new press is to be a seven-colour, 1.8m-wide Nozomi C18000 Plus. Going into the company's Ely, Cambridgeshire site. This is to be DS Smith's second Nozomi printer, having previously installed a C18000 Plus model at its plant in Lisbon plant to expand its offer to customers in Portugal and Spain.
Evandro Matteucci, EFI vice president and general manager, Packaging & Building Materials, said, '[DS Smith] is an example of an innovative customer that has leveraged Nozomi's capabilities to move its business forward. This is the second Nozomi DS Smith has acquired, and the exceptional experience the company had with its first Nozomi was a key driver in the decision to acquire another. We are delighted to continue partnering with DS Smith as it expands its capabilities in sustainable corrugated printing.'
The news broke prior to the first of the CCE International exhibition opening for 2023. Running in Munich, Germany across 14-16 March, CCE is co-located alongside ICE Europe and InPrint Munich. At the show(s), EFI is showcasing its portfolio of inkjet digital printing systems for the corrugated market, both the Nozomi C18000 Plus and 14000 LED. C18000 Plus is an established technology for corrugated packaging applications, and also works for point of sale (POS) applications as it has a print width of 1.8m. 14000 LED represents the second generation of EFI's digital corrugated printers and fifth generation of high productivity single-pass industrial printers. Also targeted at the corrugated packaging market, the EFI Nozomi 14000 LED leverages EFI's single-pass UV LED inkjet digital direct-to-board printing technology, which has been coupled with improvements that bring enhanced productivity, reliability, value and flexibility to the industrial packaging segment. Available with up to six colours, including white, this 1.4m-wide press runs at up to 100 linear m/min, with new productivity modes offering 'remarkable' throughput while meeting corrugated packaging manufacturers' needs for more compact production lines.
Regardless of the model, Mr Matteucci said, 'Nozomi is a sustainable printing solution for corrugated, which is critically important as manufacturers of all types work to reduce their environmental impact.
'This efficient digital alternative to analogue corrugated production delivers energy-efficient productivity, with virtually no volatile organic compound (VOC) emissions and up to 35% lower energy consumption than flexo printing. The Nozomi presses also significantly reduce ink and board waste compared with flexo and litho-lamination. Plus, unlike analogue printing methods, they do not require water for cleaning, reducing converters' costs and their environmental footprint.'