EFI launches next-gen Nozomi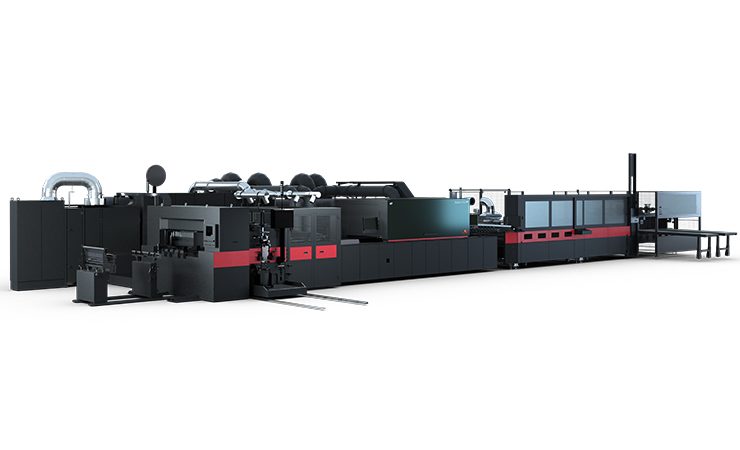 The EFI Nozomi 14000 LED press features improvements that bring enhanced productivity, reliability, value and flexibility to the industrial packaging segment
EFI has introduced a new press to its Nozomi family of direct-to-board UV LED inkjet presses, with the 14000 LED featuring improvements that will benefit the industrial packaging segment.
Aimed at the corrugated packaging market, the EFI Nozomi 14000 LED leverages EFI's single-pass UV LED inkjet digital direct-to-board printing technology, which has been coupled with improvements that bring enhanced productivity, reliability, value and flexibility to the industrial packaging segment.
Available with up to six colours, including white, the 1.4m -wide press runs at up to 100 linear m/min, with new productivity modes offering 'remarkable' throughput while meeting corrugated packaging manufacturers' needs for more compact production lines. The Nozomi 14000 LED also boasts a robust design for heavy industrial use, high reliability and high productivity. It is claimed to offer packaging converters high uptime plus the versatility to print nearly all board flute types, with enhancements to automatically reject damaged boards without stopping print production.
The new press is to take the award-winning and proven high-volume EFI Nozomi capabilities used by packaging businesses worldwide to an even broader swath of the packaging industry, with businesses from independent box plants and start-ups to integrated paper companies set to find the EFI Nozomi 14000 LED a, 'durable, reliable, sustainable and efficient digital alternative to analogue corrugated production,' stated EFI.
Users can choose from a range of configurations to complement individual needs, with single or dual bottom feeder options, a roller coater capable of applying varying amounts of primer, an optional varnish station for a range of gloss or satin finishes, and full or bundle stacker options. The EFI Nozomi 14000 LED press's high viscosity inks provide 'outstanding' colour registration and coverage, and its high-speed, non-clogging, high-performance jetting printheads deliver accuracy and smooth colour gradients.
Evandro Matteucci, vice president and general manager, Packaging & Building Materials at EFI, commented, 'This next evolution in EFI's breakthrough Nozomi technology delivers a tailor-made solution to meet the current demands of the industrial packaging segment. This remarkable new press builds on the industry leading technology that defines our Nozomi platform to balance the many requirements crucial to successful day-to-day corrugated packaging operations in a manufacturing plant'
The new press also features powerful image management and data collection software, as well as a new, intuitive, user-friendly interface. The latest-version EFI Fiery NZ-1000 digital frontend (DFE) used to drive the press features the new Fiery system platform – Fiery FS500 Pro – enabling quick processing and colour management at full press speeds. Plus, the Fiery DFE can connect users with EFI IQ, a suite of Cloud-based business intelligence and management options.
The press delivers energy-efficient productivity, with virtually no volatile organic compound (VOC) emissions and energy consumption suggested to be up to 35% lower than flexo printing. The press also significantly reduces ink and board waste compared with flexo and litho-lamination. The press also does not require water for cleaning, reducing converters' costs and their environmental footprint.
'The EFI Nozomi 14000 LED is the robust industrial solution the market has been waiting for,' concluded Mr Matteucci.