Arti-Bau readies for future growth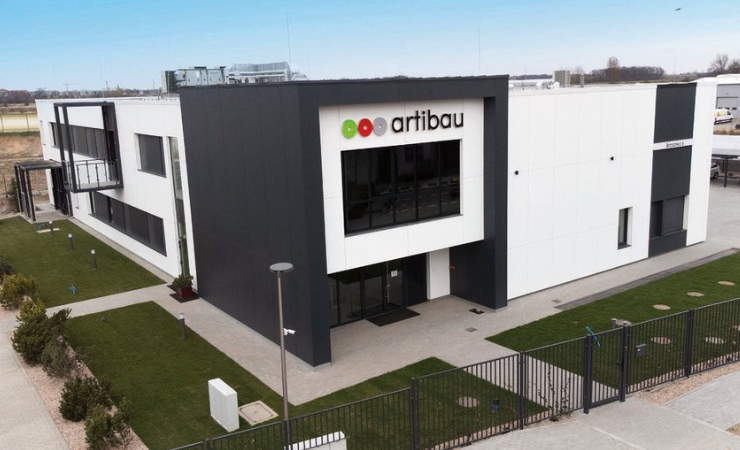 Label converter Arti-Bau has opened a new production facility in Poland
Label converter Arti-Bau has opened a new production facility in Poland, allowing the company to further its growth.
Founded in 2012 and based in Sleza, near Wroclaw, Arti-Bau is a specialist in self-adhesive label production, with digital printing the bedrock of its production. The company has systematically built and strengthened its position in the Polish and European markets, while investing in technology. Production commenced a decade ago with a Xeikon Jetrion 4830 UV press, Europe's first Mark Andy Digital Series press in 2017, a Xeikon PX3000 UV inkjet press in 2020, and most recently a Mark Andy Digital Series HD.
Specifically, the first Mark Andy press increased Arti-Bau's capacity by up to 50% and enabled it to manufacture more sophisticated labels that had been impossible previously. This allowed Arti-Bau to develop business with a new group of customers. This made the press a 'milestone' in the company's development, according to president Monika Stefanska. Moreover, it enabled Arti-Bau to print and finish highly advanced, sophisticated labels, including peel-off in one-pass. Peel-off labels have since become a company speciality.
Five years on, and with the first Mark Andy press generating a massive growth in orders, Arti-Bau has now also invested in infrastructure and moved into a new site, where production has now commenced with the Mark Andy Digital Series HD.
Ms Stefanska explained, 'Time goes so quickly, and recent years have shown us very clearly how labels are central to our lives. The past two years have brought us major growth from the food and cosmetic industries. The first Digital Series has been a very reliable and stable press, but even after establishing a second shift, we felt we needed to purchase a quicker and more efficient solution. Five years is almost an era in digital technology, so we asked Mark Andy to help us choose the best new solution.
She further noted how hybrid technology has opened up markets with new customers, some of which had no concept of what digital print could offer. What they have learnt to appreciate, she said, is one-pass production capability. At a time when quality is 'a given', customers also demand efficient production of short and medium runs, where quality and punctuality are more important than price alone.
The new press has been fully booked almost from the first day and works two shifts. Besides streamlining the handling of Arti-Bau's customers, it has also opened capacity for new orders. 'So, we have intensified our sales activities. We participated in the Warsaw Pack trade fair with our own booth, and are planning more of this type of activity, including other trade fair and events that attract current and prospective customers. With Digital Series HD on a board, we have huge potential for further growth,' concluded Ms Stefanska.