Arti-Bau grows its business with Mark Andy Digital Series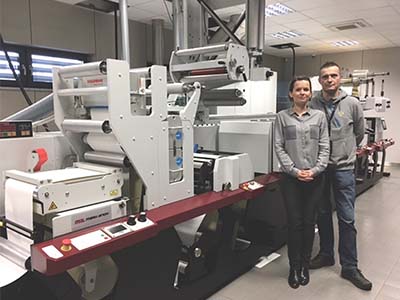 Monika Stefanska, owner, (left) and Jaroslaw Lewandowski, production manager of Arti-Bau, in front of the Mark Andy Digital Series hybrid press, the first of its kind installed in Europe
Arti-Bau, a label converter in Wroclaw, Poland, boasts the first European installation of a Mark Andy Digital Series hybrid press solution. Fast response times, completing two shifts worth of work in a single shift, and new market opportunities are just a few of the reasons they selected the equipment. 
Founded initially in 2009, Arti-Bau moved into printing as recently as 2012, with 'four people and a guard dog called Marley according to owner Monika Stefanska, who with her mother, Barbara, is now blazing a trail with the installation of Mark Andy's first Digital Series hybrid press in Europe.
In five short years, the company has grown to employ 25 people, all locally sourced, at its modern 500 sqm plant near Wroclaw, some 350 km southwest of Poland's capital city Warsaw. With the invaluable assistance of production manager, Jaroslaw Lewandowski, who brought 20 years of print experience to the company, Arti-Bau is one of Poland's label pioneers with digital inkjet technology. Some 95% of all output is labels, with production split between paper based substrates and PP, PE and PET, with PVC laminates for tubes.
In all, Arti-Bau converted 250,000 sqm of stock in 2016, mostly for the eco-food, beverage, cosmetics and automotive industries in Poland, but now has an eye on the export potential offered by the German market, so close by. 'We are looking to grow our business in the sachet sector, for which the Digital Series is very well suited,' explained Monika Stefanska. Time to market is key to most of Arti-Bau's customers, with a three-day turnaround from order to delivery being normal. 'We believe inkjet is ideal for our type of work because it will work with any substrate and requires no pre-treatment,' she added, citing one customer who orders 4000 linear metres of the same label with a seven day turnaround.
Jaroslaw Lewandowski takes up the story, 'We began looking for additional digital capacity in 2015, and quickly ruled out both of the toner manufacturers. We were aware of additional inkjet technology due to come on stream in Wroclaw, so knew we needed something different to give us an extra edge in the market. The launch of the Mark Andy Digital Series was perfectly timed from our point of view.' The business at Arti-Bau has been built on supplying high quality products with a matching high quality service, and Lewandowski is quick to explain his reason for choosing Mark Andy in preference to other manufacturers.
'Single source supply, in my experience, is always the best. We knew we needed a flexo/inkjet hybrid but we did not have any flexo competence in-house. No manufacturer has more narrow web flexo expertise than Mark Andy, and they have given us huge support throughout – and, we especially liked the fact that they have developed their own inkjet engine, so that we have only one supplier to deal with,' he commented, remarking that demonstrations at trade shows bear little resemblance to daily commercial production. Mark Andy has also shared its web handling and substrate knowledge with Arti-Bau, who in return has provided invaluable production data and observations to the manufacturer.
Since installation in summer 2016, the Digital Series has given productivity a major boost at Arti-Bau, according to Mr Lewandowski, who says that what had previously taken two shifts to produce, is now achieved in less than one. The Mark Andy, which has a 330 mm (13 inch) print width, includes corona technology and web cleaning, two flexo units, web turn bars, a laminator, cold foil capability and a compact parallel web translator for multi-layer structures. The Digital Series print engine offers CMYK plus white, and depending on the job and substrate, the press can run at 73 m/min (240 ft/min) – and frequently does at Arti-Bau. 'It is a complete and very versatile one-pass production tool, and opens all types of new possibilities,' he said.
The Digital Series has a true PDF automated workflow completely supported and configured by Mark Andy, called ProWORX. This is powered by Esko, and the whole system is expandable to meet changing demand. It has native VDP and barcode capability, and the Mark Andy ProVIEW operator platform provides access to all customised and standard system operations at a single intuitive touch-screen interface. According to Arti-Bau, the new hybrid press took little time to learn and is easy to operate.
From small beginnings in an 85 sqm unit to today's 500 sqm on a 2,500 sqm plot, Arti-Bau has laid solid foundations for continued growth. 'We have always invested in technology ahead of the market and then grown into whatever the new capacity offered us. The new Mark Andy Digital Series opens a vast range of opportunities that were outside of our scope before – in fact we are only just beginning to appreciate the range of products it is capable of manufacturing,' concluded Monika Stefanska.
For Mark Andy, the proximity of such a dynamic converter so close to its European headquarters in Warsaw has been a real bonus. As the company's newly appointed managing director (Europe) Tom Cavalco observed, 'Mark Andy now has the most extensive range of digital hybrid print technology of any narrow web press manufacturer, especially one that is best known for its flexo prowess – so it's important that we engage closely with the market to maximise on its effectiveness and productivity. The installation at Arti-Bau has been a perfect start for us, and we value their input and cooperation very highly.'
This article is an advertorial; the featured company created the wording and paid for its placement. It has been thoroughly checked by Whitmar Publications to ensure that the information is accurate and meets our standards.