What's in store for 2022 and more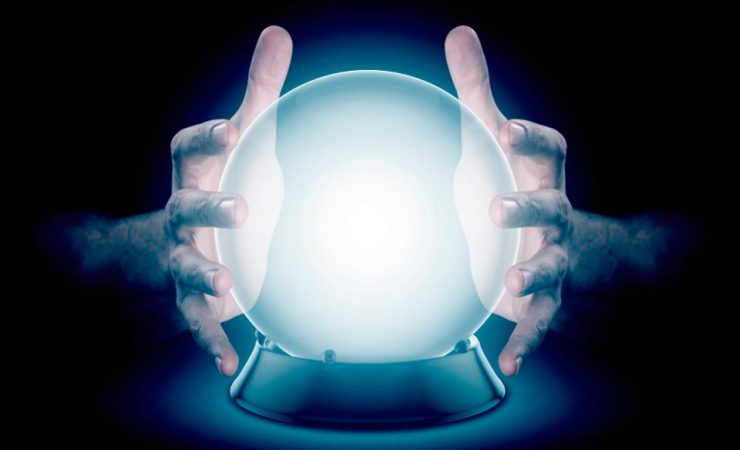 What could 2022 have in store for the digital label and package printing industry?
With the weeks and days of 2021 quickly dwindling, members of the digital print for packaging value chain share their predictions, hopes and aspirations for next year and beyond.
With 2020 still fresh in the memory for many, and mostly for all the wrong reasons, and 2021 largely now behind us, it is time to look ahead to what 2022 might offer the industry.
Are people excited for the return of in-person exhibitions? Will M&A activity pick up pace? Should we expect yet more unbridled inkjet NPD/NPI? How prepared do we need to be for megatrends such as sustainability and e-commerce? Read below to see what various stakeholders from the digital print for packaging value chain are predicting. You can also look back on what was predicted for 2021 here, and cross-reference it against reality.
Paola Ianonne, All4Labels | Tony Mariani, AM Labels | Steve Baker, Baker Labels/Bakpac | Patrick Graber, Bobst | Bernd Rückert, CGS Oris | Taylor Buckthorpe, Colordyne Technologies | Mark Nelson, Compass Business Finance | Boxall, Hoffmann and Hoffmann, DTM Print | Thomas Macina, Durst | Dustin Steerman, ePac Flexible Packaging | Filip Weymans, Flint Group (Xeikon) | Debbie Thorp, GIS | Simon Lewis, Highcon | Eli Mahal, HP | John Corrall, IIJ | Cherryleen Garcia-Lindgren, IPCO | Dr Adrian Steele, Mercian Labels | Marco Calcagni, Omet | James Denny, ProPrint | Isabelle Doelfs, Reylon Plasma | Mark Nixon, Scodix | Taishi Motoshige, Screen Europe | Rob Day, Tonejet | David Pittman, Whitmar | Graham Tweedale, Xaar |
======================================
Paola Ianonne, global head of marketing and communication, All4Labels
The pressures on the label industry caused by the pandemic and the resulting changes in consumer behaviour have revealed the fragility of rigid business models and supply chains. Those that were flexible enough to pivot have fared better much better, but still, these are difficult times for everyone and the effects will be felt for many months – if not years – to come. However, the labels sector remains a growing market although unpredictability of materials and ink supplies are adding to the cost of production and affecting delivery times.
Looking ahead, we believe digital technologies and higher levels of automation will form the foundation for growth. Digital printing and digital embellishment solutions are changing the landscape for labels by offering immediacy, quality and flexibility in production, as well as reductions in waste.
The importance of sustainability is accelerating rapidly following the COP26 summit. As the world turns its full attention to saving the planet, companies that already have a strong sustainability agenda in place will succeed, while those who have taken a 'greenwashing' approach or simply ignored the concern will find the path forward very challenging.
The label industry must continue to innovate and create environmentally friendly products that deliver vital product information and showcase great design, without any compromises on print quality. We must also eliminate waste at all levels of the process and across the value chain.
As a pioneer in sustainable and digital packaging solutions, All4Labels is pushing forward with a responsible and innovative mindset, based on our knowhow and in collaboration with our partners and the communities in which we operate. We are ready to meet the demands of our new reality because we know our actions matter.
Tony Mariani, managing director, AM Labels
Sustainability will continue to be a key trend in the industry throughout 2022, and in the subsequent years to come. As consumer demand for sustainable products continues to increase, businesses will be required to adapt to meet the growing requirements for more environmentally friendly labelling and packaging solutions. Consequently, we expect biodegradable, compostable and recyclable labels to continue to move towards the forefront of the industry, in addition to solutions such as linerless labels, as they offer a more sustainable alternative to conventional labelling materials.
The Covid-19 pandemic resulted in a significant increase in businesses moving their label printing operations in-house, and we expect this to continue throughout 2022. We predict that developments in technology will also lead to a growth in demand for printing larger label runs, in-house. Furthermore, we forecast continued technological developments in the inkjet printing market, enabling users to print on wider range of media, with significantly faster print speeds. A number of leading label printer manufacturers are set to release new products in 2022, and we therefore expect these technologies to provide new opportunities for businesses looking to expand their in-house label offering.
Steve Baker, managing director, Baker Labels
It's very hard to predict the future but the dynamic of the industry will be changing. The situation with raw materials could have some serious impact in some sectors, not just the fact that nobody can actually say for certainty what prices will be in six or even three months' time but also what will be available and when. We are already experiencing up to six weeks delivery on products that used to be 3-4 days, and in some cases a confirmed delivery date is not available. Shortages of polymer and glassine liners, combined with the fact that the majority of printers have seen an increase in demand shows that the supply chain issues are not going to be quickly resolved.
Another issue will be space and the cost of rental units. Recent events have shown the fragility of the 'just in time' model and, although we know this will come back eventually, in the short-term extra warehousing and stocking will be premium. The net result will be increase in total costs, some of which will be passed on to the customer but this is not always an easy conversation to have so keeping a close eye on the bottom line will be key to avoid companies getting into trouble.
The good news is pressure like this drives innovation as the needs to reduce internal costs to balance external rises increases so more automation to reduce human touch points becomes a must have in all areas of the business. Good solid MIS and accounting systems to know exactly the state of your business at any time, and also available to the wider team will encourage a greater understanding of the business process and buy in from the team. Great customer service and honest communication, as always, will be vital to keep everyone happy and hopefully help to retain customers and stop them shopping around.
Obviously the green debate cannot be ignored, so doing all you can as a business to reduce your impact and also contribute to your local area is vital. But be sure to promote this as these will become drivers for customers choosing where to spend their money.
Lastly, do everything you possibly can for your staff as labour is in short supply so recruiting is not going to be easy. Train your staff well, listen to their needs, provide services that are seen as exceptional (counselling, canteen, gym membership, great working environment, etc) so people stay and develop and really improve your business.
Patrick Graber, strategic marketing manager, labels, Bobst
After two pandemic years, where investments have been delayed, 2022 should be globally positive. The learnings make it clear that flexibility is a must. This new reality combined with a shortage of skilled resources will command for more automation and digitalisation.
The digitalisation of colour such as with Bobst DigiColor and oneECG will fuel flexo press sales. Inkjet, with a simple architecture, will impose itself as the ultimate technology for label production. Speeds up to 100m/min and competitive economics speak by themselves. Laser cutting will enable to finish short runs faster. Workflow solutions will progress providing control from the PDF to the final label. A new class of presses combining digital printing and flexo modules, like the Bobst Master DM5 all-in-one, all inline platform, will help customer to optimise their entire production floor.
In 2022 and onwards, conversations around digital embellishment will raise to build a complete digital production line. Demand for water-based printing solutions will grow as proof of concept exist but such solutions are not yet ready. Lastly, more digitalisation and automation will enable new business models like web-to-labels, especially for small clients willing to order all on-demand.
Spectral and Cloud-based colour management, as well as the simple integration and connectivity of software will gain even more attention in future. The explanations are simple. The digitalisation wears on and with it more and more software tools are implemented in printing companies. On one hand, it is of great importance that these new applications can be integrated easily into existing infrastructures, and on the other hand that they are able to work seamlessly with other tools.
From our point of view, customers must not be forced to combine tools of just one particular manufacturer. Clients want to choose independently exactly those solutions optimising their results and workflows, using the full capabilities of the existing equipment.
Besides that, we are sure, that multi-channel printing – especially in packaging – and software that was developed for this particular area will be even more interesting as it drastically helps to increase both efficiency and sustainability of the production process.
Taylor Buckthorpe, director of sales, Colordyne Technologies
Many of the challenges faced during the past years, including price increases, supply chain disruptions, and staffing issues, will continue into 2022 and beyond. Regardless of these challenges, I believe we will see growth in the digital print industry as more print providers and brands recognise the benefits of inkjet as a more flexible and responsive production technology. I anticipate markets like food packaging and ecommerce to remain strong despite a challenging economy.
Mark Nelson, director, Compass Business Finance 
2022 will be characterised by the acceleration of two continuing trends. Firstly, the drive for greater efficiency and automation; many businesses had to significantly reduce overheads during the pandemic, and are now taking a serious look at how they can keep them low whilst increasing their profits. For some this will be through improvements in processes, or investment in new equipment, whilst for others it's about exploring more niche markets and finding customers that are willing to pay higher premiums.
Secondly, the increasing pace of the environmental agenda; businesses will be continuing to look at ways to reduce waste and energy usage, as well as reviewing machinery, substrates and processes – big and bold changes are required. Product managers, agencies and marketing specialists not only expect greener products from environmentally aware suppliers, but are also now more willing to put their hand in their pockets to pay for them.  
Guy Boxall (UK sales manager), Andreas Hoffmann (MD) and Katrin Hoffmann (PR), DTM Print
Our predictions for 2022 are multi-layered. We think trade shows will be fully back, but better focused. It'll be exciting to attend label events like Labelexpo Europe and other industry leading events. Although face-to-face solutions/product training continues, more training will be online with Teams, Zoom, etc. Now even more than before video tutorial and other kind of videos will come in handy. We already produce a lot of video content that help our customers to use our products in the best possible way. I also think that sales and support activities will also benefit from digital communication via video call.
In regards of trends for 2022, the demand for bespoke products will continue to increase – especially in e-commerce businesses and hopefully again at direct POS –, which perfectly fits our label printers such as CX86e and LX-Series. Mid-sized specialist companies like DTM Print will be much better and faster at responding to the demand for bespoke solutions. On another note, there's still a huge number of mono label printers used today and we think colour label printers will increase considerably by cost and print quality; we will also see large manufacturers will OEM out more products.
Another important necessity, and not a trend as it's way too important for that, is to focus on sustainability. The focus will be on new label substrates but also on a more sustainable production of label printers that uses less recourses and can be recycled easier.
Thomas Macina, global sales manager, label and flexible packaging, Durst
The pandemic has had a significant impact on consumer behaviour, and I see three to four main changes: first, consumption is short-term and unpredictable, as the sense of importance and urgency can change dramatically fast – pushed by uncertainties and external threats; secondly, there is a de-globalisation trend, so the local supply chain becomes more important; also, individual consumption has increased significantly while collective consumption has decreased; and finally, consumers care more and more about our planet.
As a consequence, brand owners must react and are demanding their label suppliers to follow these trends as well. In other words, label converters need to have tools and processes in place to adapt quickly to the new demands, deliver long runs in the shortest possible time, cope with more and shorter runs, and implement environment-friendly solutions.
In short, I can predict the following needs for the label industry in 2022: reliability, simplicity and automation, productivity and cost efficiency to be able to deliver any label and run quickly. At Durst, we continue to optimise and expand our E2E solutions to give the label industry the best tools to master these new needs.
Dustin Steerman, regional vice president, sales, ePac Flexible Packaging
Digital packaging's voice was amplified as a result of the unforeseen and unfortunate Covid-19 global crisis. During a time of need, digital manufactures stepped up and kept supply chains moving. As we head into 2022, expect for the digital flywheel to only turn faster. CPG companies will further seek to create robust and lasting first impressions.  
The thousands who recently welcomed digital print into their portfolio of packaging suppliers will begin to further leverage their forward thinking packaging.
Expect to see more brands utilising VDP, personalisation, limited run packaging, and all of the other hidden gems that digital is capable of applying to packaging.
Filip Weymans, vice president, marketing, Flint Group Digital Solutions
Looking back to the earthquake effect of the health crisis had on our industry, label printing has proven its strength, its resilience. Never before were products reshaped, relabeled in record time when the markets moved from bulk products (restaurant and bars) to family-sized product packaging. Never before had brand owners shifted their portfolio, such as from alcoholic beverages to hand sanitisers. Labels have truly been instrumental in these achievements. So it shows the power of labels and labelling, and supports the idea that the future of the label industry looks bright. There are though new challenges ahead with price increases due to material shortages, increases in transportation costs, and on top there is the pressure of the drive to more sustainable solutions. No challenge is too big and there is wealth of diverse technologies that can help us. For example, having information at hand when you need to make a decision, something what can be achieved through digitising your production hence the investments you make today should be Cloud-ready or Cloud-connected, need to interface with other production steps (MIS, converting, etc).
Exciting times lie ahead of us.
Debbie Thorp, business development director, Global Inkjet Systems
There has been so much industry activity and pent-up demand bubbling away in the last two years that we believe that 2022 could bring significant growth for the print industry. We've been involved in several development projects that will come to fruition next year – with companies targeting the return of trade shows alongside the growing trend for more targeted open house events.
In terms of megatrends, packaging is expected to dominate, and in particular we predict the momentum in inkjet flexible packaging to accelerate; and more developments in corrugated too.  Aligned with this, GIS will be promoting our relationship with Esko in packaging and the integration of our software Atlas IQ Tools for enhancing image quality in demanding single-pass packaging applications.
Simon Lewis, vice president, marketing, Highcon
The growth of paperboard packaging at the expense of plastic is a given.  That's not going to make the supply chain and availability pressures afflicting the paperboard industries ease any time soon. The confluence of growing demand and shortage of materials will necessarily drive changes in behaviour. 
Brands will work with smaller order sizes, place more orders and keep less packaging inventory.  They'll expect faster response from their vendors as they move closer to an on-demand, just-in-time type of model. 
Converters will have no choice but to re-evaluate their manufacturing strategies and continue investing in new technologies and production platforms that are better suited to the changing job mix. That means more investments in digital, such as workflow automation including e-commerce and web-to-print/pack, digital printing and digital finishing.  
In parallel, concerns about the environment will increase the focus on waste reduction, package rightsizing, mono-material constructions, production closer to filling lines and carbon-conscious production decisions.
Eli Mahal, head of labels and packaging marketing, HP Indigo
Overall, we expect that the labels and packaging market will thrive next year, particularly where labels and packaging are digitally printed. Supply chain challenges, the accelerated growth of small brands and e-commerce during Covid, as well as consolidation in the labels and packaging industry and the shift towards automation drove more print volume to digital print with Indigo. These trends will continue to impact the industry in the years to come.
In this context, converters will need to continue maintaining an agile production, which allows them to more easily shift between the verticals that are declining to those that are growing. We expect underperforming verticals related to the tourism and dining industries to recover, while verticals that benefited from social distancing mandates that are no longer essential may begin to decline.
Finally, sustainability will also play a large role in the way brands plan their packaging needs, looking into both the sustainability of package itself and the environmental impact such as energy, tooling, waste and labour of producing it.
John Corrall, managing director, Industrial Inkjet
As a company we have a deep-rooted philosophy that providing customer support is key. This must come above everything. Prior to Covid, our service team were running at around 86% online support (phone, email, Team Viewer, Teams) which still left 14% being done in-person. Our customer base is worldwide so that meant the entire service team spending a lot of time on aircraft. The service team also used to complete all installs on the customer site, which meant additional time travelling. During Covid the support became almost 100% 'virtual'; the team adapted well and even carried out installs online, including some major system installations. All of this was a positive step but inevitably there is now a backlog of customers that need a visit to tie up loose ends and who require face to face training. Travel also dominated the lives of the sales team, and also some of our management team who normally visit customers on a regular basis.
If anything, sales has worked better under Covid. Where in the past they might manage to visit one customer per day via Ryanair, it is now four or five Zoom or Teams calls. Whereas a manager might have visited each customer three or four times a year, we now talk on a weekly basis.
Customers are starting to ask for face-to-face visits again, and of course we will have to meet that expectation, but replacing occasional big meetings with constant virtual contact has done our business no harm at all (and worked wonders for our carbon footprint).
Cherryleen Garcia-Lindgren, global product manager, IPCO
The last 18 months have been as challenging for us as they have for every other business involved in the digital print industry, but we are emerging in a stronger position. The benefits of steel belts – up to six times more stable than plastic – have been proven in tests by research company Fraunhofer Institute for Production Technology IPT, and we are confident that more benefits will become clear as testing is carried out to assess the degree to which vibration affects the positioning of the deposited ink droplets on the substrate, and therefore print quality. We are also further developing our High Precision Tracking (HPT) system to enhance belt control capability to even better than +/- 0.1 mm.
Together these technologies open the door to high speed, high precision digital printing with applications ranging from large format corrugated packaging and high quality, full colour branded materials to furniture board and ceramic tiles. With premium-quality solid and perforated steel belts, high-precision belt tracking systems, custom-made conveyors solutions and global service capabilities, we look forward to cementing our place as a key partner to the digital printing industry.
Dr Adrian Steele, managing director, Mercian Labels
After the 'black swan' events of Covid and Brexit in the UK, it looks like supply chain disruptions are going to be the triple whammy to stress the label industry in 2022.  Rocketing prices for almost everything from materials and labour, to taxes and energy will compound to create a strongly inflationary environment.  Label converters with strong processes providing delivery reliability will benefit most in this environment, using ERP data analysis to confidently inform their decisions as to what business to keep, and what to turn away for lower value adding competitors to pick up.
But delivery reliability will remain a critical feature, and brands will continue to be nervous about running out of supply if they push back too hard and losing a reliable supplier; no one wants to be the new kid standing when there are no chairs left.
Automation will continue to benefit forward-thinking businesses, and whilst lead times are long to realise the benefits of such projects, there is no time like the present to get investing in cutting your waste to reduce manufacturing costs and attract business from under invested and performing competitors.  Private equity backed industry consolidation will continue to gain traction.
Finally, I'd say that 2022 will be a crunch point for companies who have not invested in training and developing their own talent, as higher level technical skills will become a constraint to deliver reliable growth. It never gets easier, just different.
Marco Calcagni, sales director, Omet
The way of working, the needs of customers, the approach to suppliers have radically changed. People travel less, and meetings are mostly virtual: at first, everything seemed difficult, but the result is greater efficiency and greater speed in communication and problem solving.
2022 will bring us back a sort of normality in life and business. This will generally help investments in technology with a boost of strength and positivity. It will not be immediately global as geographical areas have been differently influenced by Covid-19 and access to vaccinations, but the trend will be of a constant growing in printing sector.
Digitalisation, Industry 4.0 and sustainability will be the drivers of the new post-pandemic scenario. All companies need to work with different approach and new technology investments will be a must to increase efficiency and quality. 
James Denny, director, ProPrint Group
Supply chain management is a key focus for us this autumn and whilst there is a push to train more UK-based HGV drivers, with the impact of Brexit and the higher demand for material owing in part to online shopping, we expect supply chain challenges for packaging materials to last into 2022. Since earlier this year we took steps to mitigate the impact of those delays on our customers. We continue to communicate as far in advance as possible with customers on this issue. Planning and obtaining forecasts is a priority to ensure orders are placed at the very earliest opportunity, meaning stocks of essential materials can be available when needed for the brands we supply.
Sustainability is undeniably the hot topic, and with heightened public awareness and COP26 taking place, concern for the health of our planet has increased just as much as it has for our own. I think we will see more action and pragmatism from many printers and industry partners as we move into 2022, with use of new sustainable materials as well as CO2 reduction initiatives. What is certainly clear as we aim for sustainability, is that all round holistic packaging solutions must be sought. Simplistic approaches such as the demonisation of plastic won't help. Designing sustainable packaging needs to account for all three pillars – including economic, social and environmental factors; if not, it will be unlikely to make a positive improvement.
We want to ensure our team are supported by our continuous investment in new machinery and technology. Making sure we have efficient presses with excellent colour ranges, speeds, inspection systems and finishing options, is fundamental. MIS to support workflow, up to speed rewind and finishing equipment must also follow suit. As much as 80% of downtime in manufacturing environments can be caused by human error. Of course, maintaining a high level of system automation and ensuring staff are skilled translates to a high quality product for our customer as well as supported, confident staff. In preparation for 2022, ProPrint Group have invested circa £4m across IT and production to ensure our process is streamlined and driven by technology.
Isabelle Doelfs, project and application field engineer, Reylon Plasma
Plasma pre-treatment is already well-established in printing processes, such as digital, pad, screen, or offset printing, but also for coating of packaging, gluing cardboard boxes, labelling and sealing applications. The improved adhesion of the inks or glues to the plasma-activated surface significantly increases the quality of the subsequent process steps. This is particularly important for materials that are otherwise difficult to work with, like metals, glass, ceramics, but also cartonnages, wood and textiles.
The newly developed piezobrush PZ3-i from relyon plasma combines easy integration to new or existing production lines due to its compact size while being flexible, smart and safe. Due to the low plasma temperature of less than 50 degrees C, also temperature-sensitive materials can be activated. The modular design allows to arrange the individual units in a row if larger treatment widths are required.
Mark Nixon, vice president, global sales and marketing, Scodix
The brutality of the pandemic will subside, if not today, then tomorrow. Tradeshows will come back as stability against the virus takes hold. Tradeshows, especially in graphic arts, will return in my opinion but might be slightly different. Our industry is about seeing, demonstrating, and touching the delivery of our print products. Gathering our community to learn and experience print machinery and their output is an excellent opportunity at tradeshows, but the combination of virtual opportunities is here to stay.
2022 will hopefully allow for the opening of the world and return to pre-pandemic status or better, including supply chain replenishment, service improvements, stabilisation of currencies, and return of print buyer demand. Additionally, the graphic arts distribution of wealth is shifting with a more significant concentration and focus in the packaging market.
Taishi Motoshige, marketing director, Screen Europe
The big trend and common phrase overheard is 'sustainability'. Screen understands that environmental problems such as global warming and chemical pollution are key issues affecting the sustainable development of society. For this reason, we make every effort to promote business activities intended to maintain an environment that is friendly to both people and the planet. With regards to printing technology, Screen's developments are very much in inkjet for the future, with water-based inks that conform to relevant food safety regulations a high priority.
In our sector – direct-to-shape printing – 2022 is shaping up to be the year that digital technology becomes fully established in both North America and Europe.
Tonejet's customers are in the craft beverage sector, where high-quality, short-run can decoration is most valued. The pandemic caused a huge shift towards the use of cans as smaller brewers rushed to move product from on-sales (packed in kegs) to retail. Having established these retail channels, brewers are unlikely to retreat from them in 2022, pushing up volumes of canned beverages.
Consumer awareness of packaging recyclability will continue to accelerate in 2022. This is driving a megatrend which sees beverage producers of all scales moving out of plastic and glass and into infinitely recyclable aluminium packaging. As a result, the demand for beverage cans will continue to grow at 3-5% and the use of low-cost plastic-free direct-to-can decoration technology will become mainstream.
The biggest demand right now is in North America, but the technology providers are in Europe. Covid travel restrictions prevented Tonejet and other inkjet systems manufacturers from getting across the pond to install new equipment in 2020 and 2021. Now that those restrictions have largely been dropped, we will see several direct digital can decoration businesses in full flow through 2022.
David Pittman, editor, Digital Labels & Packaging
Reshaping of the market will continue, as printers and converters look to position themselves for the challenges of tomorrow. This might come in the form of a management buyout or, more likely in my opinion, through mergers and acquisitions that will see smaller independents integrated into larger groups or outright bought out by private equity firms. Such developments will afford this profile of converter that opportunity to better attack the markets of tomorrow through access to a far larger collective pool of resources, and leverage greater financial clout.
On the supplier side, it is highly likely that the oft-talked about 'inkjet crunch' will come sooner rather than later, as the number of companies now playing in the market continues to grow, particularly when it comes to inkjet digital label printing, and can reasonably be said to be too high for the industry to support.
Inkjet's role in the next iteration of flexible packaging poses further questions, if nothing else due to ongoing cost and production considerations, and the market's true appetite for industrial production of digital flexible packaging at increasingly wider and faster speeds. Yes, the pandemic has brought about a period of unprecedented change and destabilised established supply chains, where digital stands to benefit most, but the industry must be careful not to overshoot reality when comparing it to the all-too-favourable predictions that set digital package printing in all its forms on a one-way route to riches. This is having the further consequence of many envious eyes turning towards packaging as other print sectors seek out new revenue streams and pivot accordingly. This then runs the risk of flooding a saturated market and in the long-run benefitting no-one.
Graham Tweedale, general manager, printhead business unit, Xaar
While many have been highlighting the growing role of inkjet, 2022 will see inkjet printing and technologies truly coming of age in label and packaging production.
From lightning print speeds of up to 48kHz at 100m/min, and the use of ink and fluid viscosities at around 100cP, to adding embellishments for the latest in personalisation and tactile, high-end packs, Xaar's inkjet technologies and printheads are opening a host of new opportunities for the packaging and labelling industry. Xaar's ImagineX platform has been instrumental in the development of genuinely practical innovations that address and overcome some of the long-standing roadblocks in the application of inkjet in the packaging and labelling sector. Next year will see this continue, with improved sustainability through inkjet being a key differentiator, alongside the further development of direct to pack applications and new aqueous printhead capabilities.
In addition, our commitment to a 'listen, collaborate and develop' approach to solving clients' challenges in respect of the use of inkjet, will ensure we continue to work with customers and drive the adoption of inkjet as a viable technology across new packaging applications.
Inkjet has much to offer in driving the customer pack experience for 2022, and now is the time for the sector to embrace this technology's true potential as an effective, transformational and sustainable technology for the printing of labels and packaging.
Register to receive Digital Labels & Packaging to be the first to read about business-critical developments and information; it's free and takes minutes – www.dlpmag.com/subscribe