NSD upgrades finishing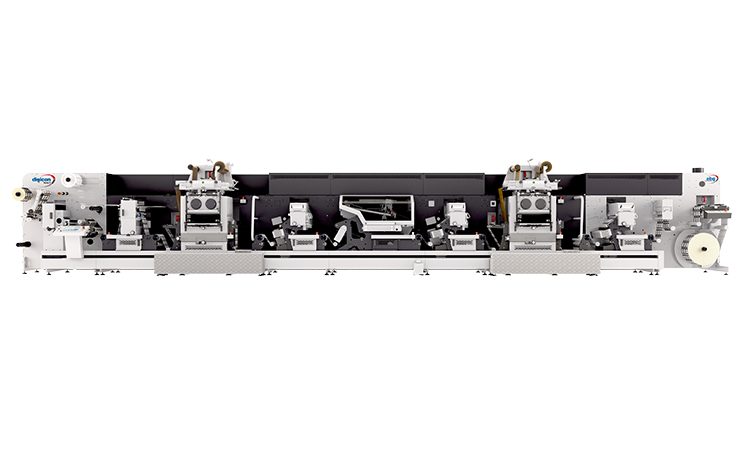 Being modular in design, NSD Labels' new ABG Digicon Series 3 is fully specced and has been configured to meet its specific and exacting production requirements
Scotland-based NSD Labels has installed an A B Graphic (ABG) Digicon Series 3, upgrading its finishing capabilities to ensure the printer can meet current and future needs of its customers.
Based in Dalkeith, near Edinburgh, NSD Labels offers digital label printing and full-colour UV flexo combination printing, including UV screen with inline foiling and embossing. The company specialises in high-end, unique and complex labelling options. A recent project for the printer has been its work on the launch of three new gin brand identities for the Heroes Drinks Company, featuring digitally printed labels.
Being modular in design, the company's new Digicon Series 3 has been configured to meet its specific and exacting production requirements. The fully specified Digicon Series 3 finishing machine at NSD Labels includes: two flexo heads; a 25-tonne flatbed hot foil unit, with a swivel head allowing foil to be fed both along and across the web; a doming embossing section; two laminating stations; two flatbed screen printing modules, for applying screen varnishes; unwind and rewind; die-cutting; and auto slit knives.
Further, the investment allows the business to replace and upgrade existing older Digicons, while maintaining its market-leading position for local and global companies in the food, beverage, healthcare, medical and chemical sectors.
NSD Labels managing director Chris Hogarth said, 'It is important for NSD Labels to continually be investing in the latest and best technology and equipment. We required a solution that could be configured to meet individual finishing requirements for labels and flexible packaging. It has a wealth of functions from rotary and semi-rotary printing and die-cutting to laminating, slitting, decoration and perforation; the possibilities are endless.
'It also allows us to offer shorter print runs, higher quality, greater complexity and faster delivery, ensuring that we meet our customers' requirements.'
ABG global sales director Matt Burton said, 'As an existing customer, NSD Labels' investment in a highly specced Digicon Series 3 is indicative of the value placed on ensuring that its market ambitions are maintained. We fully share NSD Labels' drive and commitment to always delight the customer, and we look forward to following its progress in the future.'