Limited edition remembrance gins launched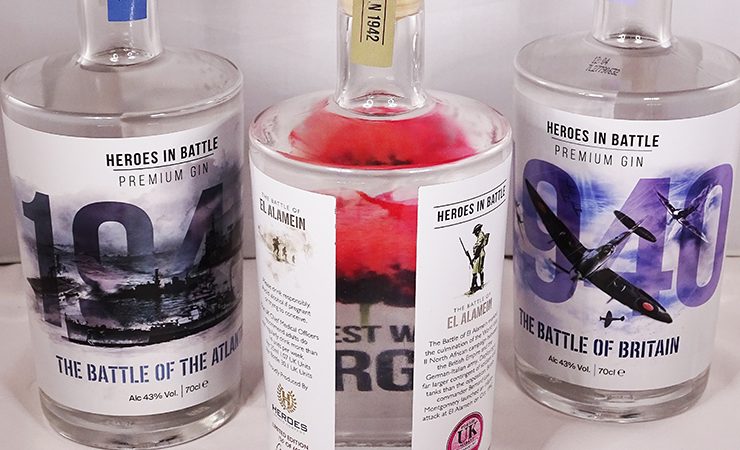 Three new gin brand identities for the Heroes Drinks Company have been launched with digitally printed labels
Three new gin brand identities for the Heroes Drinks Company have been launched with digitally printed labels.
Founded in 2011 by military veteran Chris Gillan, the Heroes Drinks Company is the world's first non-profit alcohol drinks company. A minimum of 20% of the company's profits are pledged to forces and veterans charities across all three military forces – the Royal Navy & Royal Marine Charity, the Army Benevolent Fund and the Royal Air Force Benevolent Fund.
The Heroes in Battle limited edition remembrance gins consist of three unique designs – one for each branch of the military –, honouring those who served the UK during World War Two. Created by The Door Creative in Liverpool and produced by NSD Labels at its Scottish base in Dalkeith, the labels are themed with the Battle of Britain, the Battle of the Atlantic and the Battle of El Alamein.
Inspired by their ongoing work for leading drinks brands, Mr Gillan approached The Door Creative and NSD Labels for guidance in creating an innovative 'look and feel' for the craft gin products that reflected the brand and what it represents.
The labels were laminated, with a 50 micron silver material being used to give a foil look on the outside top face of the label that faces out from the bottle, whilst on the inside face of the label, a clear inner 50 micron substrate was used, with the 'lest we forget' strapline and poppy printed 'reverse reading' to show through the liquid, magnified and slightly distorted. The print was done on an HP Indigo 6900 digital press, with converting on an A B Graphic Digicon.
Mr Gillan said, 'We contacted NSD Labels via a recommendation as we were in a position where we needed a fast turnaround on the printing of the labels for the launch of our gin products. It was professional, flexible and very accommodating with every request that we had. The team took the time to understand our brand and vision for our labels, offered exceptional advice throughout the process, and produced the labels within 72 hours of receiving the artwork.
'We are delighted with the end result and look forward to working with NSD Labels long into the future.'
NSD Labels managing director Chris Hogarth added, 'We were delighted to produce labels for the Heroes Drinks Company limited edition gin, especially with the support the business gives to the Armed Forces charities.
'It was paramount to get the labels looking perfect and consequently we had a number of discussions with Chris to fine tune the development process. The end result is indicative of our willingness to spend time and work with our clients to develop innovations that help differentiate their packaging, create stand-out and provide them with a competitive edge.'