The latest in digital finishing and converting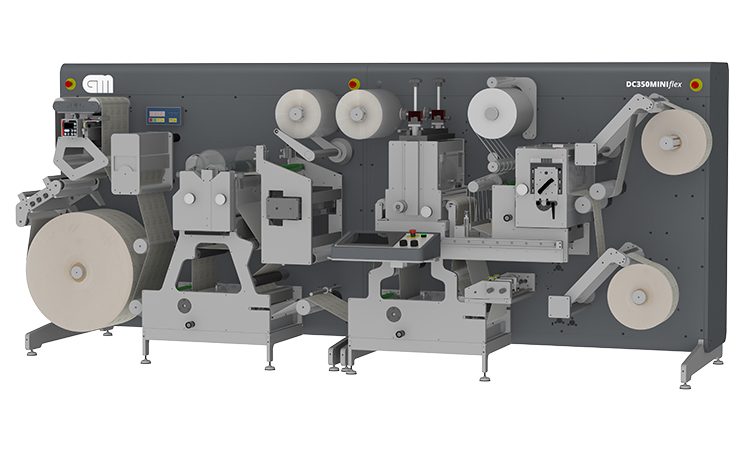 The new DC350MINIflex works inline with all major digital presses
Here, we report on the finishing and converting technologies that have been and continue to be developed for the next stage of digital package printing and converting.
---
Technology to support finishing and converting post-press will be intrinsic to the success of the next generation of digital package printing. One reason for this that AB Graphic global sales director Matt Burton explains is, 'Dighttps://www.dlpmag.com/key-articles/35907/getting-deep-with-curing/ital printing is helping customers to easily diversify as the press can often print a wide range of substrates. The label printer only needs to invest in different finishing solutions.'
AB Graphic has been extensively updating and developing its range of modules and systems for finishing and converting of digitally printed packaging and labels.
This includes the updated Digilase 4.0 laser system to increase overall speed and design capabilities. This features new mechanical and electronic improvements to increase accuracy, and new laser components; Digilase 4.0 has 'Class 1' laser specification. A joint development with JetFx on Digilase 4.0 is ongoing at a customer site in Thailand.
In a similar vein, the new EcoLeaf metallisation module from Actega Metal Print will be available on AB Graphic machines in 2021. EcoLeaf will be installed on new Digicon Series 3 digital finishing presses in 2021, or can be retrofitted to existing Series 3 presses as required.
GM's updated converting portfolio includes the new DC350Flex, LC350 modular laser, and double speed die module. DC350Flex is based on the existing DC350 platform, with semi-rotary varnish, die-cutting, slitting and dual rewind as standard. Optional extras include spot varnish, cold foil, lamination, SmartSlit or SmartCrush, SmartStrip, corona, web clean, back scoring, inline buffer and more. DC350Flex can be run inline with all major digital presses, providing professional label printers a 'complete and versatile solution' for high volume digital printing.
The GM double speed die module is a semi-rotary option for fast die-cutting. A double stroke per die rotation doubles the speed compared to conventional systems. The module works at a maximum speed of up to 140 m/min.
A DC350 equipped with the double speed die module meets the speeds requirements of the latest digital presses, according to GM, which makes it 'perfect' for integration with modern production lines.
LC350 is a fully modular and digital laser finishing machine with a 350mm web width and, in basic configuration, features laser die-cutting, slitting and dual rewind. The modular design allows for many optional modules like flexo varnish, spot varnish, lamination, cold foil, label dispenser, automatic knife box and more.
The IR350 multifunctional inspection rewinder converts webs in widths up to 350mm on rolls with a maximum diameter of 400mm.
For flexible packaging, GM's HL500-B machine supports demand for thermal lamination, where A PET foil with a thin layer of dry glue is activated by a hot drum and applied to the substrate. The process creates a very strong bond between the layers and the final product is food safe.
The GM SmartChill eliminates problems of curling and melting during UV curing of thin film substrates. It can be installed on GM converting lines dedicated for flexible bags and pouches, shrink sleeves and labels.
AB Graphic has also developed a range of integrated modules for Digicon Series 3 machines especially for the new HP Indigo V12. These modules focus on automation, allowing for continuous production, whilst promoting quality and efficiency.
Further finishing and converting specialists are innovating in partnership with HP Indigo, such as Karlville and Enprom who have developed thermal lamination systems for quick turnaround of digitally printed flexible packaging, with the Pack Ready Laminator and the Enprom thermal laminator (eTL) joined on the market by the Super Simplex e800 from Nordmeccanica. New from Karlville is LM-SFT800 a combination laminator that brings together Pack Ready and solventless lamination.
Xeikon's fleXflow also relies on thermal lamination to form flexible packaging structures after printing with dry toner technology. Pioneered by CS Labels in the UK, which uses thermal lamination technology from GM, the printing of flexible packaging using dry toner has overcome the issue of heat as needed during the fusing process of dry toner powders by reverse printing on the laminate.
Both Pack Ready and fleXflow require additional onward converting, such as Karlville's pouch making lines, to realise the full value in digital flexible package printing.
Removing production bottlenecks when finishing and converting digitally printed fibre-based substrates is likewise an important development.
The new Tresu iCoat II features significantly improved registration and tighter tolerances, enabling high-end coating results for a wider range of substrates, both thinner and thicker. Highcon's next-generation of cutting and creasing systems includes Beam 2C for converting POS and short runs of corrugated packaging. It can handle board sizes of 760 x 1060mm (B1) and with a 4mm thickness (C flute and double wall). It can process up to 4000 sheets an hour. A non-stop configuration will become available later in 2020. The Highcon Euclid 5C will also target the needs of the corrugated packaging market, although at a slightly slower speed and board thickness (2250sph B1/2750sph B2, and 1-3mm).
Vivid Laminating Technologies has extended its VeloBlade range to include a larger system, VeloBlade 68. This is a new digital die-cutting system that provides the ability to cut sheets up to B2 size, as well as a selection of enhanced features for even greater efficiency and productivity. VeloBlade 68 can handle a wider variety of stocks than other machines in the VeloBlade range, from 1.5mm up to 1200gsm, while a pneumatic rotating cutting knife delivers clean finishes, and stock placement is ensured via laser registration technology, individually activated vacuum clamps and a zonal conveyor belt.
From Scodix is a new Scodix PolySense polymer that is secondary contact food compatible (low migration), and can be used on all Scodix Ultra presses. This will enable customers to pursue those food carton opportunities that require low migration chemistry, which are often seen in the gifting and personalised luxury food segments. This evolution of the Scodix PolySense range is described as 'a natural one' by the company's head of packaging, Nigel Tracey, and will use the low migration polymer chemistry already in existence for the B1 Scodix E106.
Also enhancing the use of decorative effects and embellishments is Actega Metal Print with EcoLeaf, claimed as a sustainable alternative to creating decorative metallic embellishments on labels and folding cartons. The next big innovation with EcoLeaf is inkjet printing of the trigger image, a process that has been developed and is now entering the beta test phase, meaning that when drupa 2021 rolls around, it is likely to be a fully commercially available option.
For the transfer of its Digital Metal foil, Kurz has previously developed the DM-Jetliner, a finishing machine available in three versions for long-grain rotary printing. This allows the transfer of metallisation effects onto paper and label materials during digital printing. Once the foil is applied with a UV curing adhesive to the unprinted substrate, the PET carrier is removed and the substrate can be overprinted within the printing machine.
Developments in curing include GEW's LeoLED, which uses the company's ArcLED hybrid UV technology to allow the use of a conventional UV arc lamp or LED array on the same print unit. The LED array delivers electrical power at 88W/cm and an intensity of 25W/sqcm, with minimal light loss due to the direct UV path.
Phoseon's FireEdge UV LED light sources match the length of today's most popular inkjet printhead dimensions. This product is a fundamentally new design based on customer input from around the world to enable higher quality at higher speeds. The top air intake and exhaust eliminate inkjet printhead interference and the units can be scaled to meet a variety of print width applications.
adphos' advanced near-infrared (aNIR) drying technology incites any polar molecule, such as water, alcohol or solvents, by mobilising them with high-energy density NIR light. Polar molecules absorb high percentages of the NIR light, and the darker the liquid, the higher the absorption and the faster the evaporation. More than 70% of aNIR light can be absorbed by the fluid, leading to highly efficient evaporation according to adphos. At the same time, the substrates are non-polar and absorb very little NIR energy; transparent plastic films take around one percent, white paper less than 5% of the energy.
Rigoli meanwhile is developing medium infrared (MIR) systems to meet the challenge of inkjet printing flexible packaging at higher speeds, without adversely affecting PE or other heat-seal materials.
Read about the latest technological developments in digital label printing here
Read about the latest technological developments in digital flexible package printing here
Read about the latest technological developments in digital folding carton printing here
Read about the latest technological developments in digital corrugated printing here