Enprom delivers first thermal laminating machine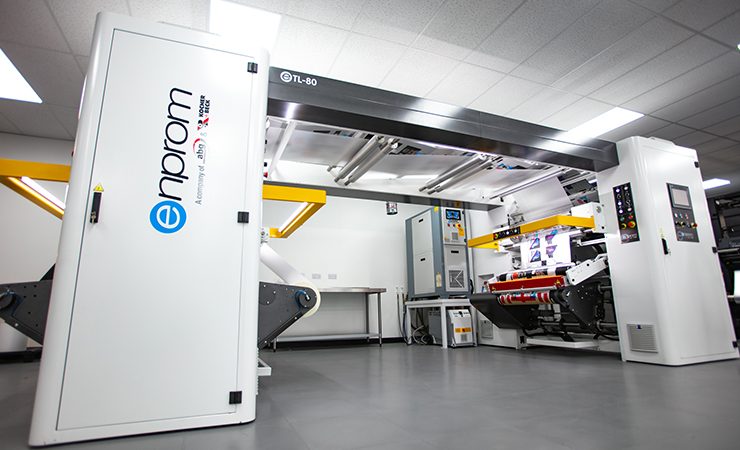 The Enprom eTL thermal laminating machine installed at Bakers Labels is a world first
Spanish converting machinery specialist Enprom has delivered its first thermal laminating machine, with UK trade printer Baker Labels installing it as part of its new BakPac trade flexible packaging offer.
Enprom is a company of AB Graphic and Kocher+Beck. The two finishing companies formed a strategic alliance last year to acquire Enprom Packaging.
The Enprom thermal laminating (eTL) machine has been specially designed for flexible packaging markets and for adding value to the quality finishing of the products. The compact system is composed of two stages joined with a web path bridge. The first unit supports two unwinders with control tension units and corona treatment. The second unit contains the rewinder and laminator unit. The machine is rigidly joined by four union beams. The development of this machine has been made with the goal to shorten the web path to a minimum and thus reducing waste by up to 33%.
As Baker Labels has a long-standing relationship with AB Graphic after the installation of multiple Digicon finishing lines over the years for label embellishment and finishing, the UK trade printer's managing director, Steve Baker, trusted in Enprom to manufacture a thermal laminating machine suitable for the digitally printed flexible packaging market. Mr Baker worked closely with AB Graphic sales director Matt Burton and Enprom's engineers in the design and build of its first thermal laminating machine. It was delivered to Baker Labels in December 2019.
eTL can handle different types of flexible packaging products that can be laminated, and is suited for high performance, short-run flexible packaging for immediate time to market. At BakPac, eTL will help in the manufacture of digitally printed flexible packaging in the form of stand-up pouches, pillow pouches, shrink wrap and printed film.
eTL is not the only cutting-edge technology Baker Labels has invested in for BakPac, as its Karlville pouch making line is the first ever to feature dual web functionality. As well as the expected folding of a wide web of material to create a pouch with doyen or K-seal, this allows the production of pouches with different materials on the front and reverse as well as another for the gusset.
The pouch making line can handle twin web, back to front re-registration with or without insert gusset, and mid/wide web pouch converting from a folded single web.
AB Graphic has explained how existing and new technologies are setting it up for an 'exciting 2020'.