Pacer runs with Epson SurePress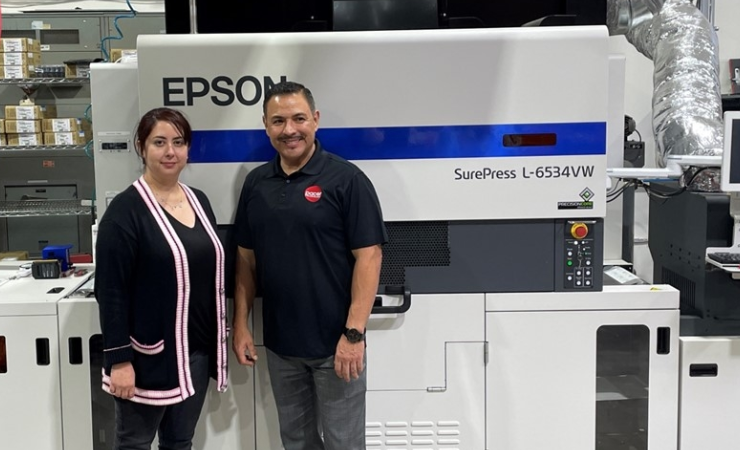 Pacer is printing three million labels a month on its Epson SurePress
Pacer Print and Packaging of Chatsworth, California has installed an Epson SurePress L-6534VW UV digital label press, meeting rising demand and the manufacturing requirements of its customers.
Pacer started out as a graphic design company but has since transitioned to a print shop, including production of packaging and labels. This has included a previous investment in a Screen Truepress Label 350UV inkjet digital press
'Initially, our main business was printing folding cartons,' explained Peter Varady, owner of Pacer Print and Packaging. 'After developing that niche, we started thinking outside the box – literally. Everything going into the boxes we were creating needed a printed label, so we started developing our label business. We purchased our first digital label press, learned about finishing techniques, suppliers, and we got it going.'
Rising demand meant Pacer Print and Packaging necessitated a second label press. Mr Varady said, 'When we needed a second press, we wanted to look at Epson. Every print shop has an Epson proofer, it's the standard. Epson dominates in colour, providing superior output quality, and we knew that experience would be reflected in the label world. We have not been disappointed – colour gamut, quality, digital varnish, consistency, ease of use; it has everything we need.'
Pacer Print and Packaging prints around three million labels a month on its Epson SurePress L-6534VW, serving clients spanning a variety of industries such as nutraceuticals, cannabis, health and beauty, candles, food and spice, and entertainment. Mr Varady noted that with the SurePress machine, Pacer has been able to secure more exclusive clientele, including wine and spirit and beauty customers that require a higher quality label with very specific colour matching needs.
Reliability has also been a boon to Pacer, as Mr Varady explained. 'Since installing the SurePress, it has not gone down once. Right before we purchased the SurePress, our other press kept breaking down and we would continually miss deadlines. We lost three major accounts because of the downtime. We've since been able to reconnect with those accounts and I think they will be really happy with the quality we're getting from SurePress.'
Mr Varady also commended the digital varnish capability and overall consistency of the company's Epson digital label press, noting, 'We have customers who now specifically ask for their labels to be printed on the SurePress. Digital varnish is traditionally very difficult with flexo, however with the SurePress, everything is inline. So not only do you get the finishing, but you can lay varnish on top, and the contrast is outstanding.'