Xeikon confirms reorganisation plan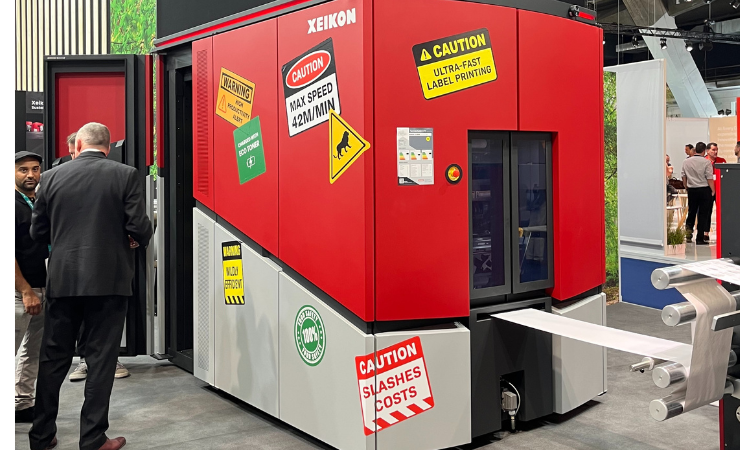 At Labelexpo Europe 2023, Xeikon introduced the 42m/min Lion LX3000 press
Xeikon is to reorganise its business 'in order to adapt to the current reality', with a post-Covid change in consumer behaviour and a resulting decline in sales, combined with higher wages and rising energy prices, having 'put the future of the company at risk'.
Xeikon stated that digital printing technology has been 'very much' under pressure in recent years. 'This is a consequence of the coronavirus pandemic, coupled with the effect of inflation, high energy costs, inflation, escalating wages and high production costs. Moreover, the evolving landscape of consumer behaviour further compounds the situation, influencing print volumes and customer dynamics. All those factors are collectively exerting pressure on the company's ability to survive and thrive in the current business environment.'
To combat this and secure its future, Xeikon intends to implement multiple steps to reorganise its activities around the world. This includes the combination of sales and service departments and organising them geographically, regionalising sales support and market development activities, and uniting research and development departments with the technical support team. Xeikon also intends to discontinue or scale down unprofitable projects and activities in the future.
During a recent Extraordinary Works Council meeting, Xeikon therefore announced its intention to proceed with a reorganisation of its business in order to adapt to the current reality. The information and consultation phase was started in the context of the Renault Act, which is a labour law in Belgium that sets out the rules and procedures all employers from the private sector need to follow in the case of restructuring.
Whilst Xeikon's management has stated that it is 'committed to take the next steps with all due respect for the staff', if the reorganisation were to be implemented as planned, as many as 85 jobs could be lost globally, of which 50 are linked to Xeikon's activities in Belgium.
'The Xeikon management hopes for a transparent and fruitful dialogue with the social partners, and is committed to accompany the employees in the best possible way throughout the process,' the company stated.
Since 2015, Xeikno has been part of Flint Group and was used to formalise the global consumables supplier's digital division. Flint itself has recently changed hands and undertaken a major recapitalisation.