Label-form invests in Durst's Tau technology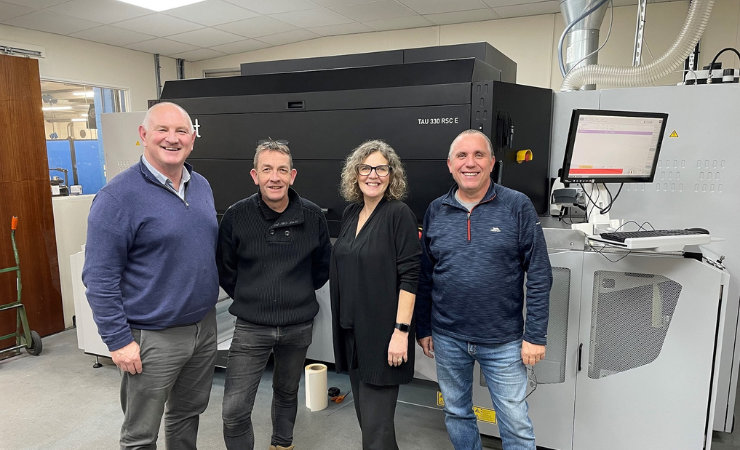 The Durst Tau RSC 330 E was supplied with a chiller unit, which has allowed the company to expand substrates available for printing
Label-form, a one-stop shop and specialist label printer, has invested in Durst products once again, with a further investment in its Tau platform.
The Durst Tau RSC 330 E was supplied with a chiller unit, which has allowed the company to expand the range of substrates available for printing, including difficult ones such as clearonclear on polypropylene (PP).
The first commercial job run on its new Rau 330 RSC E single-pass inkjet five-colour press was for new customer, Henley Distillery.
'We felt that Durst had moved on a lot further with the digital inkjet technology and it was by far the front runner,' said Label-form commercial director Stewart Serls. 'With inkjet, it's the closest you get to screen printing – there is hardly any difference in quality. We see many benefits from our investments. First, the 1200dpi makes one heck of a difference in terms of quality, and the white provides opacity and allows other colours to become stronger.
'The Durst complements alternative technologies, can easily register with other machines and now prints applications that account for around 35% of our business in terms of sales. Another commercial advantage is the Ink Save Mode from Durst, which we believe will make significant cost savings over a traditional CMYK press as we expand even more into digital production.'
Simon Cosh, labels business development manager of Durst UK & Ireland, commented, 'Customers today have the freedom to decide to what degree they expand their solutions with Durst. We are delighted that following an extensive review of the market, Label-form decided to reinvest in our Tau platform that I am confident will help the company to become even more profitable by expanding further into the growth digital printing markets. Minimising production waste, stock obsolescence, reducing power consumption and time to market are all important factors in today's rapidly evolving markets where every label can now be unique with digital production.'