drupa fires the gun on 2024 show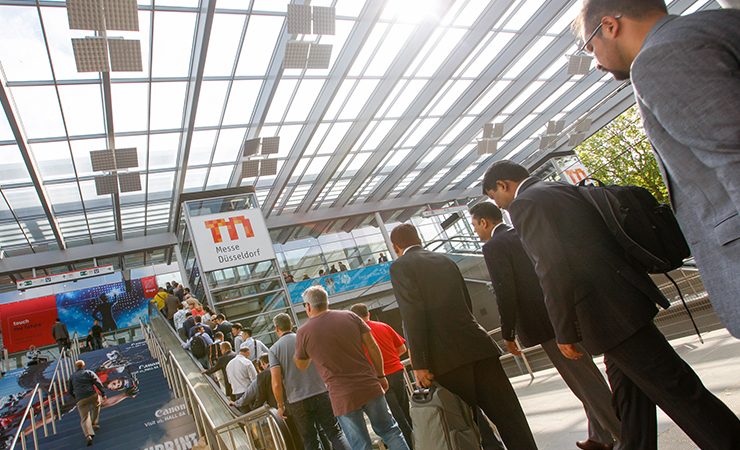 drupa returns as an in-person event in the summer of 2024
Some 900 exhibitors have booked to attend drupa 2024, as the quadrennial print industry trade show prepares for its first in-person edition in eight years.
The recent coronavirus pandemic put paid to Messe Düsseldorf's plans to host the event in the spring of 2020 and then again in 2021. Rather the show went online for that cycle. With the fallout and impact of the coronavirus pandemic subsiding around the world, print industry trade shows have returned in force, as evidenced at Labelexpo Americas in September and Printing United in October. With the next edition of drupa scheduled for 28 May to 7 June, 2024, the organisers have used the official deadline for registrations to update on the level of interest reported some 18 months out from the doors opening at the Düsseldorf Messe.
From the digital package printing supply chain, notable names to have signed up to attend include: Anytron, Baldwin Technology, Barberan, Bobst, Cartes, Comexi, DeCoSystem, Dilli, Duplo, EFI, Erhardt+Leimer, Epson Europe, EyeC, Fujifilm Europe, Global Inkjet Systems, HanGlory, Highcon, Hybrid Software Group, Kama, Kao Collins, Koenig & Bauer, Konica Minolta, Kurz, Kyocera Europe, Landa, Macarbox, Michelman, Neos, Nordmeccanica, Omet, Re SpA, Scodix, Screen Europe, SEI Laser, Seiko Instruments, SisTrade, Tharstern, theurer.com, Valloy,  Vivid Laminating Technologies and Zund. These companes and the hundreds of others signed up so far are to occupy over 100,000sqm of net exhibition space.
For comparison, drupa 2016 ended with 1,828 exhibitors across 158,237sqm of net exhibition space. They came from 54 countries. drupa 2024 currently has exhibitors signed up from 45 countries.
Sharing their early views ahead of drupa 2024, EFI, HanGlory, and Konica Minolta each noted how important they expect the event to be to the global print industry.
According to Olaf Lorenz, general manager, global brand management at Konica Minolta, 'drupa is the bedrock for our industry.' He added, 'drupa provides a perfect platform for us to demonstrate the latest technology and improvements to further identify and unlock the digitalisation potential for our customers.'
Ken Zhao, co-founder of HanGlory Group, said, '[drupa] helps us to stand on the big stage of the printing industry to show the world our development and achievements in the field of digital inkjet printing. Facing the constantly changing and evolving future, HanGlory Group has decided to participate in drupa 2024, which is a very valuable opportunity for us to further integrate into the international market of inkjet digital printing to create more excellent products, services and solutions that are more in line with international market requirements.'
EFI's Ken Hanulec, vice president of worldwide marketing, noted '[We] deliver vital innovations and opportunities for customers through digital print and, for us, drupa is a venue for digital's best ideas. At drupa 2016, we launched a Nozomi single-pass inkjet press that is transforming the corrugated space. The 2024 show will be just as important for anyone seeking the next level of success in many segments of digital print.'
Building on these opinions, Sabine Geldermann, drupa director, said, 'Current booking levels and the positive verdict received by exhibitors make us very confident and optimistic – despite the geopolitical and economic challenges – that drupa 2024 will again be the world's most important industry meeting place.
'With around 75% international attendance on the exhibitor side, drupa occupies an outstanding position by global standards. The range, variety and staging of innovations are unique and will once again provide a glimpse into the future of this industry. With ideal prerequisites for exhibitors and visitors to network intensely and drive forward-looking projects.'