WestRock to take control of Grupo Gondi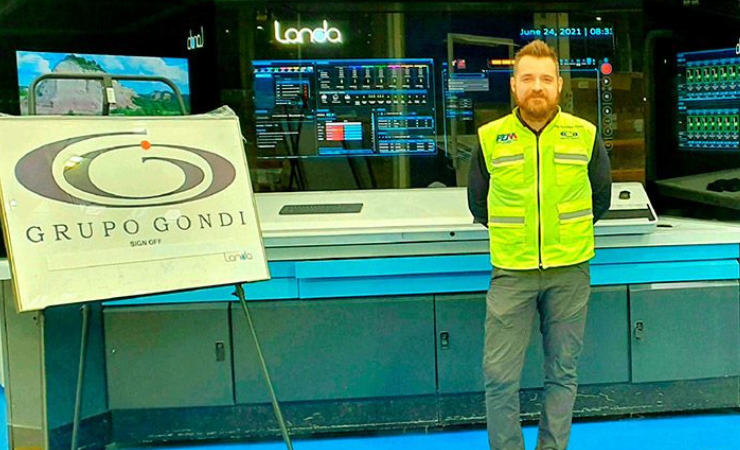 Grupo Gondi has previously installed a Landa S10
WestRock has entered into an agreement to acquire the remaining interest in Mexico's Grupo Gondi for $970 million, plus the assumption of debt, representing an estimated implied enterprise value of $1.763 billion.
Grupo Gondi operates four paper mills, nine corrugated packaging plants and six high graphic plants throughout Mexico, producing packaging for a wide range of end-use markets in the region. Its production includes digital, and the first Landa S10 nanographic printing press installed in Latin America.
WestRock currently owns 32.3% of Grupo Gondi, and this transaction will secure the remaining 67.7%. The tuck-in acquisition will provide WestRock further geographic and end market diversification in North America, as well as position the company for continued growth in Latin America's containerboard, paperboard, and consumer and corrugated packaging markets.
WestRock CEO David B. Sewell said, 'Acquiring the remaining interest in Grupo Gondi is the next strategic step in our broader North American paper and packaging expansion strategy. As onshoring continues to grow in the region, WestRock will be well positioned to meet this growing demand with fully integrated operations in Mexico. We will also have expanded capabilities to serve customers across many geographies, driving additional productivity and cost savings.'
Grupo Gondi CEO Eduardo Posada said, 'When we complete this transaction, Grupo Gondi will continue to excel as part of WestRock. I look forward to joining the WestRock team and serving our customers with the expanded capabilities and reach of WestRock.'
Alejandro González Cimadevilla, Grupo Gondi president and chairman of the board, added, 'WestRock and Grupo Gondi have been great joint venture partners over the past six years, working together to provide outstanding service and innovation for our customers. Becoming part of WestRock, with its scale, geographic footprint, and customer-focused solutions, will further enhance our ability to provide complete packaging solutions for our customers.'
The acquisition, which is subject to a number of customary closing conditions including approval by regulatory authorities in Mexico, is expected to close by the end of the calendar year 2022, after which WestRock would consolidate Grupo Gondi into its financial statements. WestRock has the ability to fund the purchase with existing liquidity.