2024 prospects and predictions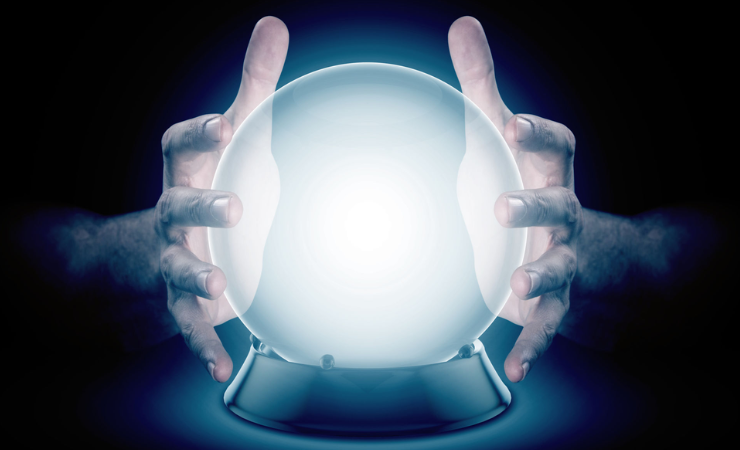 What is the digital packaging supply chain predicting in its future?
The future of digital labels and packaging is rife with opportunities and challenges, whether you're building and marketing presses and finishing lines, selling and buying print products, or serving the supply chain with consumables, ancillaries or offering up strategic insights
Looming large on the horizon is the return of drupa from its Covid-enforced hiatus. Much is anticipated of the event, although it can be expected to be different from the drupa shows of old. So much has occurred and changed since 2016 but inevitably the draw to Dusseldorf will remain strong and the ramifications will be felt throughout the supply chain long after the show's doors close in early June next year.
2024 won't be all about drupa though, as the comments below indicate. Supply chain challenges, financial struggles and investment hesitancy are just some of the trends identified. Read on for more and use the in-page navigation tools to find your way around the deep and rich content. 
| Paolo Grasso, Actega Metal Print | David Richards, Amberley Labels | Sophy Moynagh, Anglia Labels | Shaan Patel, Arrow Systems | Patrick Graber, Bobst | Virgilio Micale, Cartes | Paul Philbrick, Close Brothers | Jamie Nelson, Compass Business Finance | David Pittman, Digital Labels & Packaging | David Ellen, Domino | Sabine Geldermann, drupa | Thomas Macina, Durst | James Montero-MacColl, Easyfairs | Aleks Zlatic, ePS | Chris Jordan, ExedraBridge | Antony Cotton, Focus | Raynald Barillot, Fujifilm | Dario Urbinati, Gallus | Shlomo Nimrodi, Highcon | Haim Levit, HP | Eli Mahal, HP Indigo | Yale Goldis, HP PageWide Industrial | Bobby Grauf, Inkcups | Steve Wardle, Kellanova Europe | Jean-Marc Pasturel, KNIS | Jon Pritchard, Konica Minolta | Jade Grace, Labelexpo | Helena Kellock, Label Apeel | Phil Baldwin, Mark Andy | Ben Luly, Mark Andy | Gavin Rittmeyer, Martin Automatic | Dr Adrian Steele, Mercian Labels |  Windell McGill,  PCMC | Printing United Alliance | Barry Lewis, Reel Appeal | Mark Nixon, Scodix | Juan Cano, Screen Europe | Lauryn Hall,  Springfield Solutions | Nanette Thomas, Synthogra | Kevin McKell, Vetaphone | Karl Forbes, Xaar | Filip Weymans, Xeikon |
++++++++++++++++++++++++++
---
Sales director, Actega Metal Print
The latest advances confirmed at Labelexpo gave the market some important updates about the technology, but I think the most crucial messages shared during the show came from our customers. Representatives from these innovative companies provided insight into how EcoLeaf was already benefiting their businesses and generating much excitement among their own customers.
Looking ahead, we can only foresee further digitalisation and requirements for on-demand. As costs decrease and qualified operators become scarce, the need for streamlined and intuitive processes becomes paramount. Moreover, this transformation must be achieved without compromising on stringent quality standards. Notably, sustainability will remain a driving force, extending its influence on operators as well. Considering these factors collectively, it becomes evident that we are now charting a course towards the right direction.'
---
Managing director, Amberley Labels
2023 was a challenging year for the industry as a whole due to widespread reduction in volume backed by raw material issues amongst all leading PSA suppliers. The industry is therefore maintaining a realistic view for the next 12-18 months based on the current supply chain.
This means that listening to our customers has never been more important and utilising digital technology for new and more sustainable applications, including just-in-time print, are major strategic drivers for Amberley.
Sustainability will continue to dominate and demands on businesses to offer more circular manufacturing solutions in light of limited UK recycling infrastructure will grow. As a fully circular manufacturer with built-in recycling capabilities, Amberley has major plans to offer further closed-loop services to its customers alongside Coveris' pioneering plastics recycling business, ReCover.
The digital market continues to lead the way, with a real shift change in the availability of high-quality inkjet products arriving to challenge the toner-based market but there is also a strong focus on driving flexible packaging via a digital route.
The advantages of both flexible packaging and digital print create a winning combination in today's market environment with brands looking to find competitive advantage whilst being able to achieve a fast launch to market.
This is also supported by stability challenges within our customers' own supply chains, leading to longer lead times and availability of key components. Without these, the labels or other secondary packaging is not being produced, therefore diversification into alternative pack formats such as flexible pouches reduce supply chain complexity, which is supported by new technologies within Amberley and Coveris' wider packaging group.
---
Operations and marketing manager, Anglia Labels
Anglia Labels, as an SME, will face multiple challenges in 2024 related to technical developments, investments, and supply chain dynamics amid economic turbulence.
The increasing speed of advancements in machinery and printing technology and the ongoing shift to digital printing necessitates significant capital expenditure to stay current. Automation and Industry 4.0 trends are increasingly on our radar as we recognise the need for process adaptations for competitiveness, though the additional capital outlay that new systems require present challenges for small businesses in the industry in terms of budgeting. Economic uncertainty poses hurdles to significant capital investments and research and development initiatives, particular to SMEs like us but we are reassured by government initiatives and funding to support smaller business growth.
As a company of a certain size and age we are navigating succession challenges and the need to develop new talent in the business. It is a priority to distil valuable knowledge from our long standing and high-skilled work force and to upskill in line with industry and external developments and we are expanding our people development strategy in order to support this process.
Whilst raw material costs have stabilised and supply chain disruptions settled, logistical challenges, such as traceability and managing transportation costs, add pressure.
Fluctuations in market demand, a consequence of economic turbulence, have put pressure on production planning which we continue to manage by keeping in close communication with our strong customer base.
Evolving environmental, social and governmental standards present management challenges, but as we look to the future we are actively embedding these.
---
Business development, Arrow Systems
It looks as if the shift towards digital printing will only continue to accelerate. This past year brought with it more traditional printers and converters getting into digital and next year looks to be more of the same.
Some of the largest advancements of the year have come in the way of new inkjet technology. We envision this trend to continue, with more and more equipment manufacturers and label converters evaluating water-based pigment inkjet solutions. The advancement of the latest Memjet Duraflex systems from Arrow Systems will help propel the industry in this direction.
Additionally, the launch of the new Durabolt technology from the Memjet team is sure to excite the industry ahead of next year's Labelexpo Americas.
We look forward to continuing to develop the latest water-based pigment inkjet solutions and to helping customers around the world begin their digital journey.
---
Marketing director, narrow-mid web solutions, Bobst
After a strong 2023 and considerable growth, in 2024 we expect a slight slowdown in year-on-year growth of the label and packaging industry, caused by ongoing political and economic unrest as well as high interest rates which will stall certain investments.
We believe converters will aim to invest smarter, optimising their equipment usage and generating more volume on the machines they have. This means a focus on efficiency, productivity and waste reduction, which will drive strong demand for connectivity and automation features on new and existing machines. Sustainability and brand protection will become a driving force in the industry more than ever before, with more regulation affecting the label design, choice of substrates and manufacturing processes, as well as the demand for high recyclability.
A persistent topic is the lack of skilled workforce, which increases the need for easy-to-use machines. Converters must further improve efficiencies by automating and reducing process steps along the production line, which likely increases their preference for all-in-one or one-pass printing solutions over multi-process solutions. Meanwhile, we see inline flexo with extended colour gamut printing (ECG) printing to be the most popular solution for short-run flexible packaging over digital alternatives due to cost and productivity requirements. We expect inkjet printing to gain additional market share and increase application versatility.
It is a fast-moving environment, and one requiring constant innovation, which is a BOBST promise. As per our industry vision, we see greater digitalisation, automation, connection and sustainability being the pillars upon which the future of the packaging industry will be built. And we are committed to help leading the way.
---
Global sales director, Cartes
The graphic arts market has been changing steadily over the last few years, but at the same time these changes have been revealed on a wide spectrum, in which following all trends is practically utopic for any company. Machine manufacturing companies, which offer solutions to these trends, cannot be excluded from this reality and that is why the specialisation, which some manufacturing companies like Cartes, have adopted for a particular sector, has become a great ally to guarantee that the machinery offered is decisive in efficiently achieving goals.
All markets have suffered various imbalances and unfortunately situations continue to arise at a global level that do not provide the feeling of stability necessary for confidence and so motivate investments. Additionally, the labour market has been affected by a substantial lack of human resources, which today represents the main problem for a company.
Difficult times are coming in which the global situation will continue to impact companies' decisions, but it is also true that those that continue to invest and implement strategies to optimise their processes will have a great advantage to face the challenges to come.
For Cartes, business foresight is crucial and although we know it does not guarantee success, it prepares us to face the needs of our clients. We are obliged to believe in the future and continue concentrating energies on ensuring that automation increasingly becomes an integral part of all processes, so users can immediately optimise profit margins that have weakened in recent years.
---
Managing director (print team), Close Brothers Asset Finance
My view is that people are ready to move forward but uncertainty remains in the marketplace, with high energy prices, the cost and availability of raw material prices, and high interest rates making planning for the future difficult.
According to our own research, 44% of print firms are confident the economy will grow in the coming 12 months, while 54% are concerned about a slowdown. Four in 10 expect to grow against 22% who are likely to contract; 40% are of the view they will 'stay the same'
Overall, the sector remains strong, with 82% of those polled planning to seek funding for business investment in the next 12 months.
As we see businesses begin to understand their true costs, they can make plans and adjust for the future, as evidenced by our research. They will either work the assets they have already purchased or look to invest in newer technology to help their business grow.
Confidence of business owners in the sector has remained stable, improving in 2023 when compared to the previous year, closely tracking general UK business sentiment.
---
Director, Compass Business Finance
2024 is going to be the year that innovation in sustainability skyrockets. I expect to see new substrates being launched, ever more creative packaging solutions in the market and increasingly greener production facilities, supported by new technologies. From a finance perspective, there is an expectation that this will be supported by new Government initiatives, and preferential funding terms, particularly after the Recovery Loan Scheme is retired in June.
drupa feels like a long overdue event on the industry calendar; the simple fact that it's back instils a good level of confidence. Traditionally, drupa has heralded multiple product launches and new innovations, which we're already beginning to hear about, and it's always a great place to find inspiration, meet industry peers (old and new) and share ideas.
Despite continued economic uncertainty and turbulence, interest rates are levelling off and inflation is starting to decrease, albeit nowhere close to the Bank of England's target yet. 2024, won't be without its challenges, but I believe there is much to feel positive about, and I'm excited to see what the year ahead brings.
www.compassbusinessfinance.co.uk
---
Editor, Digital Labels & Packaging
Consolidation will be a big trend in 2024. That will come in all forms, from smaller printers getting swept up by bigger converting groups, to the supply chain restructuring and suppliers consolidating their respective positions. I don't foresee anyone actively leaving the digital print for packaging market but I do expect to see priorities being reassessed and companies lowering their often lofty expectations for how and where they'll be looking and able to grow, in the short-term at least. 
In a similar vein, I expect to see a redrawing of lines in relation to specialisms. This will be particularly true in packaging. Whilst some areas of print will undoubtedly continue to operate across various packaging verticals – and often quite successfully it must be said – the rise in industrial digital systems will allow those packaging manufacturers and converters who have so far been constrained by the existing process capabilities of digital to produce flexible packaging, folding cartons and corrugated boxes, to step in and take on more of the work at the lower end of the market. A perception is often painted that such companies don't want to bother with smaller, more frequent runs but the opposite is more likely true; that they'd love to keep that business, they've just not had the right tools at hand to do so. This is changing and when coupled with stronger, more defined strategic drivers pulling digital through – as opposed to technology being used to push digital onto the market – growth in 'one-stop-shop' type printers will abate. 
Finally, drupa will be big, figuratively and literally. I think we can all have a safe bet on it not being as logistically big as it has been in previous years and it certainly isn't going to be as a long in duration. Nonetheless, it is with confidence that I write drupa 2024 will be a major talking point for years to come, for the digital packaging supply chain if nothing else. Whether it's spoken about positively or negatively, I'll leave up to you, but it'll be spoken about regardless.
---
Divisional director, digital printing, Domino Printing Sciences
Despite the economic downturn, digital print has been growing steadily over the past five years. In 2024, we expect further growth, albeit at a slow rate, as converters look for creative solutions to address labour, sustainability and regulatory challenges while increasing production capacity and efficiency.
The skills shortage will continue to affect converters, with those reliant on traditional printing methods particularly affected as workers trained on traditional printing technologies begin to retire. This is an area where we expect digital to become more prominent, slowly displacing conventional technologies and bridging the skills gap by offering opportunities for automation.
Sustainability will remain a priority, with a focus on developing more sustainable media and processes, and technologies that enable recyclable materials. We expect to see growth in the use of water-based inks in the corrugated sector, benefiting converters with increased drying efficiency, while opening new applications.
Retrofittable hybrid digital solutions will play a part in meeting sustainability and regulatory challenges. Adding a digital module to existing flexographic processes will allow converters to help brands meet traceability requirements through variable data, whilst delivering cost and waste savings, compared to investing in a new hybrid press.
On the supplier side, equipment manufacturers will increasingly switch focus to innovating technologies and advanced services that support process improvement and optimisation. Strong long-term partnerships between converters and equipment and consumable suppliers will emerge, focused on maintaining high reliability and efficiency. With inflation and interest rates still high, agile finance packages will play a role in supporting converters to meet higher label and packaging demand.
---
Director, drupa, print technologies, Messe Düsseldorf
2024 will be a very special year for us: the momentum is building as drupa returns to bring the entire printing and packaging industry together in Düsseldorf, Germany. And drupa is needed more than ever as the industry faces significant change, driven primarily by sustainability concerns.
A significant shift towards environmentally friendly materials and processes is meeting the growing demand for sustainability. At the same time, digitalisation is driving advances in automation and AI, increasing production efficiency and enabling high-quality personalised printing.
Customisation is at the forefront, responding to a market seeking unique products through innovative printing technologies that enable mass customisation without compromising speed or cost-effectiveness.
However, challenges remain in adapting to rapid technological change while maintaining a sustainable supply chain. The balance between innovation, environmental responsibility and operational efficiency remains critical, prompting collaboration and knowledge sharing.
Despite economic challenges, there's growing confidence in global markets, with printers and suppliers actively seeking new avenues for growth. The recovery in capital expenditure, as highlighted in the 9th drupa Global Trends Report, coupled with robust demand from various print sectors, provides a positive outlook for the industry.
In summary, 2024 promises a dynamic evolution, characterised by sustainable practices, digital innovation and an increased focus on meeting diverse consumer demands. As the world's leading trade fair for the global printing and packaging industry, drupa 2024 is the key platform for shaping and experiencing this transformative journey.
---
Sales director, labels and flexible packaging, Durst Group
At Durst, we are looking forward to 2024 with optimism. As a leading company in the digital label printing industry, we are excited about the technological advancements and market opportunities that the new year holds. The industry is rapidly evolving, and Durst is committed to leading the way with innovative solutions that meet the changing needs of our customers.
In terms of technical developments, we are focused on further enhancing the efficiency and sustainability of our printing solutions. This includes continued investment in our Durst Hawk Eye technology to offer even higher quality and faster production capabilities, while also reducing environmental impact. We anticipate a growing demand for eco-friendly printing solutions, and Durst is well-positioned to meet these needs.
The ongoing supply chain challenges and economic turbulence are certainly areas of concern for the industry. However, we believe that digital printing technology offers a level of flexibility and agility that can help mitigate these challenges. By enabling shorter runs highest production flexibility and on-demand printing, we can help reduce waste and inventory costs, making the supply chain more resilient.
In 2024, drupa will be the most important industry event. Regarding the upcoming drupa event, we expect this platform to showcase significant innovations in digital printing. Durst plans to reveal new solutions and collaborations that will further strengthen our position in the label sector.
---
Senior marketing manager, Easyfairs
Inclusive packaging and labelling is a trend we expect to see continue. This trend has produced some exciting innovations in recent years – high-build spot varnishes for Braille labelling, easy opening and dispensing mechanisms, and novel shapes for easy handling, to name a few. Focusing on making packaging more accessible to the minority of consumers with disabilities, health conditions and impairments, usually ends up making the packaging experience better for everyone.
We'll also see the industry continue to unpick the true meaning of sustainability. This might involve embracing innovative refillable or reusable solutions, which were a hot topic of discussion at London Packaging Week 2023. It will also involve exciting new bio-based materials that reduce our reliance on plastic, offering equivalent performance to plastic for many applications but with improved recyclability or compostability.
These new materials will influence a stylistic trend towards more rustic shapes, colours and textures in packaging and labels. Consumers strongly prefer packaging that they perceive to have a lower environmental impact, so making sustainable packaging that they can intuitively identify as such will be key to meeting today's consumer needs.
We also expect to see the line between the virtual and physical worlds blur a little. This will be the case in terms of the supply chain, which increasingly relies on digitalisation and automation, but also in terms of pack functionality, which can incorporate scannable QR codes to provide accessible, detailed product information, or exciting augmented reality features for brand storytelling.
---
General manager, packaging, eProductivity Software
In 2024, the packaging industry will increase its focus on data integration, transparency, global operational visibility, and optimising strategic investment activities. These factors will help shape the future of the industry, redefine sustainability, traceability and standards, and influence business models.
Recent developments across primary packaging trends (affecting the folding carton, labelling and flexible packaging sectors) highlight a trend toward enhanced integration and automation in pre-production and production processes. This evolution will lead to more streamlined operations, improving efficiency and precision while reducing errors and waste.
The area of data accessibility and accuracy will also become central, fostering superior traceability and waste management. Investments in technology and infrastructure for better data collection, analysis, and reporting will empower packaging converters to track product stages and promote sustainable and ethical practices—from sourcing to dispatch and disposal. Additionally, the demand for cross-plant, cross-country enterprise visibility will grow due to supply chain complexities and multinational operations. Companies will seek solutions that offer a holistic view of their operations across various locations to improve coordination, decision making and overall performance.
Finally, the mergers and acquisitions landscape in the packaging industry is set to shift. Following the large-scale mergers of MM and Essentra, the creation of Smurfit WestRock, and earlier GPI's acquisition of AR Packaging, smaller companies, especially those excelling in data accessibility, will become focal points for investors, signalling a new wave of industry consolidation.
For a packaging converter-specific system like Radius ERP, this means integrating advanced material management for sustainable materials, automation of workflows and integrations, supply chain optimisation tools, sustainability tracking, real-time analytics and insights, and saleability from a single-plant operation to a mega-enterprise organisation.
---
ExedraBridge, partner/founder
COP28 approaches at the end of 2023 just after Labelexpo Europe and Printing United with drupa in May 2024.
The challenges, one of which like several others including world war, has been underestimated by some of the best minds on the planet.
My hopes and aspirations appear like many others to include meeting friends and colleagues after three Covid cocooned years.
As a veteran of print technology, I have recently come to understand and appreciate the intricacies of the labels and packaging supply chain. During 2023 I attended many packaging related events hosted by the like of Bobst, Esko and FuturePrint; many companies and individuals including Cerm have been generous with their time and expertise. Although not an expert, after much research and guidance I now understand the fears of the brands, converters and suppliers.
My hopes and aspirations are firstly that all the exhibited, discussed, hinted at and maybe even promised products come to market fully formed, reliable, consistent and produce the anticipated results and quality.
Secondly, that they find a way to crack the brands reluctance to move to digital quickly with all the sustainably advantageous that could bring to them and us.
Thirdly, that there is far more in-depth collaboration between suppliers in order that their newly developed products are unique, and not just another 90-plus percent 'me too'.
Legislation and consumers will move the brands more quickly than they want to change, but it is unlikely that it will be fast enough, although I do live in hope.
---
Sales manager, Focus Label Machinery
For 2024, we believe that inkjet and toner technology will continue to develop and improve, particularly in the areas of colour management, print durability and sustainability. Going forward, it is likely that digital printing will gradually progress from being predominantly short-run, to include more medium and longer runs for labels and packaging through a more viable and economical  'cost per print' landscape.
In recent years, we have seen that advances in digital printing technology have been significant. It has evolved to become more user-friendly, with more automation and more streamlined workflows, resulting in improved quality at faster press speeds.
All of the industry's leading manufacturers of conventional presses are now offering hybrid lines, with continued integration of inkjet technology, together with increased levels of embellishment and sophisticated web-handling and inline converting.
Sales of hybrid presses are likely to increase, as they offer the benefits of combined print technologies, enabling print houses to optimise their production capabilities.
An increased need for product security and brand protection means that digital printing will again be essential for incorporating a range of anti-counterfeit elements in labels and packaging production..  
2024 will also continue to see increased demand for interactive, personalised and customised packaging, including more versioning and variable data, plus a need for cost effective production on longer print runs. Variable data and personalised labels are known to create a more memorable consumer experience, whilst interactive labels will provide a unique and engaging experience for consumers, using features such as QR codes, NFC and augmented reality, etc.
As press manufacturers, we will need to continue to develop new and innovative ways to offer more sustainable processes, increased production speeds and to support more streamlined workflows.
---
Category manager, digital packaging EMEA, Fujifilm
In 2022, a growing interest in health, leisure, lifestyle and environmental issues was evident, with the most important driver being sustainability. I expect this to continue within 2024 and the coming years. Younger generations are also influencing the market, with people opting for higher levels of digitisation, leading to an increasingly connected world.
With digital print, retailers can provide targeted promotional materials as well as high quality designs and bespoke content, including personalised print, enhancing the unboxing experience for the end user. Additionally, e-commerce is an area that grew significantly during the pandemic and this continues to hold significant market share.
Consumers are increasingly looking at reducing their environmental impact and waste, and as a result, are more conscious of packaging than ever before. Local production and smaller orders are some of the ways the market is responding to this, impacting the supply chain. Politics and governments are consequently responding to this trend, and thinking ahead.
The EU has voted in a new legislation called The European Green Deal to make post-consumer packaging recyclable or reusable by 2030.
Fujifilm has implemented 'The Sustainable Value Plan 2030' in order to be in full compliance with this EU legislation and to become the most active packaging player in this topic.
By offering a range of new analogue and digital packaging products, Fujifilm aims to achieve a sales percentage of 60% of 'green value products', which will significantly reduce our environmental impact. At Fujifilm, we are analogue, digital and sustainable. This is how we act for optimum business efficiency.
---
CEO, Gallus
In 2024, the labels and packaging industry faces the undeniable influence of the global economy, particularly as high interest rates pose challenges for businesses seeking capital for essential purchases. This financial constraint is expected to persist over the next 12 months, creating an environment where strategic decision-making becomes paramount. Amidst these economic uncertainties, those with the capacity to invest are likely to prioritise technologies geared towards enhancing production efficiencies, reducing costs and improving overall productivity. Embracing solutions that support smart, connected printing – such as robotics, AI, and Big Data – will play a pivotal role in ensuring the competitiveness and profitability of label and packaging converters. These types of automation-ready technologies, and the shift towards 'lights out' manufacturing, will also increasingly prove critical in addressing the shortage of skilled labour evolving market-wide.
Beyond economic considerations, the industry recognises the pressing need for sustainability in 2024. Establishing our sector as a leader in environmental adherence is crucial for supporting brand-focused end customers. Simultaneously, acknowledging the changing dynamics of information consumption among future generations, there is a call for the packaging industry to seamlessly integrate with digital communication mediums. This monumental task necessitates a paradigm shift in solution development, requiring comprehensive industry-wide collaboration.
In 2024 and beyond, Gallus, as a subsidiary of Heidelberg, is committed to spearheading this collaborative effort, together, recognising that no single vendor can singularly address the challenges ahead.
---
CEO, Highcon
With high interest rates, rising energy prices, parts supply issues and global economic uncertainty, 2023 has been a difficult year for many people. As a result, overall demand for packaging has declined.
But for most Highcon customers, it's been the best year yet on their Highcon systems. For the first time since 2019, Highcon users produced more jobs, month-on-month, than in 2022. As a result, customer volumes are up – averaging 30% year-on-year.
So, how have Highcon customers been able to meet the global challenges to achieve this performance? Can it continue in 2024, and more generally, what can we expect from the year ahead?
Having talked to customers, it was a combination of the following key trends that drove this success either delivered or supported by Highcon solutions: 
Slashed inventories
Sustainability
Continued SKU proliferation
Growing volumes of medium-run production batches
The increasing impact of influencers
Demand for differentiation
Web-to-pack as a growing platform
The resilience of bricks-and-mortar retail
Labour shortages
In closing our recent investment round, it was these trends mixed with how Highcon digital die cutting technology is supporting the challenges and driving increased customer performance, that got our investors excited. As a result, we continue to have the funding, vision, expertise and a clear roadmap to support the digital die cutting opportunity.
Lastly, for our industry in 2024, Drupa is a big milestone that can't be ignored. It provides a huge platform for vendors including ourselves to demonstrate how we solve real problems and create compelling opportunities. Without giving too much away, I can assure you that we'll be there demonstrating our thought leadership, our technology leadership, and our market leadership.
---
Senior vice president and division head, HP Industrial Print
Labels and packaging, while being a resilient and stable industry, has been navigating a period of turbulence these past few years, and while persisting global pressures continue to pose challenges from disrupted supply chains and energy supply to the dwindling availability of talent, 2024 could be the tipping point for a new era to come.  
The rapid growth during 2021 and the first half of 2022 turned into softness in some markets and sharp decline in others. This decline is attributed to multiple factors including inventory destocking, food and beverage consumption moving back to normal, and consumers fears of recession. Major label and packaging media suppliers reported a sharp 15-20% decline in sales for the first half of 2023. Digital print of labels and packaging did not escape this softness, however the impact was moderate. The 10-15% annual print volume growth rate turned into a modest single digit growth.
The uncertainties of growing geopolitical tensions have thrown the question of secure and stable supply chains once again into the spotlight. As good supply has become less trustworthy and freight costs have continually spiraled, much of production has shifted back to the US and Europe, enabling converters to take a more local approach to business, while slashing expensive and unsustainable transportation. The issue of good demand however is another concern, while today we can see evidence of recovery in some areas, the reality is the impact is still there.
In addition to transport, the sourcing of substrates generated tension in the overall supply chain. Converters had to find new suppliers and to adjust production lines to substrates not used before. All this created unexpected complexity in the supply chain.
It also goes without saying that as with many industries, the labels and packaging industry is no exception to the scarcity of skilled labour. For the majority, little is known about the packaging industry and the perception is that it's an archaic and noisy sector that negatively impacts the environment. Today, the digital and AI boom presents opportunities for packaging manufacturers to offer new careers, up/reskilling opportunities for existing employees, and to overall reshape the industry's image to attract fresh talent.
The increase in energy prices and raw materials are driving cost increases not only for printers, but indirectly for customers. Implementing energy saving solutions, from solar panels and UV LED lamps to ink mixing and of course realising the advantages of moving from flexo to digital print could have significant impact. Equally important of course is quality control and automation as it leads to waste reduction.
Running in parallel to the pressures of the energy crisis, sustainability continues to climb the consumer and industry agenda. As organisations accelerate their sustainability initiatives, converters will be looking at their business and workflow processes holistically to ensure that they're delivering end-to-end solutions with a lower environmental impact. Regulation meanwhile will increasingly dictate more transparency from the industry. We can surely expect significant actions towards a more circular economy in the industry by 2025.
While you might be thinking 'the digitalisation of labelling is nothing new', we see some sectors from the folding carton to flexible packaging are yet to be convinced to start. Digitalisation is a way to optimise an entire production floor and ultimately a way to be more effective and more profitable. It's in this context that digitalisation, standardisation and automation of processes are getting higher on agendas across all company sizes.
Over the next year we'll increasingly see converters create connectivity between their systems and automate their processes with Cloud-based solutions and improve productivity through data analysis and AI. But digital isn't going to be a rip out and replace for the industry, effective digital is not just a digital press. We're convinced that digital technologies can intelligently complement conventional technologies, and we'll continue to see a hybrid approach for some years to come.  
After decades of growth in a stable and predictable environment, the labels and packaging industry is at a major tipping point. Market development has been, for years and decades, driven by technological developments, and we have now reached a point where the entire supply chain is at the core of future developments. Digital is moving from various niches to mainstream, changing the nature of the conversations.
At HP, we are committed to not only adding value into the printing processes, but across the entire value chain. A full digitalisation journey is necessary to embrace the challenges ahead, and drupa 2024 will be a turnkey moment where automation will be a major element to watch. With partners, across inkjet and LEP printing technologies, adding intelligence to machines and processes, we will help converters to produce more effectively and sustainably.
---
Head of labels and packaging marketing, HP Indigo
The rapid growth of 2021 and the first half of 2022 turned into softness in some markets and sharp decline in others. This decline is due to various factors: inventory destocking, consumption moving back to normal, and consumer fears of recession.
Major label and packaging media suppliers reported a sharp 15-20% decline in sales for the first half of 2023. Digital print of labels and packaging did not escape this softness. The 'normal' 10-15% annual print volume growth rate turned into modest single digit growth.
As we look to 2024, demand for labels and packaging will be impacted by looming recession, high interest rates, high energy prices and geopolitical unrest. Full depletion of access inventory will positively impact demand.
Brands will continue favouring fast delivery, reducing inventory level, more personalisation in packaging, fast design changes and shift in consumer preference to local production and environmentally friendly packaging. Regulatory changes will add another degree of complexity.
Converters will invest in digital equipment and automation that can deliver the agility and sustainability commanded by brands. At HP, we're convinced converters can win by adopting the 'right press for the job' practice. High value short runs delivered by digital presses such as the HP Indigo 6K, large labels and sleeves printed by wider press such as our HP Indigo 200K, flexo used at its sweet spot – longer runs and jobs with complex converting. All orchestrated with more automation, Cloud connectivity, analytics and AI.
---
Director strategy, commercial products and solutions, HP PageWide Industrial
As traditional print volumes decline, digital print will continue to grow. Commercial printers adopting the latest high volume production printing capabilities find better economics for themselves and their clients. They will also redefine their offerings and reimagine applications that bridge digital online and physical media.
Publishers are moving towards sustainable, targeted production. Shorter, frequent runs in market are replacing large, centrally produced orders to mitigate supply chain risks and reduce book miles. Publishers are also adopting 'gap' printing, using print-on-demand production from the onset of a book's life cycle, to meet unpredicted demand.
Additionally, digital printing meets specific needs of both trade and scientific publishers. Trade publishers use limited runs with special finishing that increases the value of print, while scientific markets appreciate this eco-friendly approach that reduces waste.
Direct Mail continues its renaissance in 2024 as marketers rediscover the performance and value of print in the overall marketing mix. While postal and paper costs pressure overall mail volume, digitally printed, personalised, impactful, and relevant mail will see healthy growth.
Business models such as web-to-print meet growing consumer demands for convenient online ordering, customisation and improved customer experience. Closer integration with large data warehouses and powerful marketing engines enable true multi-channel campaigns executed across online and print media.
Commercial printers are diversifying and finding new opportunities in adjacent spaces like labels and packaging to tap into growing markets while leveraging their expertise in digital print.
---
Senior manager, brand design and operations, Kellanova Europe
2024 promises to be a year of transformative developments for digital print, marked by technical innovations, strategic investments and persistent supply chain challenges. I'm really encouraged by the advancements and acceptance that we've seen in this print technology over the last 18-24 months, with a focus on speed and sustainability. Interest and demand for high-quality, environmentally friendly print is absolutely on the rise.
Printed packaging plays a pivotal role in connected consumer experiences. With a growing emphasis on personalised and targeted marketing, brands are likely to invest and experiment more with digital print technologies that enable customisation and quick turnaround times. This shift could see an increased adoption of variable data printing and advanced automation processes.
However, these promising developments will most likely be tempered by ongoing supply chain challenges and economic turbulence. Brands may need to adapt by diversifying their printed packaging supply options and explore local based sourcing options to mitigate risks.
drupa 2024 promises to be an incredible platform for showcasing new innovations and addressing shared challenges. These type of conferences and exhibitions are such a powerful opportunity for discussions with peers on sustainable print practices, resilience in the face of economic uncertainties, and strategies for navigating supply chain disruptions.
In summary, 2024 holds great promise for the digital print industry with technical strides, increased investment by brands, and industry events providing a glimpse into the future. However, the sector must remain agile to navigate the persistent challenges posed by supply chain complexities and economic fluctuations.
---
Managing director, Inkcups Europe
2023 has been a landmark year for us, with two incredibly innovative machine launches, the Helix One and XJet Switch, as well as significant equipment upgrades across our portfolio. This has been a direct result of listening to our customers and their markets and delivering technology that helps them achieve their goals.
With that in mind, we expect to see more print and packaging focused businesses identifying and pursuing opportunities in print-on-demand for drinkware, reusable bags, and promotional items. The marketing landscape is shifting: between younger people that grew up in a digital world increasingly seeking out tangible, 'real world' experiences; and third-party cookies set to be phased out in the year ahead among other changes, more marketers will likely see the positives of utilising print in 2024, whether it's mail, packaging, promotional products or whatever else, to forge connections with customers and boost brand recognition.
The need and desire to be more sustainable will continue to be a driving force for businesses and consumers, and with more and more people opting for lifestyle changes such as switching single-use plastic for reusable water bottles and bags, there will be further opportunities for brands to work with printers to meet this need and use it as a marketing tool.
---
 Global sales and marketing manager, Kyocera Nixka Inkjet Systems
Supply chains have suffered the over last three years. New ways to produce have started to emerge with the need to manufacture locally in order to be less impacted by global phenomena and to decrease the carbon footprint. These new local players will not be successful without flexibility.
If we apply it to the packaging market, it means short runs, versatility, personalisation. This is why more and more players in this industry are coming to us. Inkjet is already used for packaging applications, but still represents a small part of the volumes. We are convinced that inkjet will play a big role in this industry within the next few years. The overall packaging printing market is looking for both sustainable and affordable solutions.
KNIS' direction to answer this demand is direct inkjet printing onto substrates, with water-based inkjet inks, without pre-coating or post-coating. Water-based piezoelectric inkjet is now able to print offset quality on coated or uncoated papers, carton boxes or films, on small or large widths, integrated in a production process line or on standalone equipment, bringing an innovative, flexible, cost effective and eco-friendly solution.
We have recently introduced our new inkjet print engine, Genix 1200. With drupa coming next year there will probably be other announcements. Stay tuned, next year will be terrific.
---
Label, packaging and inkjet consultant, Konica Minolta Business Solutions (UK)
In 2024 we are likely to see more and more consolidation in the print industry, with print providers increasingly tackling declining print volumes and challenging economic developments (including higher costs for materials and labour, inflation, etc).
In general, we will see more of a challenge for print providers to grow their business in a healthy way. Simply printing high quality CMYK jobs, at low cost, with great service is not sufficient anymore to build sustainable business growth. Print providers are looking for new opportunities to increase their profit margins and revenue streams. This is why embellishment will continue to grow as an innovative differentiator for print providers, to help them offer added value to printed communications and packaging, which is profitable for both the print provider as well as the print buyer. Tactile effects with varnish and foils are becoming increasingly important in the drinks industry for attracting buyers for instance.
We are also likely to see a need for greater automation and innovative end-to-end ecosystems will continue to be high on the agenda. Workflow, software and process automation, together with Cloud solutions, are also key drivers for better automation and efficiencies. An increased focus on complete production workflows in the packaging and label sectors for example is helping converters to rethink possibilities in a world of new opportunities.
---
Managing director, Labelexpo Global Series
In 2024, we will see a continued steady growth of the labels and package printing industry, currently growing at around 3% annually. The labels industry has proved itself to be resilient in the face of a series of unprecedented challenges from the Covid-19 pandemic including raw material shortages and working with brand owners to keep the supply chain open. We expect our 2024 global Labelexpo shows in the Americas, India and Label Summit in Colombia, Bogotá to reflect this pattern of broad growth.
We see technology developments continuing to bring new solutions to label converters, helping them add value to brand owners' marketing initiatives across a range of areas such as digital embellishment and Cloud-based proofing and approval systems.
At all our Labelexpo shows, we expect sustainability to be a key topic. Emerging trends for 2024 will focus on how the label can help the entire packaging chain become more efficient at recovering or recirculating container materials – for example, by releasing labels cleanly from one-trip PET bottles and reusable glass containers. On the same theme, we see linerless primary labels finally coming of age, with more brands recognising the sustainability benefits already realised in the industrial/VIP segment.
The final trend will be automation, not just of presses and finishing equipment, but of the entire label factory workflow. We will see this trend reflected in our Automation Arena at Labelexpo Americas 2024. AI and robotics will have a growing role to play here, acting as 'force multipliers' which allows human operators to do more rewarding and value-added work.
---
Managing director, Label Apeel
As environmental issues remain at the forefront of everyone's mind, technical developments that reduce waste will be a key focus and investment opportunity for most in the industry as they have the double benefit of reducing environmental impact and lowering costs. The economic landscape also provides a challenge for businesses, so an agile and flexible business plan is required for the next 12 months in order to respond to customer demand changes. We are expecting customers to delay ordering for significant events such as Easter, until they have the most up to date data possible, as this is what we've already seen happen for this Christmas.
Recruitment is an ongoing challenge. We are seeing other industries moving towards more creative methods of attracting new, young talent and it's probably a good time for the print industry to follow suit. This will go hand in hand with offering more rounded benefits packages as a way to attract the younger generations.
On a more positive note, companies who are investing in digital technologies across their entire business and leverage this as a way to better service their customers will see positive returns. Overall, the outlook of 2024 shows great opportunities for those companies who keep their ear to the ground and remain agile and focused.
---
Sales manager, Mark Andy UK
I think versatility is the key to success in the narrow web sector going forward. Market demands change frequently and converters need to be agile to respond. This means they need a variety of technology from the latest flexo to the latest digital, and in many cases a hybrid of both.
With run lengths generally declining and a growth in demand for added value including personalisation and versioning showing no signs of stalling, I foresee flexo presses moving more into the mid-web format sector and taking a greater market share in flexible packaging. This plays into the hands of sophisticated press lines that offer high-quality at high-speed in a single pass.
In the label sector, typically at a 330mm web width, I predict that sales of digital presses will outstrip that of flexo. At Mark Andy, we are already noticing this shift in the market and with a flexo and digital hybrid portfolio significantly larger than any other manufacturer, we are well placed to service this trend.
Other developments I see are a growth in RFID, more automation to address the declining skill levels in the industry and to improve consistency, as well as an increased use of technology like our sMArtlink, which allows all machines to produce and gather data and store this information for analysis to effectively communicate with companies' MIS/ERP systems.
Outside of narrow web, I predict that digital print will take a greater share of both the folding carton and corrugated packaging sectors.
---
Digital press product manager, Mark Andy
Digital printing technology has advanced so much in the time I have been in this industry. Its evolution to a more user-friendly technology with a more automated and streamlined workflow, and high quality at faster press speeds has been fun to see. Ink and toner technology has continued to improve, with a focus on durability, sustainability, and compatibility with a wider range of substrates.  With all of these enhancements, digital printing continues to move out of micro and short run jobs and is breaking into medium to longer runs by lowering the cost to print, which to me signifies a really promising future for the technology.
We are seeing growth in the demand for personalised and customised labels, using variable data printing or versioning, and a requirement for cost-effective runs at varying lengths. Hybrid presses continue to make a compelling case as they offer the best of both technologies, allowing customers to maximise their benefits.  Improvements are being made in colour management, especially for brand consistency. With increased need for product security, digital printing is being used for incorporating security features such as QR codes, variable data and invisible ink.  The adoption of digital finishing solutions, such as digital embellishment is also growing.
---
Vice president, sales and marketing, Martin Automatic
Advances in digital press technology are pushing longer run lengths and faster speeds.  With these advances, more converters are finding value in automating their digital web presses with non-stop roll unwinding and rewinding equipment.
Automatic splicers and auto-transfer rewinders enable presses, including digital platforms, to perform continuously without slowing down or stopping for roll changes, increasing production efficiency through reduced downtime and improving quality.  And, from an environmental and sustainability perspective, this equipment prevents significant substrate waste from going to landfill, while also reducing other inputs, including energy, inks, coatings and adhesives.
We expect this trend to continue, as cost models are re-evaluated and new opportunities are unlocked, changing digital presses into non-stop profit centres.  Specific to narrow web presses, Martin Automatic has integrated roll change automation for many digital and hybrid press platforms, including HP Indigo, Domino, Gallus, SPG Prints, Kodak and Colordyne.
These presses are primed to produce a wide spectrum of products, including self-adhesive labels, toothpaste tube laminates, flexible packaging and direct mail pieces. We are also automating roll change for digital printing of folding cartons – 1140mm web width, 2135mm diameter rolls, weighing 3400 kg, and continuous splicing at 230m/min – part of a new HP PageWide installation in the US.
These developments indicate an essential merging of non-stop automation and digital technology that is only expected to grow.  Martin Automatic will continue to be a leader in this convergence, providing sophisticated technology that is easy to use, easy to understand, easy to maintain and easy to integrate with new or existing processes.
---
Managing director, Mercian Labels
'The only constant is change', as they say, and this will apply to 2024 for sure.
As economic stagnation in Europe lingers and consumer confidence is 'flat' at best, competitive pressures are rising fast and only the biggest and best can survive. Many weaker, under resourced and under-invested label companies will sadly close their doors in 2024. Consolidation into groups will continue at pace. Sadly the Finat Q3 Radar report makes for depressing reading if you are looking for light at the end of the tunnel in 2024. Automated, efficient operations that can react quickly to customer needs will survive the current downturn much better than others running outdated practices. Substrate suppliers will see margins fall as bigger groups buy more efficiently and control an increasing share of the market.  Maybe a pan-European  buying group may emerge like FLAG in the US?
drupa will see the rampant rise of UV inkjet continue with even faster speeds and JDF integrations into leading ERPs like Cerm. Cyber breaches will become more numerous and impactful as threat actors use AI enhanced attacks against companies to make phishing threats more believable and authentic. Invest in your cyber security now!
---
Ion launch manager, PCMC
Heading into 2024, all eyes are on the new technological innovations that will be unveiled at drupa, especially since the show is held only every four years and was cancelled in 2020 due to the pandemic, with the last event held in 2016.
Expect to see several next-generation digital presses for flexible packaging, folding cartons and other speciality print markets that allow unprecedented speeds and widths and cost competitive at longer print runs.
We're excited to see what all the players will unveil and we're going to be one of them, with PCMC's  new Ion digital hybrid press. We have a beta installation running and are extremely excited for printers from around the globe to learn more about the next generation of digital.
The next-level benefits the technology delivers printers are immense.  Enter the Ion – in 36in, 42in and 52in web widths — which breaks speed barriers at up to 400ft/min. That's a significant jump in productivity and capacity and also allows for variable data projects at scale and far greater flexibility for brands.
Digitally printed flexible packaging represents only half of a percent of the overall spend in the print market, which amounts to $100 billion worldwide. If we move that number even to 8% in the coming years, that's a great upside for our industry and brands.
---
In 2024, the printing and packaging landscape will be shaped by a dynamic interplay of drivers and headwinds. According to the recent Printing United Alliance/Napco Research report, Digital Packaging: Opportunities to Thrive, survey respondents that printed labels and packaging identified the following as key challenges: shorter production times (78%), attracting and retaining labour (71%), increasing automation (65%), sustainability (56%) and keeping up with regulations (51%). Regarding this last challenge, with the formation of the Congressional Printing Caucus this year, Printing United Alliance will continue to support members and the industry as a voice on Capitol Hill through this representative group.
The report also shares many opportunities label and packaging producers are pursuing, including investment in digital printing. Nearly 60% of respondents are printing labels and/or packaging on digital technologies. As technological advancements continue, the expectation is that adoption rates will continue to rise. Also, brand owners are pushing digital printing adoption as they understand its benefits and, in many cases, are actively seeking it out. The ability to maximise production efficiency is also key. While digital printing offers a variety of creative and cost-saving measures, its ability to optimise workflow efficiency has emerged as a top benefit of the technology. Converters cite short-run production capabilities (36% of respondents), faster turnarounds (34%), and the ability to personalise and accommodate more (31% each) as the top benefits digital provides.
---
Managing director, Reel Appeal
Inkjet digital label production has seen huge advances in the last five years. 10 years ago, the digital printing marketplace was filled with HPs and toner based technology, then inkjet really came to the market with high quality printing and in the last five years has really accelerated label production way beyond what could have been predicted 10 years ago.
Moving forward, the option of different 'special' inks for inkjet presses to try and rival what HP can offer might be an option, but by the very nature of the 'specials', they are not used regular enough to run well on inkjet presses. This means many printers will still need to have different technologies if they are to offer the full range of printed labels and materials.
There may be a desire to go back to simple packaging/print and water-based flexo will see a slight resurgence as it can be seen as environmentally 'clean' printing production, but consumers will still buy with their eyes more than their hearts. The variety and short run work that digital offers I think is here to stay and will further grow.
Label companies are under pressure to offer sustainable/recycled/material that can be recycled, etc. But more recycling developments are needed to help home/curb side collection of packaging waste, thus helping labels to be better recycled. There is a desire for all to reduce waste and recycle wherever possible, but if the end consumer does not have an easy option to recycle the packaging after use, then it just will not happen. 
---
EVP, global sales and marketing, Scodix
2024 presents new opportunities for the print and packaging industry to move in a more sustainable direction and, at Scodix, we are excited to see the impact of our initiatives and the progress we have made.
While we expect the market to be less turbulent than in Covid times, the packaging industry is ever-evolving. End customers want environmentally friendly packaging, which is pushing demand for more paperboard cartons. Creativity continues to be challenged as eye catching shelf appeal and the 'wow' of the unboxing experience becomes a must-have for brands, not a nice-to-have. This is where embellishment affects allure and enchants customers.
Scodix has invested heavily to ensure that our presses not only create the widest range of embellishment effects for products to stand out, but also deliver a more economical and sustainable method than any other embellishment technique. We take great pride in the high-quality, intricate designs that our presses are capable of and the types of embellishment designs we can achieve.
Coming into 2024, Scodix is aligned to meet the sustainability demands, quality needs and facilitate the creativity for brands to innovate without limitations, achieving elaborate and stylish product decoration.
---
Business development director, Screen Europe
During 2023, we witnessed the consolidation of inkjet digital printing as a choice of reference for many label converting companies thanks to the success of Labelexpo Europe. Next year we expect that inkjet printing will experience remarkable growth and innovation in new markets.
Anticipating a fast-evolving landscape, Screen is well positioned to unveil completely new inkjet digital printing models at drupa 2024, both for commercial printing and packaging segments. The focus of our technology would be: increased print quality, speed, versatility and workflow automation.
In terms of technical developments, we will see advancements in printhead technology (particularly using water-based inks), enhanced print resolution (1200 x 1200dpi would be the benchmark) and colour consistency/accuracy.
We have all suffered from supply chain disruptions with some key components for inkjet integration being in high demand, increased prices and much longer delivery times. At Screen, we have implemented strategic planning and robust supply network to mitigate potential hurdles, assuring customers of consistent access to our printing equipment, consumable and spare parts.
We remain optimistic, in spite of the economic turbulence experienced in the last two years with high inflation rates and escalating energy cost. We believe these factors affecting our industry will stabilise during 2024, enabling our customers to concentrate on long-term investments and how to future-proof their printing operations.  Investing in inkjet digital printing is seen as a strategic decision that offers operational efficiency, agility and cost savings, aligning with the industry's demand for value-driven technologies.
Our forward-looking approach will see us entering totally new markets like the flexible packaging (Truepress Pac 830F and Pac 520P) and further establishing our leading position in existing markets like Commercial printing with new models (Truepress Jet S320 cut-sheet press).
---
Marketing manager, Springfield Solutions
In 2024, we can expect to see the trends of sustainability and automation continue to grow alongside digital innovation.
The demand for sustainability is not slowing down, and with costs improving on materials it will become more commonplace for sustainable substrates to be offered as standard. I expect to see more options being offered to customers and end users in order to reduce the environmental impact of packaging.
When it comes to automation, AI has definitely been the buzzword of 2023. I believe we will continue to see advancements in this technology and applications within the packaging industry such as automated workflows, artwork creation and moving towards more automated machinery.
I also believe that marketing trends within the industry will continue to develop, and we will see more converters prioritise marketing their products and services to businesses. This will couple with a further push on smart technology within packaging. From the easily executed QR codes to the more advanced 'metaverse' applications – packaging does not solely exist in the physical world.
Overall, industry leaders will pave the way for a future that is driven by digital with exceptional precision, speed, and automation. 

 www.springfieldsolutions.co.uk
---
CEO, Synthogra
2024 will start quite slowly.
The world around us is not the most positive currently with war, inflation and much more.
In general, most of our industry has been blessed with a lot of work from March 2020 and up till May/June 2023. Most of us saw a massive increase in everything we touched in the Covid times.
2024 will likely be where we return to innovations and ideas.
For Synthogra, yes, we have developed but not as much as we did before Covid, as there simply wasn't time. Time is now for new developments and more responsible commitment is much higher in demand than before. It is our prediction that the greener, more responsible issues and priorities are in focus around the brand owners and the world in general.
In the second quarter, it is our believe that the market will pick up again for a more fun time.
At Synthogra we will to our very best to develop more products, keeping responsibility in mind.
Right now 'one substrate' and '70% cooking oil' is truly taking off – they can all be recycled and gives us all more responsible packaging.
---
CSO, Vetaphone
I'm delighted to report another record year for sales, especially against the trend of a slowing market, at least in the developed regions. We continue to dominate the narrow web sector, as was witnessed at Labelexpo Europe, which saw more than 85% of the corona stations on show to be from Vetaphone.
While this has been the case for some time with flexo presses, the pleasing aspect is the greater uptake of surface treatment technology among digital press users who see the financial benefit of fitting a corona station (or two) to their line, thereby obviating the need to use expensive top-coated stocks. This is a trend that's bound to grow.
When our founder, Verner Eisby, invented corona treatment back in 1952, he did so to facilitate printing on non-absorbent substrates, typically film and foil. These days converters are seeing the benefit of surface treatment on paper and board for the cleaner surface it provides, which permits higher quality print register. With top-quality taken as 'a given' by brand owners these days, this is another area in which we can foresee continued growth.
---
Group R&D director, Xaar
Growing demand for digital printing in packaging will be a key trend, driven by the opportunities for machine and ink innovations enabled by inkjet. Specifically, ultra-high viscosity printing is playing a pivotal role helping deliver extensive benefits to packaging applications. From less ink required per print and lower cost machine builds to lower energy running costs and improved print quality machine, manufacturers and fluid developers are using Xaar's ultra-high viscosity technology to develop solutions for packaging.
This ability to jet both aqueous and UV fluids of up to 100cP at jetting temperature (approximately 1000cP at room temperature) and those with a high particle loading is providing a far greater toolbox to help enable efficiency and sustainability benefits for packaging production. For example, printing with high viscosity ink delivers improved definition and quality with the same colour densities, using half the amount of ink helping to double the machine capacity while requiring significantly less energy across in the process.
The use of ultra-high viscosity water-based inks has been independently shown by Swansea University to deliver colour densities at up to 60% higher than low viscosity inks, enabling productivity gains and an enhanced gamut.
Xaar's printhead technology capabilities meant that the higher viscosity sample saw the same printing outcome with less ink, offering significant sustainability benefits through both reducing the volume of ink required and the energy needed in drying.
Clearly 2024 is going to be an exciting year for packaging and inkjet together and we look forward to the innovation it will no doubt bring.
---
Vice president, marketing, Flint Group Digital
In the aftermath of Covid-19, supply issues, war in Ukraine, etc, global economies have demonstrated different dynamics. The Americas remains stable/sees small growth, China is starting to grow again, and Europe on average is in decline due to inflation and overstock of materials – Q4 2023 is starting to show an upwards trend for Europe and we believe will continue in the course of 2024.
Labelexpo Europe demonstrated the appetite from label printers to continue investing. Leading up to the show there was a lot of uncertainty toward capital investments. At the show, innovations that were 'hidden' since 2019 from converters to touch, see live in operation and compare with others, were in abundance. The show ignited the confidence to accelerate investments, centred around three main axis reflecting the reality after these rocky years: sustainability, agility/flexibility and reduced labour/increased efficiency.
Sustainability: Any converter – certainly in Europe – needs to understand the sustainable impact of their intended investment both in the short and long term. Understand today's impact, whilst having insight of how the impact might decline over time. Suppliers will need to communicate more transparently and stop the greenwashing, like 'produced CO2 neutral'. As if all those planted trees really become full grown and on top it doesn't contribute instantly. There must be full transparency of the chemicals used in toners and inks. For example components such PFAS, fluorine, BPA, TPO, which are problematic in various regions. The overall perfect technology does not exist. But for a given application/business initiative, you can find the best solution certainly with the variety of technologies available, UV/LED inks, liquid and dry toners. To understand sustainability, you need to look beyond just the press but also evaluate the consumables and workflow. Xeikon's Eco toner uses more than 60% recycled content, for example, resulting in a reduce carbon dioxide footprint; and Titon toner technology that enables new short-run applications such as paper pouches. Importantly, all sustainable innovations do not come at a higher cost; they could even come at a lower cost.
Agility/flexibility: Recent years have illustrated that rigid systems might not be able to address dynamic needs. Customers have also become more demanding in terms of status, insight and understanding. In a conventional setup, it's challenging to provide this 'real-time' insight but when digitising your setup, over time It could be easily achieved. Digitisation of order intake, order processing, order management, printing, converting; it doesn't necessarily mean every process need be digital – digital cutting or digital printing for instance – but each process should be Cloud connected. This is the foundation to digitise your operation and to be able to collect data without a human interaction. Have a machine-machine interface to automate processes driven by MIS systems. In many cases, the workflow driving the devices needs to be closer evaluated upon its capabilities. A man-machine interface offers operators the ability to execute other tasks with a certain peace of mind, knowing that, 'My press will tell me when she needs attention.'
Reduced labour/increased efficiency: Finding skilled labour is getting more and more difficult. On top, labour costs are increasing, hence new investments are need to require less operator intervention and achieve a higher throughput per asset. Automation that is not just adjusting the internal printing process but also compensating for the external variations (print environment, operator, substrate variation). A state-of-the-art digital press is equipped to ensure the highest OEE even though external parameters could vary.
2024 will continue to be a year where the overall printing industry is orienting itself for future investments. drupa finally return after eight years; and in North America, Labelexpo Americas in Chicago and Printing United in Las Vegas collide, from a date perspective.
A bright future lies ahead for both digital and conventional printing in the label and packaging environment, being a growing market which can't be substituted by any tablet, iPad or smartphone; and for digital in the graphic arts market, which continues to experience an overall down turn of volumes in print and publishing; digital is surfing the wave of run lengths becoming shorter and of making communications more meaningful when compared to static printed materials.