Hybrid plots future growth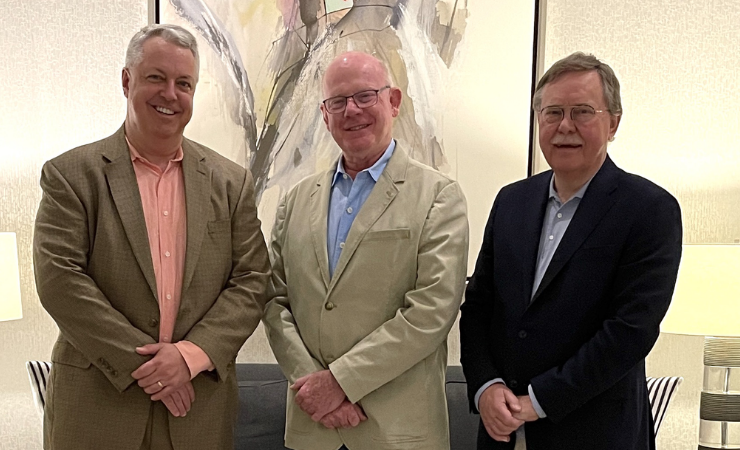 Mike Rottenborn (left) and Guido Van der Schueren (right), , with Trevor Haworth (centre), CEO at Creative Edge Software
Acquisitions and strategic investments over the last 12 months have set Hybrid Software Group on the road to further growth.
This comes as the group reported its results for the financial year ended 31 December, 2021, which included an increase in revenue of over €26 million and operating profit almost tripling. In numbers, group revenue was €48.5 million in 2021, operating profit was €4.7 million, and EBITDA from continuing operations was €12.2 million. This compared to €22.5 million, €1.4 million and €4.7 million in 2020.
The 12 months as covered by the results included the takeovers of Hybrid Software and Color-Logic, whilst more recently there was the full integration of complementary technology from Creative Edge Software. The group was also rebranded from Global Graphics Group to Hybrid Software Group during 2021.
Group CEO Mike Rottenborn said, '2021 was a remarkable year for Hybrid Software Group. Despite the shadow of the lingering Covid-19 pandemic, we were able to successfully conclude two major acquisitions, rebrand the group to reflect our focus on software for inkjet manufacturing, re-energise the core RIP business of Global Graphics Software, and more than double our revenue from 2020 largely due to the acquisition of Hybrid Software, while increasing our EBITDA to 25% and our cash position to more than €9 million.'
Hybrid Software Group is headquartered in Cambridge, UK. Its subsidiary companies are colour technology expert ColorLogic, printing software developer Global Graphics Software, enterprise software developer Hybrid Software, 3D design and modelling software developer iC3D, industrial printhead driver specialist Meteor Inkjet, and pre-press workflow developer Xitron.
Guido Van der Schueren, executive chairman at Hybrid Software Group, said, 'The acquisition of Hybrid Software in January 2021 broadened our focus from OEM component sales to high-margin enterprise software for both OEMs and end users, and we wasted no time integrating Hybrid Software into the group.
'Despite the challenging business environment in 2021, we were able to grow revenues by nearly 25% and EBITDA by more than 20% when compared to the combined operating results of the previously separate entities in 2020. We have many plans for 2022 and beyond to leverage the power of the full group and combine our OEM products with our end user products and sales channels to achieve further growth.
'With these results, we remain firmly on track to achieve our target of €100 million revenue and €35 million EBITDA in 2026.'
Mr Rottenborn concluded, 'Our 275-plus global employees are dedicated to the success of our customers through expert technical support and non-stop innovation. With another acquisition already under our belt in 2022, I look forward to the continued growth and success of Hybrid Software Group and all our customers worldwide.'