Positive ID installs Screen inkjet press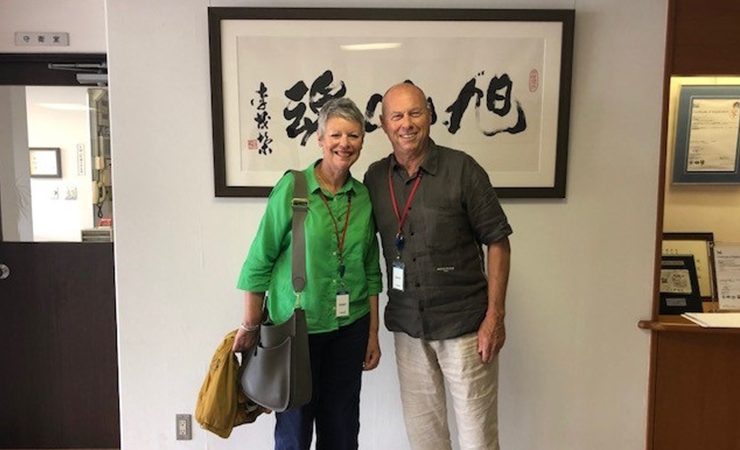 John Mayers (right), visiting Screen's facility in Kyoto, Japan
UK label manufacturer Positive ID Labels has installed a preowned Screen Truepress Jet L350UV inkjet digital label press, which it expects to help turnover top £3 million.
Founded by John Mayers in 1997, Positive ID focuses on label markets such as food, beverage, cosmetics, chemical and hygiene. The company had been one of the UK's leading pricing gun label producers, but with that market shrinking over the past 20 years, around 80 percent of its £2.5m turnover now stems from manufacturing labels. It uses both flexo and digital print technologies across two production sites near Nottingham, in the East Midlands.
The Screen inkjet press is the company's third digital machine, and brings it closer to becoming a one-stop label shop.
Mr Mayers commented, 'Our strategic goal is to become a one-stop label shop for our 4500 customers, as it's always easier to grow your company via your existing clientele. So, we needed an extra digital label printer for barcoding, but also for mid-range printing jobs.'
Positive ID's Screen press is already running for 10 hours per week, with the goal being to reach enough jobs to have it fully automated and running eight hours a day by Christmas. 'We'd be very happy to get to 12 hours per day somewhere next year,' Mr Mayers continued, 'which would mean our turnover should increase to £3 million.'
Specifically addressing the capabilities of the Screen Truepress Jet L350UV, he said, 'A rerun of a job six months later retains exactly the same quality. But the most impressive characteristic of the L350UV is the speed – on a good day, it can get close to 50m/min, which means it can generate a lot more turnover for a similar machine and ink cost.
'Digital and flexo both equally represent 30% of our turnover, and we'll still need the analogue technology for the big runs. Last week, for instance, we produced seven pallets of labels for a single customer. But in five years, digital will be the dominant part of our turnover. All our new customers are already starting with digital, as it's just a simpler and quicker offering, with better quality.'