Screen's raised profile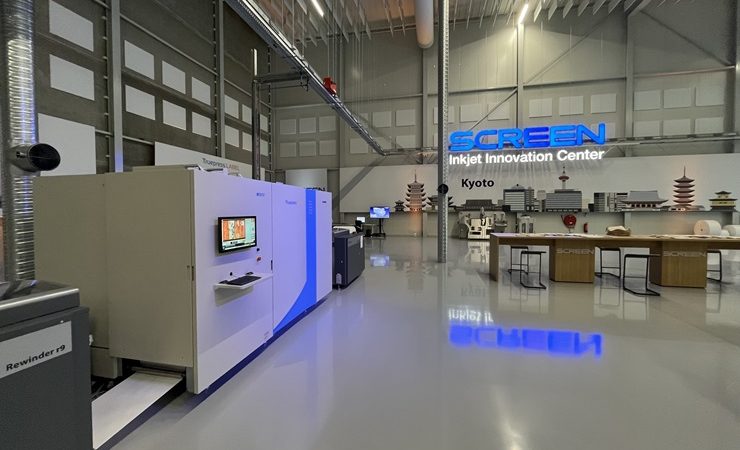 A Screen Truepress Pac 520P on show in the company's European Inkjet Innovation Cener
Inkjet digital printing expert Screen is taking various steps to advance its position in established and emerging markets, from the well-known digital label printing industry to the erupting industrial digital flexible packaging sector.
The company's roots stretch back to 1868, when Ishida Kyokuzan Printing Works was founded. Following the Photographic Glass Screen Research Division breaking away, Dainippon Screen was independently established in 1943, laying the groundwork for some eight decades of innovation, R&D and expansion.
Expanding presence
Expansion has come in many forms over the last eight decades. Logistically, this has included the creation of the first overseas subsidiary in the US in 1967 and the formation of Screen Europe in 1974 – it'll be 50 years of this subsidiary next year.
On the eve of its 50th anniversary, Screen Europe has recently relocated to new headquarters. Located in Aalsmeer, close to Amsterdam and Schiphol Airport, the facility houses offices, warehousing and distribution, and a demonstration hall where a range of the company's products are presented. It is also home to the company's new Inkjet Innovation Center, described by Osamu Yamagata, the recently appointed Screen Europe president (read page 10 for more) as 'a hub for innovations in digital printing.'
'Collaborating closely with our software and finishing partners, our aim is to provide customers with end-to-end printing solutions, offering a glimpse into the future of the printing industry,' he says.
Whilst there are four storeys of office space, the Inkjet Innovation Center/showroom covers some 2200sqm and next door is a further 1800sqm of logistics and warehouse space. This area is to be known as the EPC – European parts centre – and will be used to allow Screen Europe to better serve EMEA customers, complementing existing local support and service operations throughout the region.
Eiji Kakiuchi, chairman at Screen Holdings, says, 'Establishing the Inkjet Innovation Center reflects our confidence in the status of the printing industry and Screen's position as a leading player in the market for inkjet digital printing equipment. We outgrew our previous building due to our solid and steady growth in existing inkjet and CtP markets; we also needed more space for the next wave of industrial inkjet digital  innovations for both existing markets, such as label and commercial, as  well as new markets such as flexible packaging.'
Expanding markets
Flexible packaging is perhaps the most noteworthy of the markets Screen has its eyes on. Around the time of what should have been drupa 2020, the company established a dedicated division to directly target the flexible packaging market with industrial production tools. This included PacJet FL830 – later rebranded as Truepress Pac 830F – a water-based inkjet digital printing system for flexible packaging and able to handle full-scale production applications by running media up to 830mm-wide at speeds of up to 75m/min. It is capable of printing at a resolution of 1200dpi using CMYK and white inks that conform to relevant food safety regulations.
Orders are now being accepted for this press, and Japan's Chiyoda Gravure Corporation has been confirmed as the first site to install such a machine. With increasing global emphasis on sustainability in production and evolving consumer preferences for diversified small lot packaging, Screen noted that traditional gravure printing methods, which are best suited for large runs, 'face challenges of low productivity, operator strain sand significant product wastage.' To address these issues, Chiyoda Gravure is working with Screen with a focus on expanding the range of applications, optimising the digital workflow and resolving issues associated with small to medium lot production.
Such customers are to be the main audience for a system capable of producing flexible packaging digitally at an industrial scale. Much of the current digital flexible packaging supply chain has been served by narrow web converters and a handful of disruptors using smaller format machines with a slower printing speed, which, according to Juan Cano – the man brought in to lead Screen's push into flexible packaging with inkjet – has given the industry a taste of what digital can do but hasn't been able to be scaled up accordingly.
'Being an industrial system that allows production to be meaningfully scaled up, and with just one percent of the overall flexible packaging market printed using digital devices, the potential is huge,' he says.
Mr Cano also makes clear the environmental benefits of producing flexible packaging using water-based inkjet, and how this dovetails with the surge in demand from consumers for the brands and the products they buy to offer improved environmental credentials, be that from reduced waste and a lower carbon footprint, to eco-friendly mono-material structures and recyclable materials.
With this in mind, Truepress Pac 520P is a sister press to the 830F model. It is a 520mm-wide high-speed, water-based inkjet digital press
for paper-based packaging substrates, printing at speeds of up to 80m/min with a maximum resolution of 600 x 900dpi. A 'much lower' environmental impact is claimed over conventional printing processes. This is cited as being due to a 'drastic reduction' in energy and material waste, coupled with the ability to print onto uncoated, machine-glazed (printing side) barrier papers from 40-250gsm that can be used to replace plastics.
These two presses reside within Screen's Truepress Pac portfolio. This sits alongside the Truepress Jet family for commercial printing applications and the company's self-explanatory Truepress Label machines. Screen debuted its UV inkjet label press platform at Labelexpo Europe 2023, with various updates and iterations introduced since then.
The most recent is the addition of inline priming that features as part of the inkjet engine and allows jetting of a digital primer only onto the areas where required. By selectively laying down the primer, the integrity of the material is protected and ink adhesion and print quality are improved, whether printing on filmic materials or uncoated paper.
There also collaborations with the likes of Nilpeter and Lombardi to integrate their respective flexo and converting technologies within hybrid platforms that allow the full printing and converting of labels inline at an industrial scale.
Such developments, when coupled with the move to new headquarters, allow Mr Cano to openly state, 'Screen Europe has strong confidence in the industry going forward.
'It is a bold move and lays the foundations to increase our presence in existing and new markets across the EMEA region.'
This article was first published in the October (issue 6) 2023 issue of Digital Labels & Packaging, which can be read online here; register here to receive future issues of the magazine