CCL installs world's first HP Indigo 35K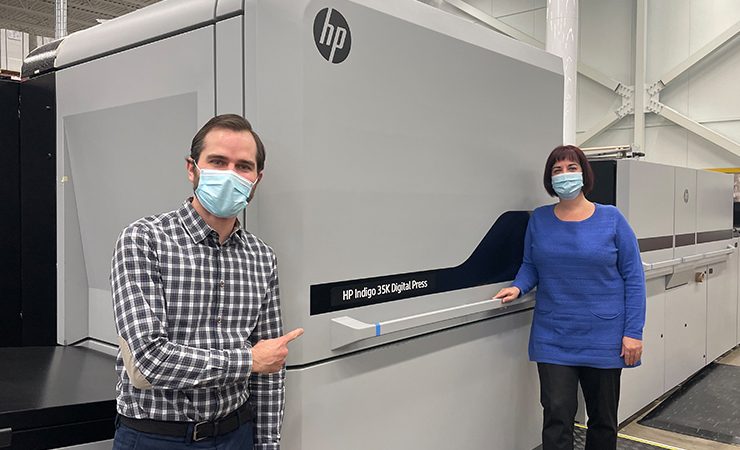 The world's first HP Indigo 35K has been installed at the CCL Label Healthcare facility in Montreal, Canada
CCL Industries has installed its 100th HP Indigo digital press, with the world's first 35K now installed at the CCL Label Healthcare facility in Montreal, Canada.
CCL is renowned as a world leader in label, security and packaging options for global corporations, government institutions, small businesses and consumers. The company's global fleet of HP Indigo digital label presses is running at more than 60 sites worldwide across its CCL Label, CCL Design, Avery and Checkpoint operations. It includes narrow and mid web labels and packaging presses, as well as the B2 sheet-fed HP Indigo 30000 and commercial HP Indigo 12000.
In a move to expand further into the folding carton market, CCL has now installed the world's first HP Indigo 35K digital press at the CCL Label Healthcare facility in Montreal. The new B2 sheet-fed press for cartons and speciality boards offers high-definition printing, security inks, and variable data printing for track-and-trace and security elements. As a result, the HP Indigo folding carton platform help deliver multi-layered brand protection applications on one press and in one-pass, to serve the health and personal care, plastic card and high-end folding carton markets.
Geoffrey T. Martin, president and CEO at CCL Industries, said, 'We have collaborated with HP for more than 15 years in the development of digital printing and workflows in the packaging industry and we are delighted to have reached such a significant milestone with HP Indigo. Its technology continues to be a vital component in our moves to connect digitally with our customers and consumers on a global basis.'
HP Indigo general manager Haim Levit commented, 'The continued evolution of HP Indigo's digital print technologies opens new markets, applications and possibilities for our customers. We are incredibly pleased for CCL to reach the 100th HP Indigo press operating across its global network. We are seeing continued market momentum in smart label and packaging solutions with the need for brands to boost production protection.'