InkWorks takes first Karlville combination laminator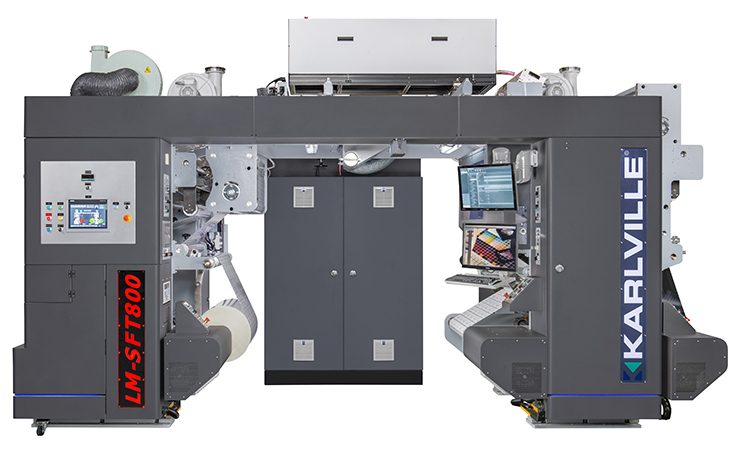 LM-SFT800 combines the benefits of thermal and solventless lamination technologies on one platform
Inkworks Printing of Plymouth, Wisconsin has been named as the beta test site for Karlville's LM-SFT800 combination laminator.
Introduced last year, LM-SFT800 combines the benefits of thermal and solventless lamination technologies on one platform. Targeted at the market for label converters entering the market for digital flexible packaging, the LM-SFT800 combination laminator allows for the creation of luxury finishes and pre-laminates, in combination with the zero-cure time characteristic demand by 21st Century digital flexible packaging production. Karlville's existing Pack Ready Laminator uses thermal technology to provide a simple, low waste option with zero cure time and a high lamination bond strength when creating flexible packaging structures. However, it does not permit the creation of in-house pre-laminates. Solventless technology is viewed as an alternative cost friendly technology that allows fabricating of pre-laminates, although solventless lamination requires a cure time and is inherently more complex. This has made thermal lamination the go-to for many Greenfield sites and label converters. Karlville notes that combining these two technologies, 'empowers all types of converters, big and small, to innovate and to expand their flexible packaging business into digital and short runs.'
At InkWorks, this will be utilised to benefit both production of in-mould labels and flexible packaging. Bob Travis, president of Inkworks Printing, commented, 'At InkWorks, we attribute our success to our ability combine best-in-class technologies to engineer unique and industry leading solutions for our customers; the Combi laminator embodies this philosophy.
'The Karlville technology will allow us to use one machine to create innovative products that utilise the best technology for our customer's application. We believe it will allow Inkworks and our customers to stay on the cutting edge of innovation for years to come.'
Once installed, InkWorks will serve as a showroom, beta site for the combination process, and a development centre for new applications.
Raul Matos, vice president, sales and marketing at Karlville, said, 'We are excited about the InkWorks Printing investment as it will showcase the value of the Combi laminator to empower an HP Indigo digital printer to grow exponentially with both solventless and thermal technology. The combination of lamination technologies for both in-mould as well as flexible packaging along with the fact that the machine can process webs from 300-800mm width, gives InkWorks Printing a path forward for expansion.'
Brent Holloway, North America category product manager for flexible packaging and HP Indigo 20000/25K presses at HP, said, 'The combination of thermal and solventless lamination gives customers the ultimate in flexibility for their digital flexible packaging business. With both technologies at their disposal, converters can create their own pre-laminated constructions for use in thermal lamination as well as leverage the economies of solventless lamination for longer running items.'