Dantex invests in demonstration capability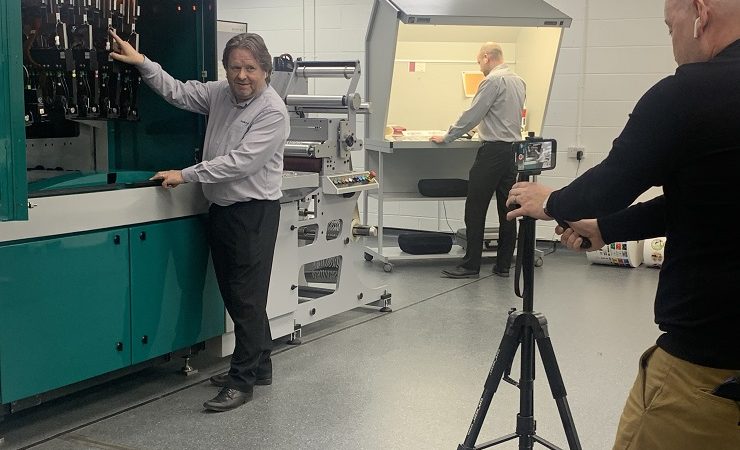 Dantex began providing virtual demonstrations to both UK and global audiences back in March 2020
Dantex is expanding its UK technical centre to facilitate current and future demands for safe and Covid-secure product demonstrations of an ever-wider portfolio of equipment.
Dantex has successfully carried out virtual equipment demonstrations in 2020, which has led the company to look to expand its Bradford, UK-based technical centre. Specifically, the expansion will help provide a more spacious environment to accommodate the broader range of equipment Dantex is able to showcase online, whilst also providing safe distancing capacity for future in-person, on-site visits.
The Dantex facility, which previously housed both PicoJet and PicoColour digital presses, the Star Plate digital imaging system, flexo proofing product Star Proof, and sleeve systems, has been increased in size to include a flexible area to demonstrate plate and water wash technology equipment as required. The new open plan space also includes a software suite, where customers can observe the digital press front-end system, witness a range of inkjet press software features, see product samples, and be presented with a media library that gives a variety of substrate options for customer trials.
Dantex began providing virtual demonstrations to both UK and global audiences back in March 2020. Displaying a diverse range of equipment, the company attributes three digital press sales in the US to online presentations via the Microsoft Teams videoconferencing platform. With each demonstration lasting up to two hours, the content can be either scripted to cover all aspects of the equipment, or can be tailored to a customer's knowledge and requirements.
Dantex Group CEO Ben Danon said, 'The provision of a virtual technical centre has paid dividends for the group, enabling us to showcase our products and conduct business. By increasing the space by over 30%, we are able to include more equipment while restrictions are in place, and safely accommodate on-site customer visits when we are allowed to do so.'
He continued, 'Whilst we are very much looking forward to welcoming customers back to Dantex in-person, given the success of the online demonstrations to-date, we will be looking to retain the virtual element post-pandemic as an option for customers in the future. It gives them the flexibility to choose what suits them best, and that's vital while travel and gatherings remain an area of uncertainty.'