Spectrum Digital Labels installs PicoJet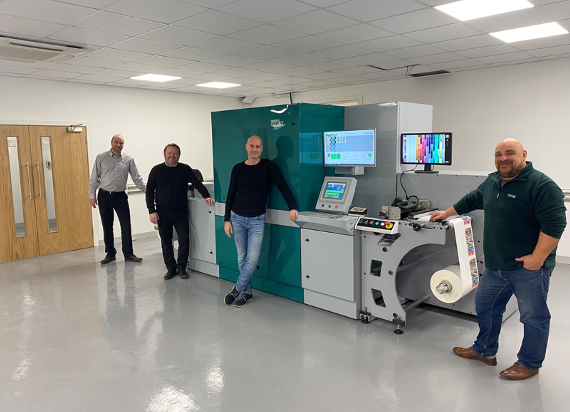 The Spectrum Digital Labels team with its new press
Norfolk-based Spectrum Digital Labels has installed a Dantex PicoJet 330 UV inkjet digital press. 
With a printing speed of 75m/min, the PicoJet 330 is capable of producing more than nine million linear meters of printed labels per year. It is a five colour system which boats a 2.5 picolitre droplet size and prints at a resolution of 1200 x 1200 dpi. 
Speaking about the installation, said Spectrum managing director John Parker said, 'The Dantex Digital team is brilliant – they all know exactly their roles in the installation process and their training is second to none. The whole process was textbook from start to finish and I'm absolutely bowled over by the whole experience.
'We currently have £1 million worth of business ready to hit the press, so we are delighted to take delivery. We have 100% confidence in the press and its ability to process anything we throw at it – from 25 micron film to paper and card with excellent results.'
Before pulling the trigger, Spectrum's co-founders saw the PicoJet 330 being put through its paces in testing at the Dantex Digital site in Kettering. Mr Parker explained, 'We ran one million labels, 27,000 linear metres of substrate all in one shift for our customer Anglian Chemical Hand Sanitiser!'
The final decision to opt for the press came after both founders had looked at other manufacturers ahead of the investment, and the company's launch, but decided that no other presses matched the PicoJet 330 in terms of outright performance.
PicoJet is a high specification CMYK printing system including, a recirculating ink system, web cleaner, specially designed ink delivery system, temperature-controlled backup roller, corona Unit and anti-static bar.
Profiling can be set up in minutes with simple adjustments to parameters when switching between standard substrates and the inking system offers superior laydown of each colour on the previously printed colour and maintains constant accuracy. 
 This digital press also offers a range of optional features; clear white varnish (opacity at 86%), variable data, additional mark sensors, chilled roller, full rotary die cut station and matrix remover, lamination, backslitter and slitter.