Mark Andy plans drupa participation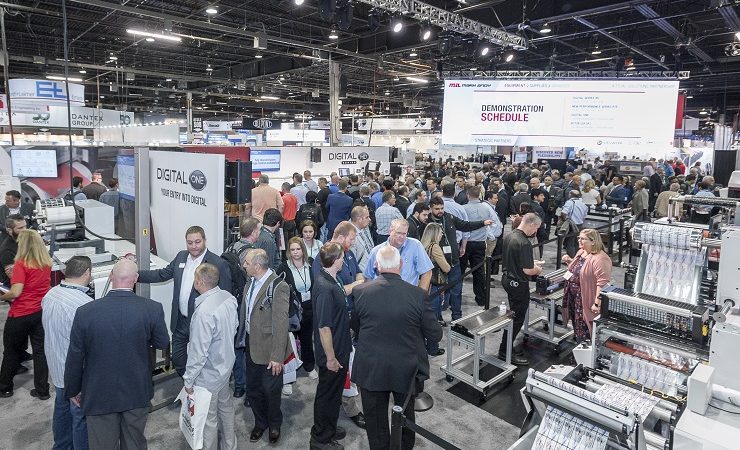 The Mark Andy stand at Labelexpo Americas 2018
US-based label press manufacturer Mark Andy has confirmed that it expects to participate in drupa 2021, although it will not exhibit at Labelexpo Americas 2021.
The next instalments of both drupa and Labelexpo Americas were scheduled for 2020, although the current coronavirus global health crisis has resulted in both being rescheduled for 20-28 April and 23-25 March, respectively. Mark Andy will exhibit at Labelexpo Europe 2021, which is currently set for 21-24 September next year.
In explaining the decision, Mark Andy CEO P.J. Desai noted virus-related safety concerns as having forced a drastic curtailment in the OEM's industry event participation.
'With Covid-19 delays, the show schedule for 2021 is too tightly packed. To better serve our customers and global partners, we will focus our efforts on Brussels [Labelexpo Europe] and drupa. Both events operate on timelines that align with more normalised travel policies and a higher probability of safety.'
Mark Andy becomes the latest supplier to pull out and/or confirm their participation in the crammed print industry event schedule that now makes up the first half of 2021. The likes of Bobst, Heidelberg, Screen and Komori are not exhibiting at drupa, for example, while Koenig & Bauer, Windmöller & Hölscher, Kama and Kurz are. 
 Mr Desai continued, 'Covid-19 has forced us to rethink how we interact with our customers, how we sell our products and services, and how we support our customers post-sale. Our team is committed to working with our customers even more closely than we did pre-Covid, even if that means virtually, over the phone, or using some other electronic technology. Today at Mark Andy, digital communication technology is increasingly utilised to conduct sales calls, demos, training, troubleshooting and even press installations.'
Mark Andy noted that its customers have similarly adapted to such practices. The OEM has also outlined how the label and packaging industry having adapted to meet the challenges presented by the pandemic has seen business activity in many segments return to pre-Covid levels.
Mr Desai concluded, 'While nothing beats in-person demonstrations, connecting at trade shows, and welcoming suppliers and customers into our facility, we are all advancing and growing together to keep this industry lively and vibrant to meet customer needs as we move into Q4 and beyond.'