Supply chain moves to reassure customers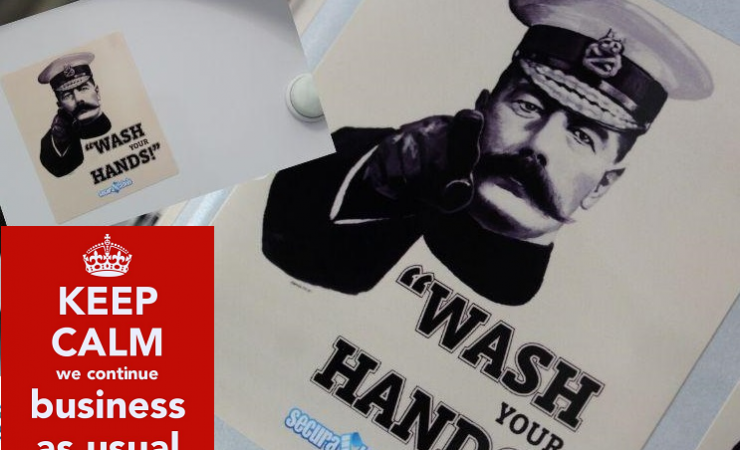 Secura Labels (main image) and Reynders (bottom left) are among those who have acted in response to the current coronavirus pandemic
The label and package printing industry has moved to reassure customers that they should expect continuity of supply as the world reacts to the global coronavirus (COVID-19) outbreak.
Sun Chemical, INX International Ink and Xanté have all formally detailed how they are working to manage their businesses and navigate the developing public health scenario, which has the potential to impact supply chains in a number of ways.
'The potential supply chain impact around the world is vast and unpredictable,' noted Sun Chemical chief supply chain officer Jeffrey Shaw, and, 'remains volatile and can change very quickly.'
'We have made sure our contingency plans are in place and ready to be executed if needed. At this time, we have not experienced inventory issues and remain committed to the service levels we have been known to provide. We have numerous manufacturing sites around the world and are making sure we maintain the flexibility of manufactured volumes in order to meet customer demands.'
John Hrdlick, president and CEO at INX International Ink, has commented, 'The potential supply chain impact of this pandemic is immense and unpredictable. Nonetheless, we stay committed to proactively manage our supply chain and monitor the labour situation. We are also in constant communication with our suppliers and are monitoring local and international logistics and freight forwarders, especially in high-risk areas around the globe.
'Our corporate purchasing and supply sourcing teams are continuously reviewing inventory levels and working with suppliers to always have up-to-date material status data.'
Hrdlick added, 'Production is especially critical right now to meet the sudden increased demand from consumers and retailers. Our customers require inks and chemical products for all forms of food packaging, medical labels and vital communication materials defined as printed media. The manufacture of printing ink is a fundamental chemical process to prevent widespread shortages of these essential products around the globe.'
Fellow printing ink specialist Nazdar Ink Technologies has stated, 'In terms of continuity of supply, we are currently unaware of significant product shortages due to the coronavirus outbreak. Our supplier partners continue to closely monitor changes in global issues, markets, production, supplies, logistics, etc. and communicate on a continuous basis apprising us of changes.'
Nazdar Ink Technologies has now noted that with multiple local and state government authorities issuing shelter in place or stay at home orders, intended to minimise the impact on the critical infrastructure in the US, its facilities will remain open as it continues to support critical sectors.
'These critical sectors include chemical, medical, laboratory, emergency services, food, beverage, electronics, financial services, transportation and aerospace industries and their suppliers as defined by the Federal Government. Nazdar has multiple customers in these critical sectors that continue to demand our products so our facilities will remain open at the current time.'
Xanté identified that it, 'anticipated the potential for supply chain fluctuations caused by COVID-19 and prepared months ago for its impact, thereby eliminating critical supply problems.'
The company added, 'We understand, as well, that clients of all print providers are facing potential business interruption and Xanté is ready to assist our customers and partners as normal.  Look for announcements about exciting new products soon that will enable print providers to increase the value they deliver to their customers.
'As we persevere together, we at Xanté wish the best of health and success to all in the print industry.'
Dscoop, the community of HP graphic arts print service providers (PSPs), has implemented a package of initiatives to allow digital press users to support their peers and fellow printers.
Dscoop CEO Keith Wilmot commented, ''We firmly believe that in the midst of crisis, great companies can find unique and potentially new value proposition for their business, their customers.'
Digital printing specialist Colordyne Technologies has stated, 'We are currently continuing normal business operations at our headquarters but are limiting employee travel. If necessary, our sales and support teams will be able to continue assisting clients from off-property facilities.'
In a statement signed off by CEO Gary Falconbridge, Colordyne Technologies noted, 'We currently have printers across our full suite of solutions in-stock at our corporate headquarters in Brookfield, Wisconsin. This is good news, as we anticipate our ability to meet demand over the upcoming months.
'Colordyne's consumables supply chain has not been interrupted at this time. We are working diligently to ensure customers receive all consumables and components in a timely manner. With increased shipping demands and precautions around the world, we recommend ordering in advance or having an extra set of necessary supplies on-hand. We are doing everything in our power to deliver orders on-time but encourage preparation and advanced planning to avoid unforeseen difficulties.
'As always, we will continue to provide timely communication and address any concerns as they arise. Please contact us if you have any questions or would like additional information.'
Inkjet printing specialist Industrial Inkjet (IIJ) has said, 'We have reviewed our supply chain and have not identified any issues of concern at present. We want to assure you that IIJ are doing all we can to maintain normal business conditions whilst at the same time safeguarding the health of our employees and their families.'
Press manufacturer Mark Andy has noted, 'We're thankful that we are able to remain at full production, manufacturing Mark Andy presses right here in St Louis, Missouri as well as Rotoflex equipment in Toronto, Canada. Mark Andy Print Products is also fortunate to have a US-based flexo, offset and digital supplies distribution facility in Des Plaines, Illinois, along with additional distribution locations throughout the US. And our service teams are still available to meet your equipment service needs, while keeping our employees and your employees safe by taking extra precautions.'
The company continued, 'Should you be facing unforeseen demands, we're here to help.  Whether through our supplies inventory, new or used assets or remote support, please let us know if there's anything at all that we can help with to get you through these challenging times. If you need anything, do not hesitate to reach out to any of our dedicated professionals. Additionally, we are currently monitoring info@markandy.com 24 hours a day in case you need our immediate assistance.'
Denmark-based material supplier Synthogra has now initiated a number of practical measures to maintain the health and safety of staff and customers. This includes truck drivers and external persons not entering the company's premises near Copenhagen, and no paper documents changing hands between drivers and Synthogra staff. Maintaining a safe distance of at least 2m is also being requested.
Posting on LinkedIn, Synthogra founder and CEO Nanette Thomas said, 'We will do what we can to stop the virus and keep everyone around us safe. Deliveries and production will still run; not at full speed but your orders will still be produced.'
'Here at Synthogra we are all well and safe and we truly hope that you are too,' she continued.
Substrate supplier Lecta has taken the decision to maintain company operations, 'given that we manufacture a product that is crucial to maintaining the supply chain for basic necessities.'
'Our production activity is largely aimed at the labels and packaging sector,' Lecta noted. 'This is why our products, once printed and transformed, are essential in ensuring that the food, hygiene, pharmaceutical and logistics industries are able to continue their activity and ensure that people are not left without services. Furthermore, another portion of our production goes to the publishing industry, whose activity is also key for the information and communications industry during the current state of alert.'
The company has activated mechanisms necessary to ensure the continuity of its activities and services at the same time as heightening health and safety protocols in all its manufacturing sites. Organisational changes have also been implemented at all manufacturing sites, and protocols have been activated to strengthen hygiene and cleaning measures, avoid in-person meetings, limit the number of employees in common areas, and reduce personal contact as much as possible, in addition to other steps taken to ensure the safety of employees. All company employees able to perform their duties via teleworking have been equipped with the means necessary to do so as of 16 March.
'At Lecta we are committed to social responsibility and work to continue maintaining our business activity, thereby contributing as much as we can to collectively overcoming the global emergency we are all facing.'  
In response to the current COVID-19 crisis, GMG Color UK is providing a remote proofing service to help businesses to remain operational. The colour management company is assisting with proofing requirements for those who can't access large format printers in their premises, on a pay per proof basis. GMG will endeavour to ship within one working day of receiving files.
While Durst has taken the decision to close its headquarters for the next two weeks, and is 'actively contributing to stop the further spread of the virus' by advocating a 'stay at home' principle, the company stated, 'All our branches are active, with the restrictions that apply in the respective countries. A networked trunk team also works for the headquarters wherever possible from the home office. The highest security measures are in place for employees who have to stay at the company.
'The branches have stocked spare parts as a precautionary measure, and ink logistics are maintained; a service team can be reached remotely in case of emergencies.'
European self-adhesive label association FINAT has posted the following via its social media channels:
'FINAT wishes to express its sympathy with the members of the European label community and their local associations that have been hurt and hit by the crisis, especially in Italy but increasingly also in other countries as [the novel] coronavirus continues its journey around Europe and elsewhere.
'Apart from the public health risk, the virus is now also spilling over into the real economy, and members of the label industry are taking measures to contain the risk for their staff's well-being and their business' continuity. In some cases, more far-reaching measures are taken than those recommended or enforced by local governments and public health institutes.'
FINAT has postponed its next Technical Seminar until later in the year, and outright cancelled this year's European Label Forum (ELF) event. However, as an association, FINAT is reaching out to the label industry to request best practices and experiences to contain the spread of COVID-19, as it seeks to provide support to members and the wider industry.
'As the linking pin between associations, companies and their leadership, FINAT wishes to support the European label community by sharing the collective knowledge and best practices of the members for the good of the entire industry,' FINAT said in an online post. 'We kindly invite the reader of this statement to submit their contribution to info@finat.com or via social media.'
Also posting on LinkedIn, Belgium-based label printer Reynders advised, 'Despite COVID-19 and the new government measures, we will continue to print and supply your labels and your sleeves as before.'
CS Labels has stated that the business 'remains unaffected', and continues to implement contingencies in response to the epidemic where appropriate, including:
Reviewing and amending policies relating to staff sickness in line with public health guidelines; a new infectious diseases policy has also been implemented;
Increasing hygiene practices;
Prioritising any customer manufacturing products related to supporting the prevention and treatment of the virus, such as hand sanitiser, PPE clothing/equipment;
Increasing its stockholding to limit any impact on supply to customers; business contingency plans have been created in the event of supply chain failure; and
Limiting customer and supplier appointments as a precautionary measure to limit risk to exposure, as well as business travel and attendance at highly populated events.
Given the rush among consumers to bulk buy certain products, Mercian Labels has offered to fast-track the printing of labels for hand sanitisers, promising to deliver within 3-5 days of artwork approval. Secura Labels has even printed a batch of labels that can be placed in key position to remind of the importance of good hand hygiene in combating the spread of COVID-19. These are offered, for free and on a first come, first served basis to those emailing sales@securalabels.co.uk.
Those further along the supply chain are also making moves to reassure customers, and to provide support and assistance to other, smaller manufacturers and suppliers.
Craft beer brewer BAD Co has restricted access to its brewery and implemented a number of protocols to minimise risk and maximise cleanliness, both at its brewery and for deliveries. These are intended to hep it maintain production and support a spike in supermarket sales driven by consumer shopping habits in reaction to the current coronavirus outbreak. Further, as BAD Co has the ability in-house to can, bottle and keg, it is not reliant on the cask trade to fulfil orders and deliveries, so is in a position to offer contract canning/bottling to smaller breweries to, 'help businesses continue to move product through this unpredictable time.' It is also introducing a 'Bring Me The Beer' service shortly, providing door-to-door deliveries of beer in Yorkshire and around the North East of England for those unable/unwilling to get to a shop.
edding Tech Solutions is offering an industrial printer rental service, intended to help businesses maintain production during coronavirus shutdowns.
To deliver this, edding Tech Solutions is working closely with its partner Elried to provide 100 edding inline 12 printers for rent at a unit price of €200 a month. The rental service comes with no minimum commitment or obligation, and the option to cancel from one month to the next. The flexible rental service will be offered as long as the, 'difficult situation lasts,' as Hannes Behacker, managing director at edding Tech Solutions, explained. 'The safety and business continuity of our customers will always be our most important priority. As the coronavirus continues to spread, we're committed to supporting our business customers with easy to use solutions that keep production lines running in industries providing critical supplies, such as food, beverage, cleaning and hygiene.'
Print and/or packaging exhibitions and events have been impacted also, with postponements and suspensions already confirmed and more anticipated. Read our regularly update and evolving coverage here.
Digital Labels & Packaging continues to serve as a conduit for the digital package printing supply chain throughout the developing scenario, and to inform and support manufacturers, suppliers, vendors., printers, converters and end users with up-to-date news and information on the impact of COVID-19 on the printing industry, and, more importantly, all the exciting developments being announced this spring in anticipation of drupa 2020.