Event industry responds to COVID-19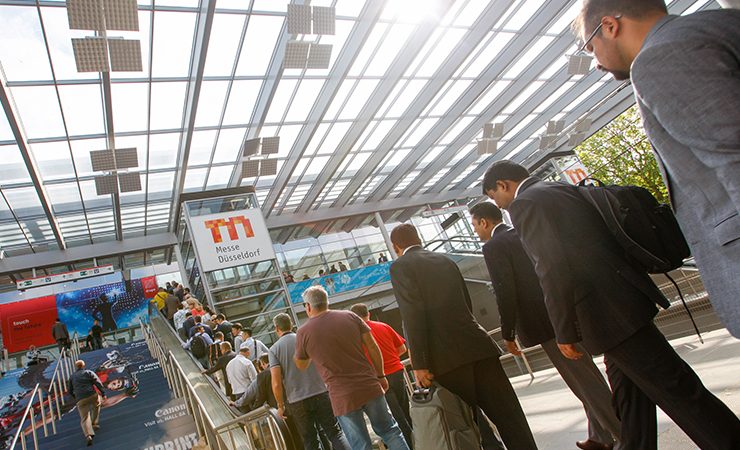 Messe Düsseldorf has the next instalments of both interpack and drupa currently planned for 2021
*updated, 31 March, 2020
Exhibition organisers around the world remain vigilant to the risk posed by COVID-19 as a growing number of events are postponed or cancelled.
This year was set to be a busy one for print and packaging trade shows, with the next instalments of drupa, interpack, Fespa, Labelexpo Americas and Printing United scheduled to take place across Europe and North America in the coming weeks and months. 
The ongoing worldwide outbreak of COVID-19 – also referred to as coronavirus – has raised concerns about the health risk posed by attending such large events that attract a global audience. The decision by GSMA to cancel this year's Mobile World Congress (MWC) in Barcelona compounded such fears in some quarters. This event was due to open its doors on 24 February.
This has continued with Labelexpo Global Series postponing its Labelexpo Southeast Asia event until September, and Fespa also postponing the forthcoming Global Print Expo, European Sign Expo and Sportswear Pro events. These had been scheduled to take place at IFEMA Madrid from 24-27 March. They will now run 6-8 October, 2020 in Madrid.
Fespa's initial response had centred on actively monitoring all developments relating to COVID-19, guided by the latest information from WHO. Moreover, with effect from 20 February, it had been contacting all exhibiting companies from China at the three Madrid 2020 exhibitions, requiring that they provide documented evidence that all representatives of their company attending the exhibitions, including sub-contractors, have not resided in or visited China at any time after 5 March, 2020. This represents a two-week period preceding the beginning of the build-up of the exhibitions. Fespa believes that this proactive policy is in the best interests of the health and well being of exhibitors, attendees, partners and staff, as well as the general public in the host city of Madrid.
As the scenario has worsened, so Fespa has had to reassess its plans, leading to the announcement to postpone. Fespa CEO Neil Felton explained, 'Until this week, our actions with regard to COVID-19 – including the preemptive action taken in February regarding exhibiting companies from China – have been informed by guidance from the relevant international and national authorities, with the primary objective of safeguarding the health and well-being of exhibitors and visitors. However, in light of the recent spread of the virus in specific areas of mainland Europe, we have consulted with our stakeholders and have concluded that it is in the best interests of our community to defer the events to a later date.'
On the events' rescheduling for early October, Mr Felton commented, 'Despite the ongoing impact that the coronavirus is having on the speciality print sector, we've been overwhelmed by the strong demand from our global community for a Fespa platform in 2020. Therefore, we are extremely pleased to confirm that our shows will be going ahead on these rescheduled dates and we're very grateful to IFEMA team, who have been fully supportive of our decision under the extraordinary circumstances.
'Throughout this difficult time, we remain in close dialogue and consultation with our exhibitors to establish how Fespa is able to best support their 2020 product launches, engage with existing customers and nurture new prospects in the speciality print sector to fuel their future growth.'
The Print UV conference, which had been set for 25-27 March in Las Vegas, has been postponed until a later date, while Tarsus, the parent company of Labelexpo Global Series, has confirmed that this year's Labelexpo Southeast Asia exhibition is to move from 7-9 May in Bangkok, Thailand to 10-12 September.
Labelexpo Global Series managing director Lisa Milburn said, 'This is an unprecedented situation, and given the vast amount of preparation that goes into our shows, not a decision we have taken lightly. However, the health and safety of our exhibitors, visitors and staff is our top priority, and working on the advice of our local partners and BITEC, we feel the best course of action is to postpone the show until September.
'We have been continuously monitoring the situation in Thailand and the wider Southeast Asia region, and are following all local government advice, as well as that of WHO.
We thank all our exhibitors and partners for their understanding at this difficult time, and look forward to working with them on the rescheduled show. All other Labelexpo shows in 2020 are currently scheduled to go ahead as planned.'
Dscoop events in the UK and the US have been postponed too, while the IPIA/BAPC event, 'Where do we go from here?', which was scheduled for 19 March in Hemel Hempstead,  UK, will now also take place at a later date. Another UK event, Sign & Digital UK 2020, has been rescheduled for early March 2021, effectively cancelling this year's edition of the event. 
Messe Düsseldorf has now postponed interpack and drupa until 2021, having already postponed a number of shows scheduled to take place in the German city over the coming weeks. interpack will now take place from 25 February to 3 March 2021, and drupa is postponed until 20-30 April, 2021.
Werner M. Dornscheidt, chairman of the board of management at Messe Düsseldorf, said, ''We would like to thank all partners for their excellent cooperation in making these difficult and time sensitive decisions. We are pleased that together dates were found so quickly in order to provide all those affected with reliability in planning.'
Self-adhesive label association FINAT has confirmed that its next European Label Forum (ELF) has been cancelled. Initially scheduled for 3-5 June in Rome, Italy, ELF will return in the final week of May 2021. The association had already postponed its Technical Seminar, which is now to take place during November or December this year in Barcelona. FINAT plans to integrate parts of the planned ELF programme into the rescheduled Technical Seminar event.
'FINAT wishes to express its sympathy with the members of the European label community and their local associations that have been hurt and hit by the crisis, especially in Italy but increasingly also in other countries as the coronavirus continues its journey around Europe and elsewhere.'
Further away are the next editions of Labelexpo Americas and Printing United. These take place in Chicago in early September and Atlanta, Georgia later in October. While Labelexpo Americas 2020 will be co-located with the first Brand Print exhibition – a new show series introduced by Tarsus –, Printing United is set to top one million square feet of exhibition space for its second show.
As noted by Ms Milburn, Labelexpo Americas 2020 is currently planned to go ahead as scheduled.
Amanda L. Kliegl, vice president, public relations, at SGIA, noted that, while Printing United is a while away, 'we continue to monitor this closely and will provide an update accordingly.'
While the global outbreak of the novel coronavirus is challenging societies around the world, and events are being postponed or cancelled, there is work going on to help exhibitions and events continue to serve as 'responsive and resilient economical tools'.
This has seen Paris-based UFI, the global association of the exhibition industry, and its US-based counterpart, the Society of Independent Show Organizers (SISO), launch a campaign intended to support exhibition and event organisers around the world as they attempt to navigate the current situation.
'This Show Is Open' is aimed at putting the exhibition industry's full experience to the task of keeping events going wherever possible, in line with the guidance of health authorities and the interests of their customers. This aims to capitalise on the 'responsive and resilient'  nature of events as economical tools, according to the two associations.
The campaign consists of material that UFI and SISO are making available to their respective memberships, with visuals and text able to be included as part of ongoing communications around upcoming exhibitions. This will highlight the fact that while numerous exhibitions around the world are being postponed or cancelled due to COVID-19, many shows are taking place successfully around the world.
UFI president Mary Larkin commented, 'Exhibitions and events are essential to millions of businesses around the world. They exist to provide platforms for people and industries to meet, to trade, and to collaborate. Small and medium businesses in all industries in particular depend on exhibitions. And, like all types of events, they support the economy worldwide.'
SISO chair Greg Topalian continued, 'Exhibitions and events are especially important in times of disruption. We stand to fulfill our obligation to maintain opportunities for people to meet wherever possible. As part of the exhibitions industry, we are committed to keep our exhibitions and events going around the world wherever we can do so.'
In a joint statement, UFI CEO Kai Hattendorf and SISO executive director David Audrain noted, 'We have one simple message here; as an industry, we strive to make it possible for every company to come to the show floor, to seek to meet with industry peers, to drive the exchange about how and to what degree their respective industries are impacted by COVID-19, and to secure the successful future for their business.'
Tarsus Group CEO Douglas Emslie added his weight to the campaign, and said, 'We will use the material provided to help get the word out loud and clear that our industry is open and resilient.'
Easyfairs, the organiser of Packaging Innovations, has made its venues across Europe available to local and national authorities in the fight against COVID-19.
Easyfairs organises more than 200 events worldwide and owns or operates 10 exhibition halls in Europe. In the current situation these facilities are of course unoccupied. In order to participate in the collective mobilisation against coronavirus, the company has proposed to the Belgian, Dutch and Swedish authorities to make its halls available free of charge according to their needs. These are Flanders Expo (Ghent), Antwerp Expo (Antwerp), Namur Expo (Namur) and Nekkerhall Brussels North (Mechelen) in Belgium, the halls of Hardenberg and Gorinchem in the Netherlands as well as Kistamässan (Stockholm), Malmömässan (Malmö) and Abymässan (Gothenburg) in Sweden.
Easyfairs CEO and founder Eric Everard explained, 'It seemed obvious that we should be part of the collective effort to combat coronavirus and provide as much relief as possible to those directly affected by it. Our exhibition halls can accommodate temporary health centres, welcome and sorting areas for patients, storage areas for medical equipment, etc. The authorities that we have contacted have expressed their strong interest in this proposal, which they undoubtedly will implement if necessary.'
The world's first virtual exhibition and conference for the printing industry has now been launched, with Global PrintExpo set to go live in June.
Click here to find out about rescheduled industry events and their new dates
 *This is a developing story and will continue to be updated as more announcements are made