Epson releases SurePress L-6534VW digital label press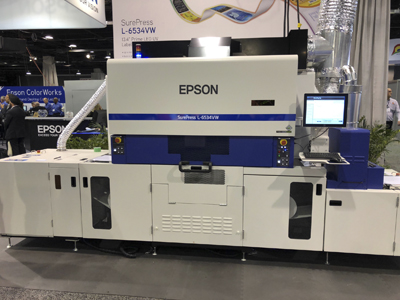 The Epson SurePress L-6534VW 
Joining the SurePress L-6034VW in the UV digital label press line, Epson has revealed the SurePress L-6534VW digital label press.
Designed for label converters investing in a digital label press for the first time or looking to expand production facilities with a reliable, easy-to-use piece of machinery, the new press will offer three print speed modes from 49fpm to 162fpm. 
The SurePress L-6534W digital LED UV inkjet press can produce high-quality, durable labels and integrates all of the functions required for label production, including a corona treater, white ink, digital varnish, and an additional UV curing unit. The print heads, inks, LED pinning and curing lamp units, media feeding, and control system are all developed and manufactured by Epson. 
'The SurePress L-6034VW set a higher standard for UV print quality,' said Mike Pruitt, product manager. 'Today we take our solution one step further by expanding the line to deliver faster print speeds compared to the previous generation; allowing prime label and packaging converters to fulfil demanding and varying portfolios more quickly – ultimately optimising productivity and efficiency.'
Epson will be demonstrating the new SurePress L-6534VW, as well as the SurePress L-6034VW and L-4533AW and workflow automation solutions with Wasatch RIP, at Labelexpo Americas in Chicago from 25-27 September at booth 5813.