Digital helps deliver human milk donations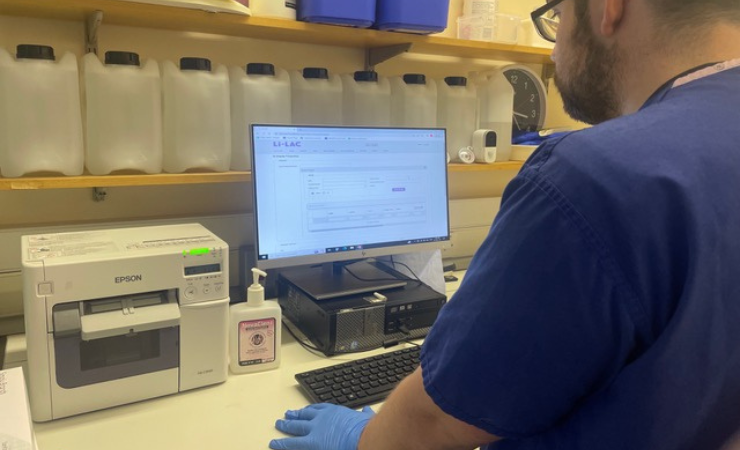 Epson has supported HMB with the donation of a TM-C3500 ColorWorks label printer with accompanying labelstock from Magnum Materials that can withstand the rigours of donor breast milk supply and distribution
This is one example of how digital can help deliver success, regardless of the application or end-use. To find out more about the ways digital can deliver success for you, book your seat at Digital Print for Brand Success 2023 today – www.digitalbrandconf.com
Digital label printing has helped the Human Milk Foundation (HMF) to safely and securely distribute donor human milk to babies in hospital neonatal intensive care units (NICUs) and families at home, such as mums with cancer, through The Hearts Milk Bank (HMB).
HMB was the UK's first non-profit human milk bank, founded in 2016. It is now the largest supplier of donor human milk in England and Wales, offering equity of access to safe and assured supplies of donor human milk to hospitals and community-based clinicians for babies across London, East Anglia, the southeast of England and beyond. It has supported over 400 families facing feeding challenges and supplies milk to over 50 NHS hospital NICUs. HMF followed in 2018 with the aim of building a new model to provide equitable access to donor human milk and breastfeeding support and initiating research and education.
To facilitate much of this work, accurate labelling with specific information and QR codes is required for every step of the process. It begins at the initial point of delivery, through pasteurisation of the milk, freezing and then dispatch to hospital or the baby's home. Epson has supported the work of HMF and HMB by supplying a TM-C3500 ColorWorks label printer, accompanied by labels from Magnum Materials that can withstand pasteurisation temperatures up to 65 degrees C and freezing temperatures as low as -22 degrees C.
Gavin Thurston, business development manager for business systems at Epson (UK) says, 'We were delighted to be able to find a solution that worked well for the demands the labels would have to manage. We identified a labelstock that would perform well, despite the temperature range, to ensure every container was processed correctly and delivered to the right destination.'
Flic Webster, director of communications at HMF, comments, 'Reliable printers producing accurate, customised labels are crucial to the continuity of our service. We printed over 9000 labels in one month recently, so having equipment we can rely on is essential. Printing clear and precise labels with supporting documentation is critical to the timely processing and delivery of donor milk and the Epson label printer helps us to streamline our operations. Every bottle of donor milk needs the correct label to ensure it can be tracked at any point from arrival at the milk bank, through pasteurisation and microbiology screening, freezing and dispatch to hospitals and families.'
The sustainability gains of printing on demand were also a significant benefit, as Ms Webster explains. 'Epson and HMF are like-minded organisations that share a mission to create a more sustainable future. It is wonderful to partner with a company that is so focused on finding ways to ensure it is sustainable whilst helping its customers make better choices as well. Sustainability is at the heart of our work, which meets 13 UN Sustainable Development Goals. We are conscious of our carbon footprint and are currently piloting new projects such as moving from plastic to glass bottles at the milk bank that will require bespoke labels to support the recycling process.'
She adds, 'We are very grateful for the support Epson provides and we look forward to continuing this innovative sustainability work together,' whilst Mr Thurston says, 'We look forward to continuing to support HMF in its vital work.'
This is another example of how digital can help deliver success, regardless of the application or end-use. To find out more about the ways digital can deliver success for you, book your seat at Digital Print for Brand Success 2023 today – www.digitalbrandconf.com