NOMOQ appoints UK team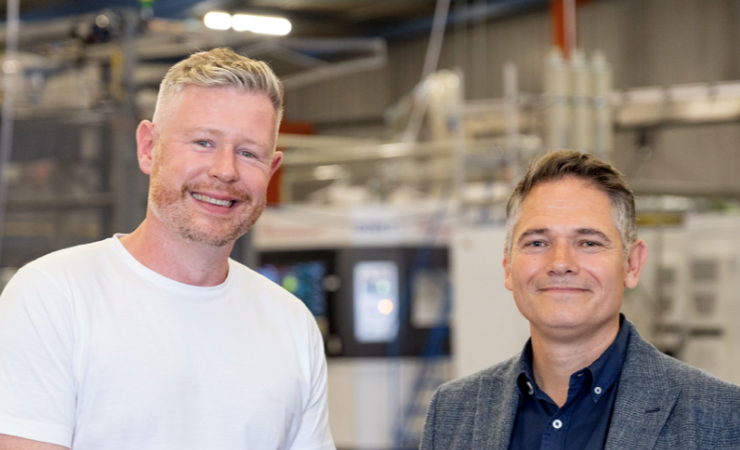 NOMOQ UK regional account manager Dave Rigby (left) and NOMOQ UK managing director Andrew Bannister (right)
Multinational digital can printing company NOMOQ has named the team to lead its growth in the UK.
Leamington Spa has been confirmed as the location for NOMOQ's production plant with BrewDog the first customer served directly from the site.
The team behind the UK operation consists of Andrew Bannister, general manager and who will lead the UK operations, supported by Dave Rigby as regional account manager. A further 10 new appointments have been made across machine operation, graphic design, administration and logistics. The site will bring a total of 40 jobs to the region across the next three years with more appointments expected in coming months.
With over 34 years in the printing industry and having held various leadership roles in this time, Mr Bannister brings a wealth of experience. His background is security printing, working mainly on postage stamps, tax stamps and currency. This includes exposure to digital, conventional and graphic printing. He joins from Cartor Security Printers, where he was production director.
Mr Rigby meanwhile previously ran his own – and Manchester's first – gin distillery, meaning he is well-versed in drinks production and brings extensive industry experience.
The team, led by Mr Bannister, are tasked with delivering NOMOQ's vision to become the leading supplier of decorated cans in small batch sizes for the UK beverage market, with a focus on providing first-class customer service and driving new business forward.
Mr Bannister commented, 'It's a very exciting brand with a deep commitment to sustainability and sustained investment in its people. It's also the ideal time to join the business as we focus on driving growth in the sector and the UK market with our creative, innovative and dynamic vision. I'm looking forward to playing my part.'
NOMOQ CEO Peter Stein said 'We're excited to welcome our new UK team to the NOMOQ family as we target further growth. Leamington Spa in the West Midlands is the ideal site for us and we're proud to be investing in the region and importantly, bringing jobs to the area.'