Toblerone turns to digital to engage consumers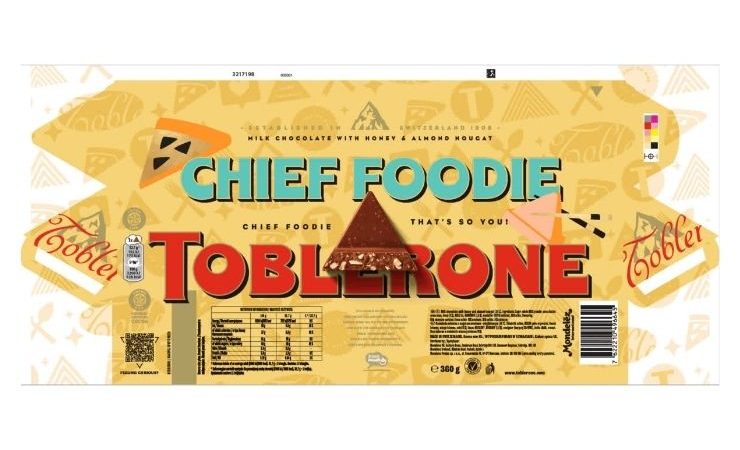 170,000 unique designs have been created for the 'That's so You' marketing campaign, made by agency Bulletproof using the Spark element of HP SmartStream Designer
Germany's Pfaffle has used its HP Indigo 30000 digital press to create customised printed boxes for Mondelēz International's Toblerone chocolate brand, elevating its presence across UK supermarket shelves and 'build an emotional connection with consumers'.
This has seen the creation of more than 170,000 unique designs for the 'That's so You' marketing campaign. Created by agency Bulletproof using the Spark element of HP SmartStream Designer, each design features a different type of personality, as well as having the background design and featured icons personalised according to the personality described on the packaging.    
Print service provider Pfaffle's HP Indigo 30000 digital press was used to print the folding carton boxes used in the campaign. Mondelēz International had specific packaging requests related to this project, such as avoiding similar themes, avoiding grouping packs with the same type of color and ensuring a balanced distribution of different original traits.
By printing digitally and using the HP Spark variable data technology, Pfaffle was able to create a production  sequence that resulted in the correct order of Toblerone packs in line with Mondelēz's requirements.
Jose Gorbea, head of brands and sustainability innovation at HP, said, 'We educate our brands about digital print, its strategic benefits and inspire them to reinvent creativity through the power of co-creation, which in return accelerates the growth of the brands;, driving a 2x marketing ROI and most importantly, creating shared value between brand owners, HP customers and HP. This collaborative approach not only strengthens the bond between the brand and its audience but also fosters innovation and unlocks new possibilities in the ever-evolving digital landscape.'
This is not the first time Mondelēz and HP have partnered to create personalised/customised packaging, having successfully collaborated on campaigns for Oreo in the US, Cadbury in the UK and Milka in Belgium. With the 'That's so You' in-store activation, Mondelēz has sought to elevate its presence across Sainsbury's store shelves, as well as build an emotional connection with consumers, 'generating a sense of pride and belonging and celebrating originality,' according to the company.
Claire Kamara, Toblerone brand manager, said, 'The idea for this in-store activation came from an HP garage innovation workshop with Mondelēz in the UK. At Toblerone, we are committed to growing our business at the same time as keeping our customers totally engaged by creating new, original and personalised packaging designs for all chocolate lovers. This activation will help us test and learn from the digital printing technology, which offers an opportunity to not only innovate with storytelling on pack, but also create sustainability benefits for our business.'
The special edition 'That's so You' Toblerone campaign is available in Sainsbury's stores all across the UK from the end of June until mid-August 2023.