Hanway hosts 200 at high-speed print event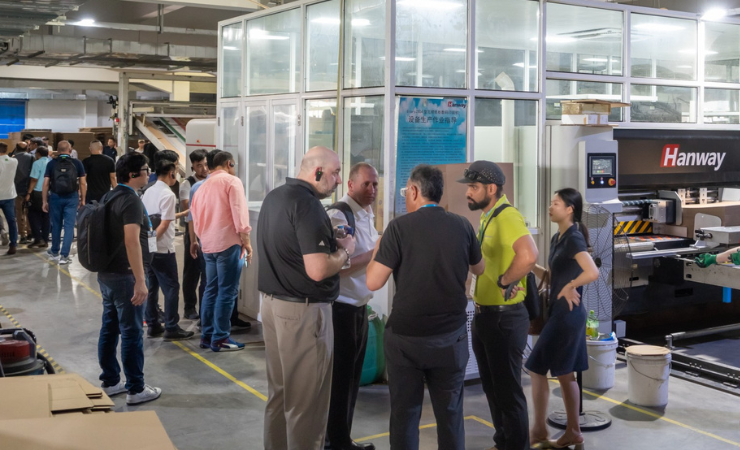 Representatives from more than 130 overseas packaging printing enterprises from the Americas, Europe, Asia-Pacific and other regions visited and explored the operational conditions of packaging printing factories near Shanghai
HanGlory Group and Hanway have welcomed more than 200 international guests at a week-long event in China dedicated to its high-speed inkjet digital printing.
Under the banner 'Unstoppable Momentum, Winning in the Present: Hanway Packaging Smart Print Event Week', more than 130 overseas packaging printing enterprises from the Americas, Europe, Asia-Pacific and other regions visited and explored the operational conditions of packaging printing factories near Shanghai. This included a visit to Shentai Packaging, which operates a Hanway Glory2504 single-pass, high-speed wide-format inline inkjet digital printing system.
Shentai Packaging is described as a 'technology-driven enterprise', which specialises in corrugated board printing and paper product manufacturing. Shentai Packaging serves a wide range of order types, including those with print runs of 100-200 units, up to 5000-10,000 units. Its Hanway Glory2504 press was installed at the end of 2020 to assist the company with its digital transformation and to upgrade its production.
'Since the installation of Hanway's Glory2504 digital production line, we have been able to take on more high-value orders,' commented Mr Luo, the supervisor of Shentai Packaging's digital department. 'For example, we use the 2504 to print various export orders, food boxes and industrial boxes without the need for platemaking. This eliminates many production processes, reduces delivery times, and provides an excellent experience for our customers.'
A further factory tour elsewhere in the area around Shanghai demonstrated Hanway's Revo2500W compact high-speed printer, being used for the delivery of diverse and high-quality corrugated printed packaging orders. This system is allowing the unnamed customer to go directly from file to printed sheet without the need for platemaking, with runs as low as a single sheet possible and reduced inventory pressure. Variable data printing allows personalised packaging and customisation.
HanGlory Group and Hanway are also in the midst of the 'Hanway Single Pass, the Path of Legendary' global tour, a series of technology-led showcases around the world intended to highlight the capabilities of its high-speed, single-pass inkjet printing equipment.