Call made for DLP Awards 2023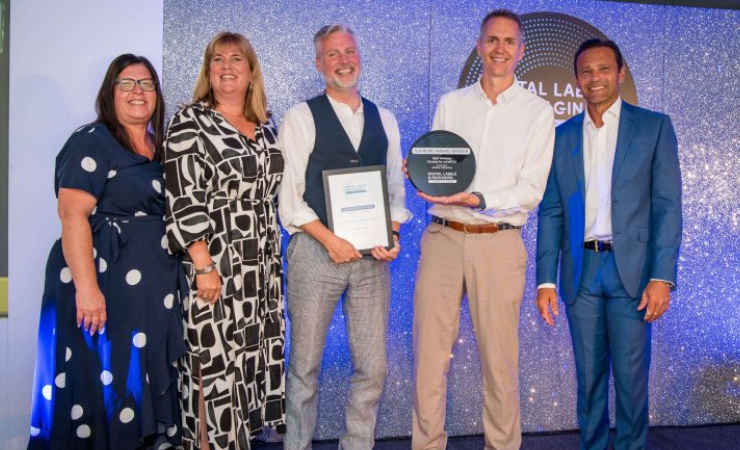 QLM Vietnam (Hoang Ha Label Co) took home the Supreme Award at the inaugural Digital Labels & Packaging Awards - (L_R) Rachael Swinyard and Lindsey Pearson, Whitmar Publications, Jim McInley and Heath Rose, on behalf of QLM Vietnam, and awards host Mark Ramprakash
The Digital Labels & Packaging Awards 2023 are open for entries, with converters from around the world invited to enter their best work for consideration.
Introduced last year, these awards are a celebration of the great and the good using digital technologies to print and convert labels and packaging. This year, the competition has been extended with four new categories: Self-promotional print, Variable data, Best new company and Future star. This brings the total number of categories to 14. The full list can be found here.
Download the entry for here. The deadline for entries is 21 April, 2023, with judging taking place in early May. A lunchtime awards ceremony will be held on 29 June, 2023 at The Kia Oval in London. 
The awards are open for all those producing labels and packaging using inkjet or toner-based technologies. Entries can be fully digital, printed digitally and converted using conventional technologies or printed using analogue technologies (flexo, offset, etc) and then converted and finished digitally. The range of printed items able to be entered spans the entire gamut of the packaging industry, from labels, shrink sleeves and flexible packaging, to folding cartons and corrugated boxes, via cans, bottles and even foodstuffs.
'These awards are a true celebration of the great and the good using digital to print and convert,' commented David Pittman, Digital Labels & Packaging editor. 'As can be seen from the variety of categories open for entries and the type of work/jobs we are calling for, the Digital Labels & Packaging Awards 2023 are open to all and all are invited to get their entries into us, then join us in London on June 29, 2023 at The Kia Oval for the awards ceremony.'
The judging panel for this year's awards will be confirmed in issue 2, 2023 of Digital Labels & Packaging; register here to receive the magazine