Lambert and Smith join Epson as account managers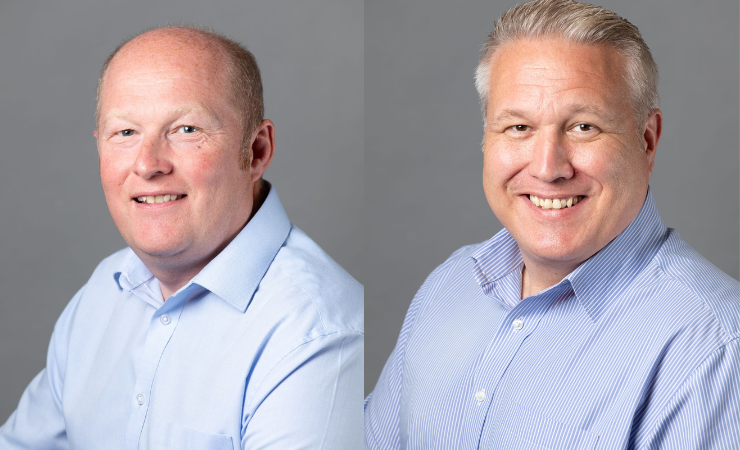 Chris Smith (left) and Russell Lambert
Russell Lambert and Chris Smith have joined Epson UK as account managers for commercial and industrial print.
Mr Lambert has joined from Konica Minolta where he was commercial print account manager. He has also worked for Canon, Xerox, HP, Kodak, and PrintSpeak. Mr Smith has joined from Dantex where he was latterly UK and Ireland sales manager for flexo and digital inkjet. Prior to that he held roles with Eastman Kodak and a number of printing companies including St Ives.
Together they will be the key contacts for Epson's industrial label and textile systems – the Monna Lisa, the Epson Surepress and the Epson SC-F10000H.
The Epson Surepress digital label press with LED UV curing ink enables inline embellishment of labels with matte, gloss, and spot varnish. It delivers faster full colour variable data printing on a wide range of label substrates for many different applications.
Mr Lambert said, 'As part of this unique approach to sales by Epson we will be working directly with customers to enable them to grow their portfolio of services with investment in the latest technology in industrial label and packaging, direct to textile printing, and dye sublimation. We will take a 360-degree overview of their operation to ensure their investment allows them to create strong returns from day one. We will also support them as they build on existing capabilities and production processes to grow their businesses in different directions.'
Mr Smith added, 'There are a number of market considerations shaping opportunities for print service providers. They include reshoring to enable faster more responsive local production and increased sustainable practices that reduce raw material use, cut carbon footprints, eliminate unnecessary waste. These solutions help businesses differentiate their offering while also responding to these challenges.
'They provide companies that are looking to invest in digital, or who have already invested in digital, unrivalled technology manufactured completely by Epson including printheads, ink, firmware, and software.'