Epson label technology supports milk donor charity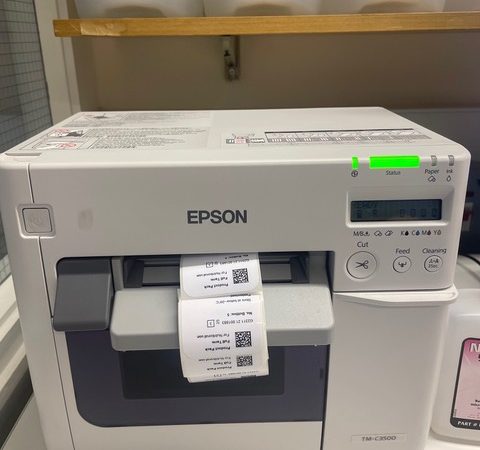 The TM-C3500 prints labels, tickets or tags
Epson-supplied label printing technology is helping its charity partner, the Human Milk Foundation, to distribute donor human milk to babies in hospital neonatal intensive care units.
Accurate labelling with specific information and QR codes is required for every step of the process. It begins at the initial point of delivery, through pasteurisation of the milk, freezing, and then the final dispatch to hospital or the baby's home.
Epson has supported the charity with an Epson TM-C3500 ColorWorks label printer, accompanied with labels from Magnum Materials, that can withstand pasteurisation temperatures of 65 degrees, and freezing temperatures at minus 22 degrees.
The technology is also supplying families at home, such as mums with cancer, through The Hearts Milk Bank. The charity has supported over 400 families facing feeding challenges and supplies milk to over 50 NHS hospital NICUs.
Flic Webster, HMF's director of communications, said, 'Reliable printers producing accurate, customised labels are crucial to the continuity of our service. Last month alone we printed over 9000 labels so having equipment we can rely on is essential. Printing clear and precise labels with supporting documentation is critical to the timely processing and delivery of donor milk and the Epson label printer helps us to streamline our operations. Every bottle of donor milk needs the correct label to ensure it can be tracked at any point from arrival at the milk bank, through pasteurisation and microbiology screening, freezing and dispatch to hospitals and families.'