Diametric installs Kongsberg X20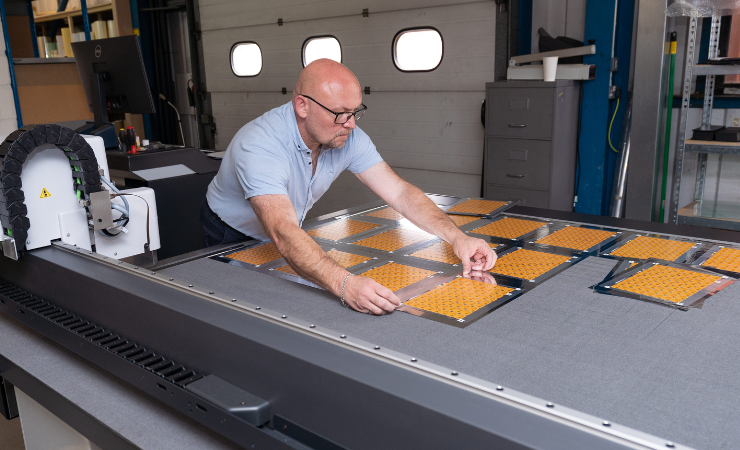 Graham Steele using the new Kongsberg X20 at Diametric
Branding specialist Diametric claims it has seen a boost in productivity and savings since introducing its new Kongsberg X20 digital cutting table.
The UK-based precision badge, label, and nameplate producer recently acquired the machine as part of an upgrade at the company's manufacturing plant in the Isle of Wight.
Graham Steele, managing director of Diametric, said, 'The instant advantage we saw was the minimal setup time required, particularly for repeat orders, where you can recall the programming. Then there's the accelerated running time. Because you can index cut on the X20, where the only limitation is the sheet size, we can also look at a larger yield on the sheet without worrying about registration issues. We're also bringing costs down for customers because we can get the job through the department at a faster rate, as well as cutting more products from one sheet.'
Mr Steele, who has been with Diametric for 21 years, joined as a sales account manager and progressed through the business before becoming managing director six years ago.
He added, 'Previously there hadn't been much investment in the manufacturing plant, so when we bought the company that was something we were keen to do.'
'Our cut shop has two full time operators, and most of our cuts would previously go through a manual process. To move those onto the Kongsberg meant a new way of working. Our production manager has taken the lead and is passing on the training to the two operators. That's what is great about the X20 – it's a very intuitive machine. It's one thing to upgrade the systems in the cut shop, but it's another for people to learn it and understand its capabilities. But the team have gotten on board very quickly and are confidently running production. It fits our business model exactly.
'Traditionally we work predominantly with plastics – materials like 80-micron vinyl and polycarbonates – but the Kongsberg allows us to use a greater selection of materials and also look at routing our product.'