Mark Andy to reiterate digital transformation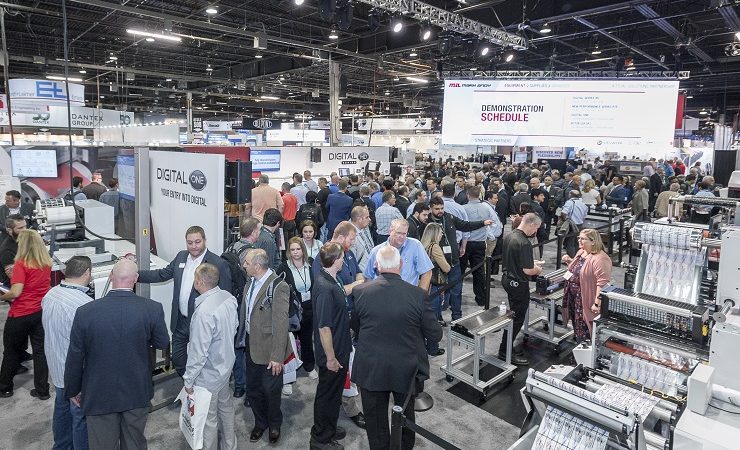 The Mark Andy stand at Labelexpo Americas 2018
Mark Andy's growing role in digital label and package printing is to be front and centre of the company's participation at Labelexpo Americas 2022, where a number of its digital technologies will be presented.
This will include a new digital press within its Digital Pro family that incorporates the Konica Minolta AL400 toner-based digital print engine. The press is configured as standard with five colours – CMYK+W – and prints at speeds up to 40m/min in roll-to-roll and hybrid configuration. Under the terms of the two company's partnership agreement, Mark Andy is the exclusive provider of Konica Minolta's AL400 print technology to the labels and packaging industry.
Mark Andy has a long-standing presence in digital, although this has been ratcheted up of late, especially in relation to the market for hybrid flexo-digital printing.
Turning his attention to more recent developments, Greg Palm, executive vice president, sales and marketing at Mark Andy, commented, 'Through our strategic partnership with Konica Minolta, Mark Andy is extending its solutions for digital print production to be optimised for mid-to-high volume converters.'
Mark Andy will also showcase Digital Series iQ (DSiQ), a hybrid platform using its own Evolution Series flexographic platform in combination with Domino's N610i UV inkjet digital printing engine. Digital Series HD (DSHD) is another hybrid press, combining flexo converting and inkjet printing.
Whilst digital won't be Mark Andy's sole priority at Labelexpo Americas 2022 – flexo press ancillaries, finishing equipment, and workflow products will also feature – Digital Pro, DSiQ and DSHD are seen as,' yet another powerful reason for label converters to visit the show.'
That is according to Lisa Milburn, managing director at Labelexpo Global Series, who added, 'I am delighted Mark Andy has chosen Labelexpo Americas 2022 to showcase the launch of its new digital products.'
Labelexpo Americas 2022 takes place at the Donald E Stevens Convention Center, Chicago, between 13-15 September.
The July/August issue of Digital Labels & Packaging will include major coverage of the market in the Americas, including Labelexpo Americas and Printing United previews; register here to receive the magazine