Mark Andy debuts Digital Series iQ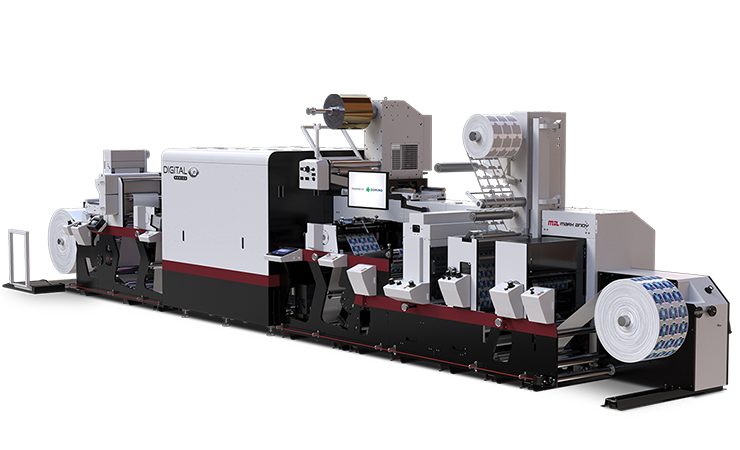 Digital Series iQ is a fully integrated digital hybrid option with production speeds up to 70m/min in high speed mode
Printing equipment manufacturer Mark Andy has joined forces with Domino to launch a new hybrid press, Digital Series iQ.
Digital Series iQ is a fully integrated digital hybrid option with production speeds up to 70m/min (high speed mode) and 50m/min (high quality mode). The press is based on Mark Andy's Evolution press platform, integrated with a seven-colour Domino UV inkjet engine (CMYKOV+WW), with a maximum web width of 330mm and 600 x 600dpi resolution. White opacity is 72%. It features Kyocera printheads.
Digital Series iQ is the latest press in Mark Andy's growing digital portfolio, which includes existing hybrid options in Digital Pro and Digital Series HD, in addition to Digital One and Digital Plus Screen.
David Medlar, vice president of digital at Mark Andy, commented, 'Based on customers' feedback, we've heard they would love to see us offer a Domino digital marking technology integrated with Mark Andy flexographic and converting technology.
'With the new Digital Series iQ, we can now combine Domino's established digital UV engine with our world-leading flexo printing material handling and inline finishing.'
David Ellen, divisional director, Domino Digital Printing Solutions, said, 'By marrying best-in-class flexographic printing and converting machinery with Domino's renowned inkjet technology, we expect Digital Series iQ to emerge as a leading hybrid solution for a wide variety of applications.'
Virtual demos of Digital Series iQ will begin in late February. Mark Andy and Domino will jointly host a virtual launch and product unveiling event on 17 February, 2021, which you can register for here.
Read more about hybrid printing in the January/February 2021 issue of Digital Labels & Packaging; register here to receive the magazine