Ukrainian printer fights back with industry support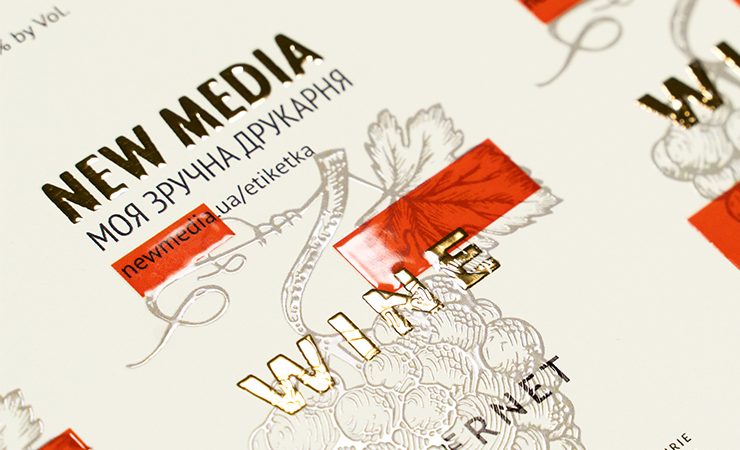 New Media was founded in 2014 and specialises in short runs of labels and packaging
Ukraine-based printing and packaging company New Media is looking to reshape its business model and redefine its future with support from the industry.
Founded in 2014 and specialising in short runs, New Media counts design agencies, retailers and several print houses among its clients. The company produces labels and packaging, complemented by digital embellishment services. To revitalise its offering in 2020, New Media embarked on a plan to invest in new equipment, including a Konica Minolta AccurioPress for commercial printing, an AccurioLabel narrow web press for labels, and an MGI JETvarnish 3DS unit for digital spot varnishing and foiling. The company employed 35 people, 50% of whom were women, before the outbreak of war in the country earlier in 2022.
Before the war, the printing and packaging industry in Ukraine employed around 100,000 people, including 16,000 freelancers, working at more than 5000 print and converting companies. Based in Odessa, New Media is one of the hundreds of small and medium-sized Ukrainian printing and packaging companies in danger of not surviving the war.
In the first month of the war, New Media lost 90% of its turnover. The following month, it regained a small portion, but now more than 100 days since the invasion began, turnover is around a third of pre-war levels. This makes it impossible to pay equipment leases and salaries, and make plans for the future. The company's team of skilled professionals has also been dispersed and displaced.
Viktor Artyushchenko, the owner of New Media, said, 'We invested in technology to make a difference for our clients and partners, but the war stopped everything. The communications industry in Ukraine is annihilated, and it will take years for the domestic market to restart.'
To combat this, New Media is having to rewrite its future, aided by Print Against War. This is a non-profit initiative aimed at helping Ukrainian printing and packaging companies continue to operate or providing support when they can again start up their production. Print Against War will soon be backed by the Meaningful Print Foundation, managed and overseen by a group of respected global print enthusiasts.
In this case, such support has allowed New Media to start conversations with potential customers and resellers in some European countries, especially those print houses that own the same technologies. Soon, the company aims to automate its workflows, create a multi-language website, and open an e-commerce portal to sell in Ukraine and abroad. To achieve its aims, New Media will need consultation, support and access to technology, which are three areas where Print Against War will focus its efforts to help this digital native company.
Mr Artyushchenko said, 'The conversation with Print Against War was unexpected, and it was really a kick in the pants. For the first time, we felt that we were part of a global industry; and it forced us to look inward, redefine our priorities, and convince ourselves that we need to create the conditions to take our products beyond national borders.'
Those wishing to connect with Mr Artyushchenko and offer their assistance to New Media are invited to join the Print Against War community, at printagainstwar.org.
Watch a video interview below between Mr Artyushchenko and Print Against War co-founder Lorenzo Villa.