AM Labels adds linerless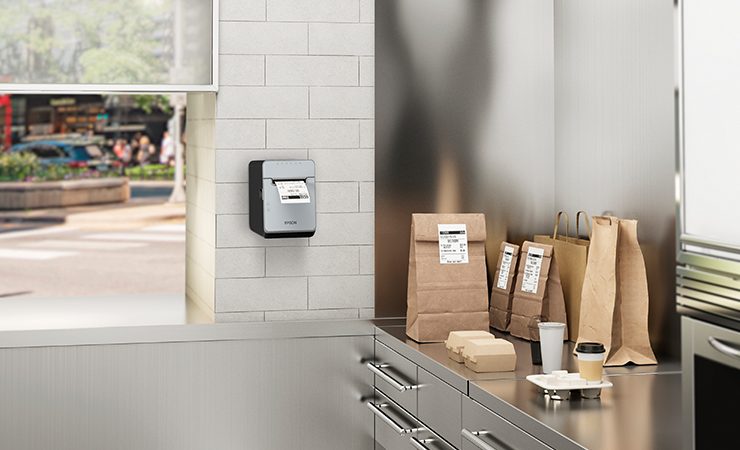 The liner-free Epson TM-L100 has been specially designed for businesses operating in retail or hospitality environments, such as restaurants
AM Labels has expanded its portfolio with the inclusion of linerless label printers from Bixolon, Epson and Toshiba.
The linerless label printers added to AM Labels' portfolio are the Bixolon XL5-40, Epson TM-L100 and Toshiba BV420D-GL.
XL5-40 is a desktop direct thermal linerless label printer that offers print speeds up to 6ips. Two long-lasting platen rollers reduce the likelihood of label jams or curls in the material. Furthermore, this model offers increased levels of flexibility, enabling users to print media lengths from between 30-1000mm. In addition to being ideal for a variety of applications including warehousing requirements, mobile price markdowns, weight scale labelling and shelf-edge labelling, the 203dpi Bixolon XL5-40 has a 108mm print width, guillotine cutting system and a peel-off sensor. XL5-43 is available as a 300dpi to produce labels with a higher print resolution, such as those with small or fine text.
The liner-free Epson TM-L100 has been specially designed for businesses operating in retail or hospitality environments, including supermarkets, restaurants, convenience stores, food delivery and catering companies. In addition to benefitting from a 203dpi resolution and print speeds of up 6.3ips, TM-L100 supports a wide range of media, producing high-quality labels without the use of backing paper. Embedded ePOS capability means TM-L100 can be integrated into existing POS systems, while benefitting from Bluetooth, serial and ethernet connectivity. This model can support label roll widths of either 40mm, 58mm or 80mm. An optional wall mounted unit is also available with this model for businesses with limited surface space.
Toshiba BV420D-GL is a linerless label printer with print speeds of up to 7ips, a maximum print width of up to 99mm and a maximum roll width of up to 102mm. Another 203dpi model, BV420D-GL is suited for use in retail or office environments.  
The company's linerless label printer range has been introduced in response to increasing consumer and industry demand for sustainable labelling options that reduce the amount of waste generated during the printing process. As a silicone label liner is not required with any of the three aforementioned models, zero backing paper is sent to landfill, helping businesses to improve their carbon footprint and environmental credibility, according to the company.
AM Labels also now offers labels of varying widths, to complement each model.
Brendon Bass, sales and marketing manager at AM Labels, commented, 'We are always looking to expand our portfolio with the latest innovations and developments in the industry, and we are therefore delighted to announce our new range of linerless printers.
'Our customers are increasingly looking for more environmentally friendly labelling methods and materials, and linerless label printers offer a wealth of benefits to businesses. In addition to being more sustainable, accommodating a greater number of labels per roll and requiring fewer changeovers, linerless labelling reduces production downtime, boosts productivity and increases savings.
'Thanks to our new range of linerless printers, we can now offer our customers more sustainable alternatives to conventional label printing, all of which can provide high quality, efficient and cost-effective solutions to the production of labels for a variety of industries and applications.'