Epson introduces ColorWorks C4000e printers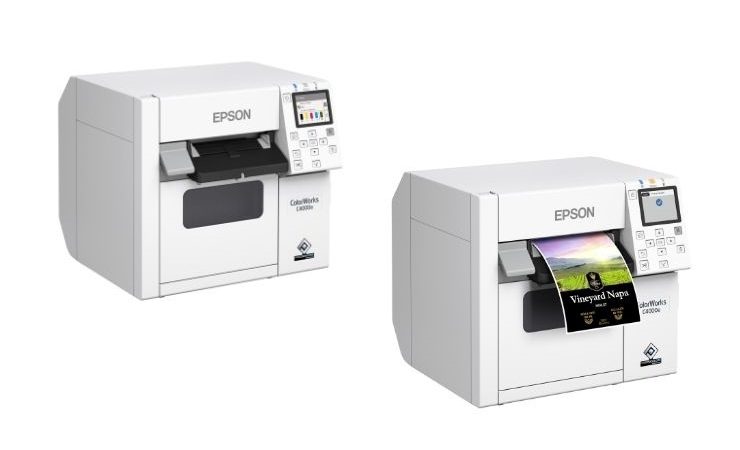 The Epson ColorWorks C4000e printers have a choice of either matte or gloss black ink models
Epson has launched two ColorWorks C4000e on-demand, colour label printers, said to offer a flexible, fast and cost-effective in-house labelling option for businesses of all types and sizes.
Designed around Epson's award-winning Precision Core technology, the Epson ColorWorks C4000e series prints high-resolution, high-quality labels. Colour matching functionality (ICC profile and spot colour matching) helps ensure 'impressive, impactful results'. Individual pigment ink cartridges ensure the creation of fast-drying, highly detailed labels that are smudge, water and fade resistant. ColorWorks C4000e printers have a choice of either matte or gloss black ink models – CW-C4000e(Bk) and CW-C4000e(Mk). The matte black ink model delivers a darker black on matte media and a richer image on plain media. The gloss black ink model creates high-quality prints on a wider variety of substrates, with the best results from synthetic to glossy media. The same CMY inks are used with both models. The C4000e range also feature 2.7in LCD display, as well as an auto-cutter.
These two new models are said to complete the Epson colour label printer lineup, and have a compact footprint that makes them 'perfect' for desktop installations in smaller businesses with limited space. The application range for these new printers includes food and beverages, chemical and pharmaceuticals, to ticketing applications.
ColorWorks C4000e printers feature SDKs for IOS and Android, which allow simple and intuitive tablet printing, as well as integration tools which provide a one-stop-shop for on-demand variable data. Drivers are available for ESC Label, Linux and Mac. An optional Wi-Fi dongle is also available, providing the ability to print from anywhere at any time. Remote configuration, maintenance and monitoring, as well as fleet management is facilitated through a web interface.
Gavin Thurston, business development manager, Colorworks at Epson UK, commented, 'The C4000e is a significant step forward for two reasons. Firstly, it meets the market need for a desktop installation that can deliver simple and reliably high-quality label printing, and – secondly – it means that Epson now offers an on-demand label printing solution for businesses of all types and sizes.'
The Epson ColorWorks CW-C4000e(Bk) and CW-C4000e(Mk) will be available from the spring of 2022.
Read more about the market for entry-level digital printing in the January/February issue of Digital Labels & Packaging, and then read the March issue for more about desktop printing technologies and the choice to bring printing in-house by a growing number of end users; register here to receive the magazine, for free