AM Labels adds LX610e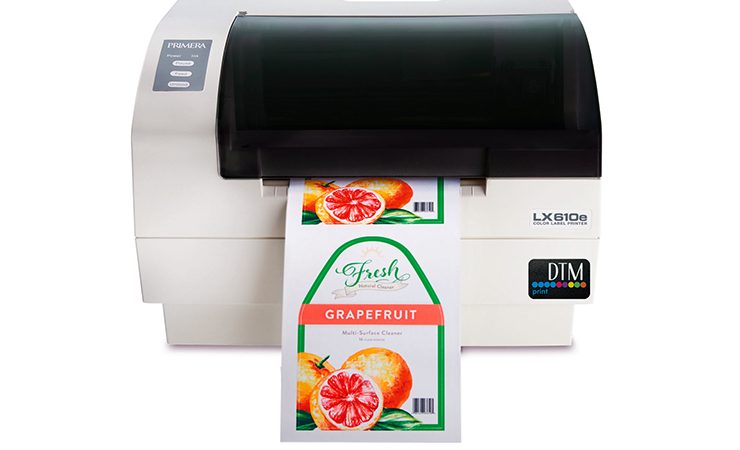 Both dye-based and pigment-based inks are compatible with the LX610e, further extending the possibilities for end users
AM Labels is now offering the LX610e colour label printer via its portfolio of label printing solutions.
LX610e has been brought to Europe via DTM Print through its close relationship with Primera, which manufactures the printer and badges it as the LX610.
Combining a resolution of up to 4800dpi and print speeds of up to 114.3mm/s on pre-cut media, the LX610e is a compact desktop printer that can produce professional and high-quality colour labels. Using a built-in, digital die-cutting mechanism, users can import their design and select a range of cut formats, from standard die-cuts such as squares, circles or rectangles, to a custom cut that will automatically follow the outline of the user's chosen artwork. The printer comes complete with PTCreate Pro, software which enables users to print and cut labels in minutes. The software also benefits from a range of additional tools, including layering, exporting images, importing different file types and cutting around more elaborate artwork. PTCreate Pro further offers an auto-trace and cut function, which allows users to print and cut complex shapes and designs with ease.
LX610e further benefits from built-in ICC colour matching, which is automatically loaded depending on the type of ink and substrate that are used. In addition, standard, pre-die-cut labels and tags can be fed through the printer, increasing flexibility for the end user. LX610e is noted as being easy to maintain, with low maintenance costs, as well as further benefitting from a low energy consumption, non-toxic ink supplies and 100% recyclable components.
Both dye-based and pigment-based inks are compatible with the LX610e, further extending possibilities for the end user, with dye-based inks producing vibrant, eye-catching colours; and pigment-based inks offering enhanced resistance characteristics. Compatibility with a wide variety of substrates including gloss and matte papers, as well as synthetics such as polypropylene and polyethylene, means users can produce labels with a range of high quality finishes, while saving businesses the time and expense of outsourcing their labelling requirements.
Brendon Bass, sales and marketing manager at AM Labels, commented, 'The DTM LX610e is a truly unique thermal inkjet printer, combining an impressive resolution with fast print speeds, while enabling users to print and cut custom labels in one operation. We are delighted to add this printer to our portfolio, enabling businesses operating in a wide range of industries to effortlessly produce professional, high quality colour labels, in-house.'