Labelexpo returns with heavy digital presence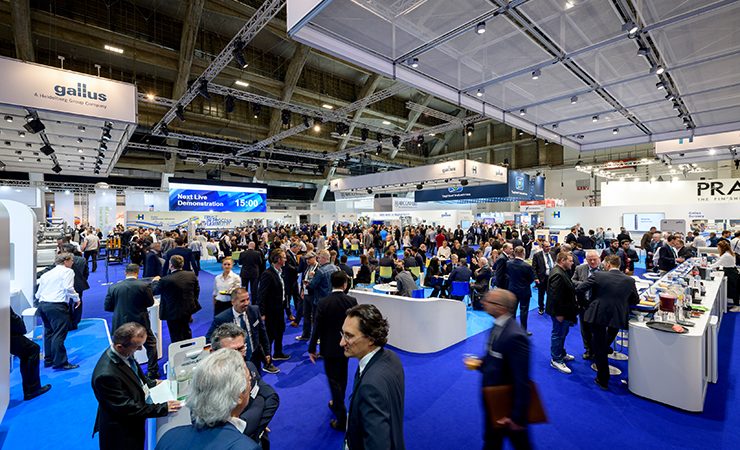 The Heidelberg/Gallus stand at Labelexpo Europe 2019, where Labelfire was presented
Digital printing is set to play a major role at Labelexpo Europe 2022, scheduled for 26-29 April next year after a near three-year Covid enforced hiatus.
The event's organiser, Labelexpo Global Series, has identified NPD and NPI from key digital players as an early trend to emerge as the event prepares to host over 600 exhibitors at Brussels Expo in Belgium next spring. As evidence, Labelexpo Global Series drew attention to HP Indigo, Xeikon, Domino, Fujifilm, Konica Minolta, Epson, Durst and Canon Production Printing, who have already confirmed to exhibit, and will be showcasing their latest technologies.
Looking at the current floor plan, which is frequently updated and can be viewed here, a broader list of supplier companies relevant to digital print is easily identifiable, and includes: A B Graphic, Afford Inks, Afinia Label,  anytron, AstroNova, Bobst, Brotech, Cartes, Cerm, Dantex, Daco Solutions, Dilli, Dunmore, EFI, EyeC, Focus Label Machinery, Gallus, Global Graphics, GM, Grafotronic, Dr Honle, Hybrid Software, Inkjet Solutions, INX International Ink, Kao Collins, Karlville, Kurz, Labeltech, Mark Andy, Michelman, Mitsubishi HiTec Papers, Miyakoshi, MPS, Nanovis, OKI Europe, Pantec, Prati, Pulse Roll Label Products, Re SpA, Rhyguan, Screen Europe, SEI Laser, Siegwerk, Sihl, Smag and Theurer. Expect others to be added to the show floor as Labelexpo Europe 2022 nears. 
A brand-new digital embellishment trail will also take place at the show, alongside other additional content in and around Labelexpo Europe 2022.
Labelexpo Europe 2022 will be the first time Labelexpo has been able to host one of its flagship in-person expos since the start of the coronavirus pandemic. In fact, whilst smaller and hyper regional events have taken place, Labelexpo Europe 2019 was the last notable date in the calendar from them.
Lisa Milburn, managing director, Labelexpo Global Series, commented, 'Despite the pause on in-person shows caused by the global pandemic, the market-wide momentum building for Labelexpo Europe 2022 shows that the global label and packaging printing industry is still as vibrant as ever and is now bolstered by a renewed enthusiasm.
'Exhibitor participation is very encouraging, not only in the number that are so keen to reconnect in person, but in the global calibre of press manufacturers, offering the industry a chance to truly reconnect and do business.'
As part of the Labelexpo Europe 2022 visitor experience, and to facilitate a successful event for attendees and exhibitors alike, a dedicated VIP Concierge Service is being introduced.
Registration for Labelexpo Europe 2022 opens shortly.
For more upcoming industry events, click here
In 2022, Digital Labels & Packaging is publishing an additional issue in order to adequately deliver the digital print for packaging value chain the knowledge and information needed to drive digital print forward and help the industry to reach new heights. This additional issue will be published in early 2022 as we join the industry in preparing for what will be a vibrant and exciting reimagining of full-scale, in-person industry events and exhibitions, kicking off with the returning Labelexpo Europe.  Contact Rachael Nikolaj to request a copy of our 2022 media pack, which details that and many other exciting developments we have coming up.