AM Labels adds Afinia DLP-2100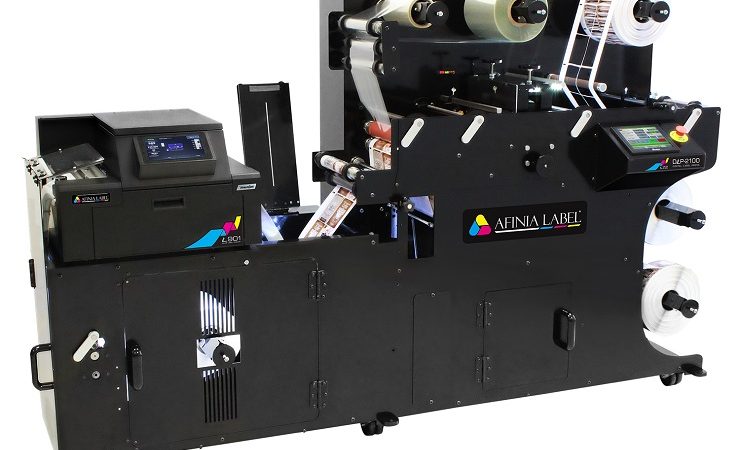 DLP-2100 can print in full-colour, as well as laminate, die-cut and finish labels at up to 18m/min
AM Labels has added Afinia Label's DLP-2100 digital label press to its portfolio, extending its offer for in-house labelling.
A key component of the machine is the inline integration of Afinia's L901 digital label printer with finishing and converting processes. L901 is based on Memjet's water-based inkjet technology, prints with five (CMYKK) high-capacity ink cartridges at a resolution of 1600dpi, and can produce over 25,000 full-colour, 3 x 4in labels an hour.
This combination of print and converting technologies means DLP-2100 can print in full-colour, as well as laminate, die-cut and finish labels at up to 18m/min (60ft/min). The laminate can either be supported or unsupported. The machine can accommodate a maximum roll diameter of 440mm, on a 3in core. DLP-2100 also features a waste matrix removal system and two rewind mandrels, which are beneficial for printing multiple labels across the web. In addition, the press benefits from semi-rotary technology with a fixed magnetic cylinder that can accommodate label sizes of up to 300mm in length. DLP-2100 can hold a master roll of up to 1000m in length of plain, unprocessed material.
The growth of in-house labelling is detailed by AM Labels managing director Tony Mariani in the November/December 2021 issue of Digital Labels & Packaging. Speaking on the addition of DLP-2100 to support this trend, his colleague Brendon Bass, sales and marketing manager at AM Labels, said, 'We are constantly expanding our portfolio with pioneering new products, enabling us to offer our customers a variety of label printers to extend and improve their in-house labelling capabilities. The Afinia DLP-2100 is an extremely innovative and cost-effective solution for businesses with mid- to high-volume label printing requirements, offering the capacity to laminate, die cut and finish labels at an impressive speed.
'We are delighted to be offering prospective customers the opportunity to book a free onsite demonstration of the DLP-2100 with our helpful and knowledgeable team, enabling them to experience the outstanding flexibility and ease of use that the new digital label press offers, as well as how it can help to streamline their operations.'