FlexoPrint automates pre-press with LabelHub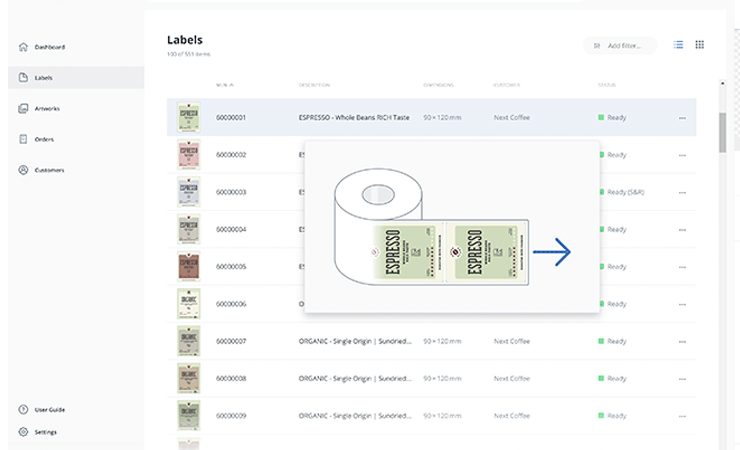 LabelHub is an online platform tailored specifically to digital label manufacturers and their customers
Danish converter FlexoPrint is using LabelHub to manage all of its digital label artwork, saving time and resources for the company and its customers.
FlexoPrint is a member company of Optimum Group, a group of specialised printing companies that collectively offer a total package of self-adhesive labels and flexible packaging options. Optimum Group's 16 member companies from Holland, Belgium, Denmark, and Germany specialise in UV flexo and digitally printed labels for customers in the food, retail, cosmetics, pharmaceutical, home and personal care, logistics, and chemical industries. FlexoPrint itself is a manufacturer of self-adhesive labels in Scandinavia, primarily within the fast-moving consumer goods (FMCG) and logistics markets.
To streamline its production and management of digital label artwork, FlexoPrint is using LabelHub to automate its pre-press activities. LabelHub is an online platform tailored specifically to digital label manufacturers and their customers. PDF artwork files are uploaded into the system, with instant preflight feedback issued and a print-ready status received. Alternatively, simple instructions on how to fix the PDF files are provided. Step and repeat files are then automatically generated, and sent directly to the digital press.
A user-friendly interface provides an overview of artwork and label specifications, with search and filter functions that help facilitate a simple re-ordering process.
FlexoPrint CEO Lars Ole Nauta, who also leads Optimum Group's Nordic operations, said, 'When we first invested in digital equipment, I was focused on two things: I didn't want to hire a graphic designer; and I wanted a fully automatic process from artwork to print. LabelHub has ensured both.
'Our customers send proofed artwork, we upload it to the system, and are ready to print in just five minutes. That saves valuable time and resources for all parties involved.'
LabelHub CEO and founder Peter Vogt commented, 'Everything we do is driven by the belief that we can help digital label manufacturers. We set out to simplify and automate the label management process in a user-friendly way, and I think we've succeeded. We've helped several manufacturers around Scandinavia optimise their business and increase customer satisfaction, which has now brought about a number of inquiries from the UK and Northern Europe.
'We strongly believe that this is the future of digital label management, with automation key to reducing costs and working smarter. In our humble opinion, LabelHub is the key to achieving that.'
Mr Nauta added, 'Simply put, LabelHub has eliminated human errors in pre-press, with the automatic preflight, and step and repeat functions that allow us to focus on providing quick and efficient service. We chose LabelHub because it's a great system, works really well, is easy to use, and covers about 95% of all pre-press work. A key factor in this was Peter Vogt's past experience with label printing – he's dealt with all the problems and challenges we face daily, and has developed a solution that solves most, if not all of them.'