ProPrint doubles digital label capacity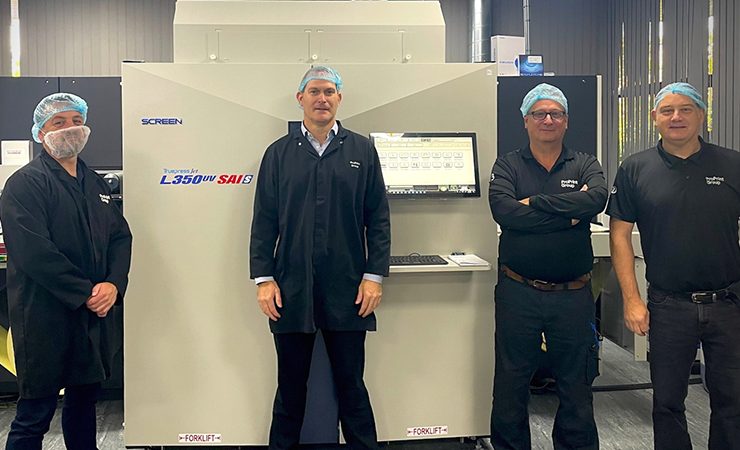 ProPrint Group has doubled its digital label printing capacity with the installation of a Screen Truepress Jet L350UV SAI S press
UK-based ProPrint Group has doubled its digital label printing capacity with the installation of a Screen Truepress Jet L350UV SAI S press.
Since acquiring a Graphium hybrid inkjet-flexo press for digital label printing around five years ago, ProPrint Group has seen continued expansion. This has included significant growth in its use of flexo and the addition of linerless labelling.
Keen to build on existing inkjet technology, company owners James Denny and Nigel Tollman have now chosen the Screen inkjet press to serve demand for self-adhesive digital labels across a range of sectors. The new press allows printing in CMYK plus orange and blue, and opaque white, at up to 60m/min. Corona treatment enhances ink adhesion to non-top coated filmic materials and/or to improve adhesion when overprinting pre-foiled or printed insetted materials. Insetting and a chill drum further enhance ProPrint's production capability using the UV inkjet digital label press.
An increase in sales growth and customer appetite for premium digital label printing within short time frames drove the investment. The move will increase digital label capacity and achieve even better flexibility for customers with new label applications.
Mr Denny said, 'We've seen excellent growth in a variety of markets. The Truepress Jet L350UV SAI S increases production speeds and reduces material waste due to being compact and highly efficient. Consequently, we will have optimal resource to supply to our growing customer base in first class lead-times. Because of Screen, our digital capacity has doubled.'
Further investment in finishing equipment to supplement ProPrint's increased digital label output is awaiting delivery. This will enable ProPrint Group to further administer certain markets and deliver particular print jobs that could otherwise be less efficiently manufactured, the company noted.