S-OneLP takes thermal lamination online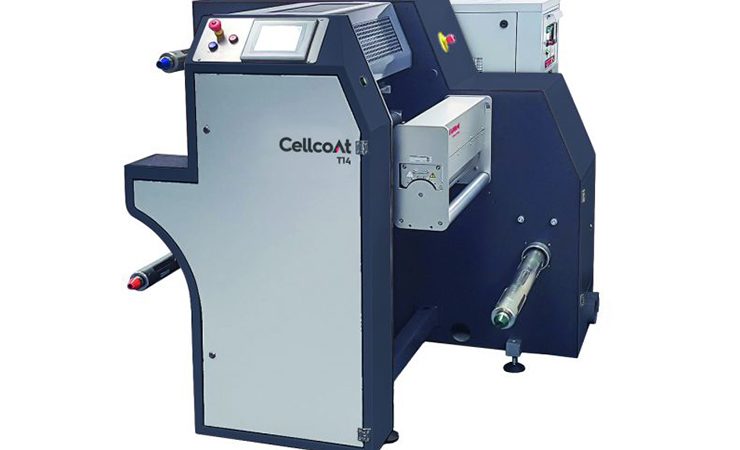 Cellcoat's T14 thermal laminator runs at over 50m/min, creating food-safe packaging structures with 'superior' bond strength
S-One Labels & Packaging (S-OneLP) is virtually throwing its doors open to potential Cellcoat customers, and has begun offering remote equipment demonstrations of the UK-based manufacturer's T14 thermal laminator.
Cellcoat is a developer and manufacturer of laminating and coating technologies, whilst S-OneLP is a provider of consumables and hardware for the conversion of digitally printed labels and packaging. This ranges from LEP-receptive coatings, sustainable flexible packaging films, and varnishes and topcoats that are water-based or energy-cured (UV/EB), to converting equipment like CatPak electron beam curing systems and Cellcoat's thermal laminators. In late 2019, S-OneLP commenced distribution of the T14 thermal laminator into the narrow web labels and packaging market in North America and the EMEA region. It has since expanded its offer in the EMEA region, and installed a 30in-wide Cellcoat T30 thermal laminator at an unnamed converter in Australia. This installation was described as an 'industry shift for flexible packaging'.
By now offering virtual equipment demonstrations of the Cellcoat T14 thermal laminator, S-OneLP noted that this allows, 'a customised, virtual experience with the popular thermal lamination system.' The T14 thermal laminator operates at a speed over 50m/min, provides instant curing, creates food-safe flexible packaging structures, forms 'superior' bond strengths, has simple settings for quick set-up, and uses a short web path suitable for high-value materials.
Tom Hauenstein, vice president of sales at S-OneLP. said, 'We know how difficult the past year and a half has been with travel and trade shows on hold for many companies. We also know that innovation didn't stop in those past 18 months. With that in mind, we've created an accessible way for our customers to get an up close look at the Cellcoat T14 thermal lamination system. These virtual demonstrations will allow our customers to access the information they need to make informed investment decisions, at a time and with a format that's convenient for them.'
Specifically, Cellcoat's T-Series allows flexible packaging structures with surface-printed films to be created,  overlaminating to protect the ink layer and adding options such as soft touch, special designs, and scratch resistance. T-14 features a compact design and provides accurate tension control, with an inline corona treater, lay-on roller, chill rollers, edge alignment, and inline slitting.
During any virtual demonstration, technicians and experts will be on hand to answer questions, whilst demonstrations will also include a virtual visit to S-OneLP's Wisconsin showroom. In addition, S-OneLP is offering a special promotion to those who book a virtual demonstration, including 5% off the equipment price, along with two free rolls of thermal laminate and two free rolls of prelaminated film from its 'Classic' line.
Cellcoat T14 thermal laminator demonstrations can be booked here.
Watch an introduction to the Cellcoat T14 below: