Cellcoat laminator installed in Australia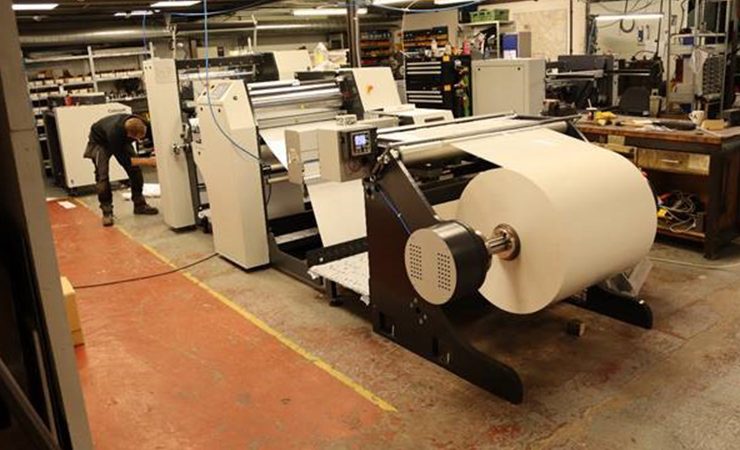 A 760mm-wide (30in) Cellcoat T-Series thermal laminator has been installed alongside a fleet of HP Indigo digital presses, in a first in the region
S-One Labels & Packaging (S-OneLP) has confirmed the sale of a Cellcoat T30 thermal lamination system to an unnamed converter in Australia, in a development described as an 'industry shift for flexible packaging'.
This has seen a 760mm-wide (30in) Cellcoat T-Series thermal laminator installed alongside a fleet of HP Indigo digital presses. It is the first such installation in the region.
The unnamed converter customer uses digital technology to produce self-adhesive labels and has recently entered the flexible packaging market, producing pouches for a range of verticals including the food and beverage, and health and beauty markets. The company chose the Cellcoat T30 thermal laminator to create pouches that require zero cure time. Speed to market, flexible run lengths, high-quality and personalised printing are critical to the company's success.
Cellcoat T-Series thermal laminators are engineered with an inline corona treater, lay-on roller, chill roller, edge alignment and inline slitting. The machines are available in widths from 350mm to 1100mm.
Gerard Geurts, business development and technical sales for the EMEA region at S-OneLP, said, 'T-Series thermal laminators are quite exciting technology for label and flexible packaging companies that want to grow their revenue streams and expand into new markets. We're seeing a lot more converters use thermal lamination after realising the benefits of an instant cure that allows for immediate slitting and pouching, and a shorter time to market.'
Mr Geurts continued, 'The T-Series' accurate tension control and high-speed capacity make this ideal for digital labels and flexible package printing and converting, especially when speed to market and minimal material waste is crucial.'
Cellcoat itself is a UK-based engineering firm. Cellcoat and S-OneLP entered into a distribution partnership in 2019. S-OneLP is the exclusive distributor of the Cellcoat T-Series thermal lamination systems in North America, EMEA, Australia, Asia-Pacific and Latin America.