S-OneLP expands EMEA offer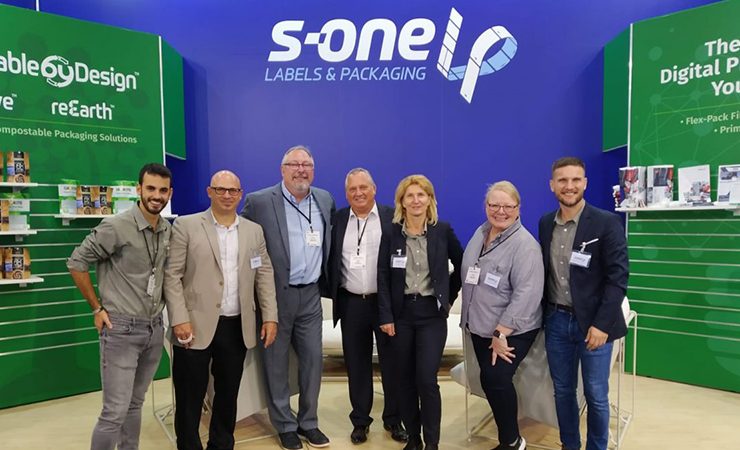 The S-OneLP EMEA team at Labelexpo Europe 2019
S-One Labels & Packaging (S-OneLP) has expanded its product portfolio in Europe, the Middle East and Africa (EMEA), in order to offer this region greater access to 'world-class' label and flexible packaging materials and equipment.
Since launching a European division in 2018, S-OneLP has grown its EMEA portfolio to include capital equipment, such as the CatPak electron beam (EB) system and Cellcoat T-Series thermal laminators. S-OneLP's EMEA division now addresses many of the concerns of brand owners in the region with security options from VerifyMe, and recyclable barrier films from the company's ReTreve line for flexible packaging. S-OneLP EMEA also offers a full line of UV- and water-based overprint varnishes (OPVs), antimicrobial OPVs from Lock3, and thermal lamination films.
These products are in addition to Michelman's DigiPrime primers and DigiGuard coatings for HP Indigo customers, available from S-OneLP in most European countries.
Tom Hauenstein, global vice president of sales at S-OneLP, commented, 'S-OneLP's mission has always been to bring our label and packaging converters the best products to help them serve their brand owner customers. By broadening our product offerings and expanding our team in the EMEA region, we're better positioned to work with our customers in this region to shorten time to market, create innovative label and packaging applications, and offer a complete portfolio of products.'
Pictured (top, from left): Adrià Mañas Fernández, Tom Hauenstein, Ralph Giammarco (now of Michelman), Gerard Geurts, Renate Jeutter, Carrie Giammarco and Michelangelo Petrarca