Estrabols updates pre-press ecosystem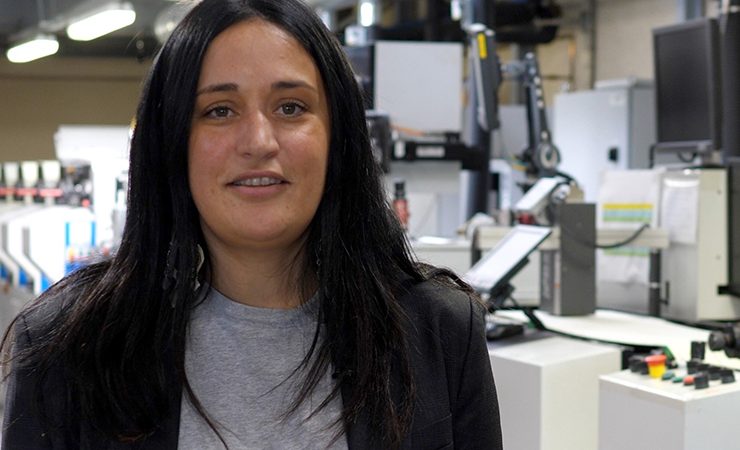 Marine Estrabols, managing director at Estrabols Imprimeur
France-based label printing specialist Estrabols Imprimeur has installed Esko's Automation Engine and Cerm's MIS software, delivering end-to-end efficiencies through a fully integrated workflow.
Béziers-based Estrabols Imprimeur is a supplier of labels in France and around the world, with almost 70 years of experience to call upon. Its production includes toner-based digital and semi-rotary offset printing, complemented by a host of finishing and embellishment technologies. These are used to produce labels principally for wines and spirits, as are abundant in the area around Béziers, as well as other applications.                              
Automation Engine is modular pre-press workflow automation software that can automate tasks such as preflighting, trapping, making proofs and generating reports. Cerm offers robust software for integrated workflows, designed specifically for labelling and packaging applications.
Marine Estrabols, managing director at Estrabols Imprimeur, said, 'We pride ourselves on investing in our people and our equipment to ensure we deliver the best quality product and service to our customers. As part of our continued evolution, we were looking to optimise our production processes, from start to finish.
'When putting Automation Engine in place it made sense to do it right first time. Connecting the Cerm MIS to Automation Engine allows us to drive pre-press with the same dataset used by Cerm. This helps us reduce the number of errors and enables faster throughput.'
Lowie-Pascal Geerinck, product manager at Cerm, reiterated that the link between Automation Engine and the MIS software means that Estrabols Imprimeur's customer service and pre-press teams are always talking the same language.
'While Automation Engine updates Cerm with vital data, correct views for tooling and the completed file, as well as delivering colour information, Cerm automatically delivers the correct parameters to process the files quickly and accurately, and is as automated as possible. Our collaboration ensures we are securing complete prepress integrations and aligning them with every other aspect of the customer business. This in turn is helping our customers evolve into the smart factories of the future.'
The project marks the 100th customer collaboration between Esko and Cerm. The first integration between the two companies dates back to 2004. In 2016, Cerm and Esko celebrated their 50th integration with the Norwegian Digital Label. Estrabols Imprimeur is the 100th.
Geert Van Damme, managing director at the MIS specialist, commented, 'It is a long history of trust, collaboration and exchange of experiences and skills to provide the most complete and efficient solution possible to our customers.'
Esko product manager Paul Land added, 'We are delighted to have again partnered with CERM to deliver a complete solution to our customer. With Automation Engine integrating seamlessly with the Cerm MIS, we are able to optimise end-to-end production, delivering increased throughput and efficiency, while also ensuring consistent quality.
'With Automation Engine and Cerm MIS, the in-house design and integrated pre-press departments now have end-to-end efficiency and can ensure the company's exacting quality standards are continuously met. Errors are reduced by 80% with automated quality checks, while standardized processes and offloading tasks to the automated workflow software significantly increase throughput.'