Global Graphics launches SmartDFE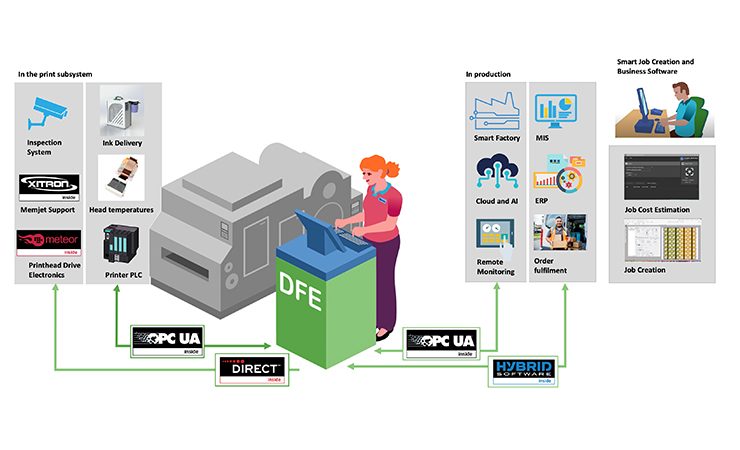 SmartDFE meets the need for fully variable data, gives complete control of the print workflow, and provides valuable information for quality assurance and inspection, press maintenance, and stock control
Global Graphics has launched SmartDFE, a digital front end for labels and packaging applications said to, 'transform the role of the digital press in the smart print factory of the future.'
SmartDFE is designed to be part of a fully automated manufacturing workflow, supporting Industry 4.0 telematics and MIS integration plus connectivity with automated manufacturing lines via OPC UA.
SmartDFE is also the first product to have been co-developed by all group companies, Global Graphics Software, Hybrid Software, Meteor Inkjet and Xitron. It brings together through one system the creation of optimised print-ready PDF files; workflow and job automation to connect with enterprise IT systems; RIPping; screening; optimised image quality; and, via Harlequin Direct, drives the print data directly to the printheads through Meteor software and electronics, or through Xitron's Navigator DFE platform.
According to Global Graphics, SmartDFE also meets the need for fully variable data, gives complete control of the print workflow, and provides valuable information for quality assurance and inspection, press maintenance, and stock control.
Global Graphics Group CEO Mike Rottenborn commented, 'Digital printing presses are getting smarter all the time, and innovation is especially strong in the labels and packaging segment. These presses need a 'smart' digital front end to take their place in today's smart print factories, and this is challenging for many OEM developers of digital packaging presses. Global Graphics has developed SmartDFE to simplify the integration of the DFE and the digital press and reduce time to market for our OEM customers.'
Specifically, SmartDFE comprises PDF editing, layout, and automated variable data printing (VDP) with Hybrid Software's Stepz and Cloudflow, job cost estimation and production controls that connect to the Smart Factory using OPC UA, rasterisation, and screening using Harlequin Direct directly to the printhead data path from either Meteor Inkjet or Xitron.
Nick de Roeck, Global Graphics Group CTO, said, 'SmartDFE relies on tight, high-speed integration, communication and control between components from the job creation all the way to the printheads. It requires the ability to collect detailed data from an individual press and share with the wider factory and to generate knowledge gathered from the data to predict and control the press. All of this capability is now available from Global Graphics and gives us and our customers a unique position in the market.'
Eric Worrall, vice president of products and services at Global Graphics Software, noted, 'SmartDFE gives you everything you need to add label and packaging printing to any industrial production scenario. It provides a complete single source software and electronics stack that does everything from job creation through to printheads. Our Artemis Print Operator AI builds print knowledge into the software to keep the workflow running at maximum speed and quality. We have also joined the OPC Foundation, the organisation responsible for the development and maintenance of the OPC Industrial Interoperability Standard, so our SmartDFE can connect print to the Smart Factory.'
Meteor Inkjet managing director Clive Ayling said, 'SmartDFE will be a godsend for smart factories requiring large industrial inkjet print systems capable of streaming variable data jobs. The integration of Meteor's proven electronics and software within SmartDFE means that print system builders can select from the widest range of printheads while benefitting from Meteor's exceptional technical support service."
Xitron president Karen Crews concluded, 'Full automation is the logical next step for Navigator support of presses using Memjet printheads. Our base of installed systems has exploded over the last two years and the opportunity to enhance new presses with OPC UA connectivity presents us with a huge technological leap forward.'