CMYUK joins Highcon network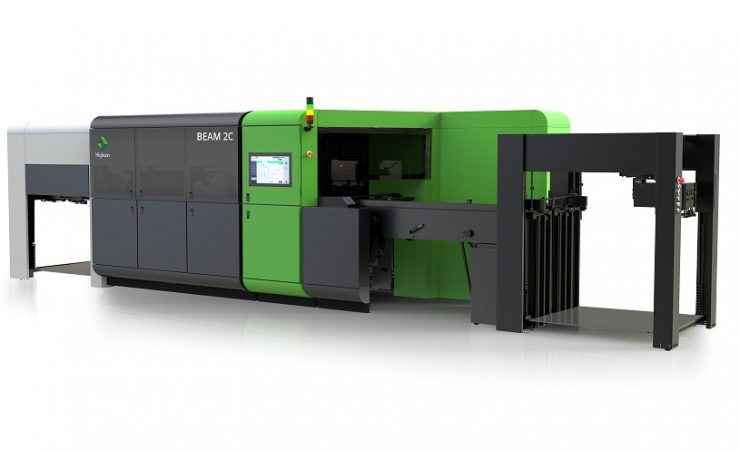 The Highcon Beam 2C, which is available in non-stop configuration
CMYUK has been appointed as the UK go-to-market partner for Highcon's portfolio of digital die-cutting and creasing technology for folding carton and corrugated converting.
This sees CMYUK offering the entire portfolio of Highcon products, including the Beam 2C in non-stop configuration and the Euclid 5C for corrugated packaging, and Highcon Beam 2, Highcon Euclid 5, and Highcon Euclid 5S for folding carton products.
Robin East, sales and marketing director at CMYUK, commented, 'We are delighted to be collaborating with Highcon Systems, and we are totally aligned with its strategy of innovation and overall market view.
'CMYUK has a great deal of experience in digital finishing. We are the exclusive UK distributor for Kongsberg, which enjoys a 93% market share in packaging, where it dominates templating and prototyping.'
Steve Donegal, Highcon regional sales manager, UK and Ireland, said, 'CMYUK represents manufacturers with the most versatile cutting and finishing products, and efficient end-to-end, productivity software. They have a really strong go-to market strategy and are already acquainted with many of our target customers. There are a great deal of untapped opportunities in the UK, and we are sure that our relationship with CMYUK will be very successful.'
Mr East noted, 'The post-printing environment for carton and corrugated packaging has long been ripe for digital disruption, and this is exactly what Highcon has set out to do. Its solutions are designed to keep abreast of market demands that are increasingly driven by multi-channel e-commerce, personalisation, versioning, on-demand printing, faster lead times, and ecological accountability.
'Over the years, CMYUK has successfully migrated many multi-million-pound companies from analogue to digital processes, helping them achieve transformational productivity, efficiency and growth. We have some of the best technical people in the industry in-house, supporting customers in their journey to greater efficiencies and competitiveness.
'Highcon's digital converting technology offers brands complete compromise-free solutions that are tailored to meet their requirements. Set-up takes minutes rather than hours, with the benefits of last-minute changes. Brands have the opportunity to really push their creativity to the limits to produce unique, eye catching packaging. We're witnessing the last vestiges of the industrial era, CMYUK is excited to play its part in ushering in the final episode of the digital revolution,' concluded Mr East.